Meet the March Scope's Top Lens Designer – Nishikubo
Posted 07/08/2019
Meet the Lens Specialist -  Director  Yasutoshi Nishikubo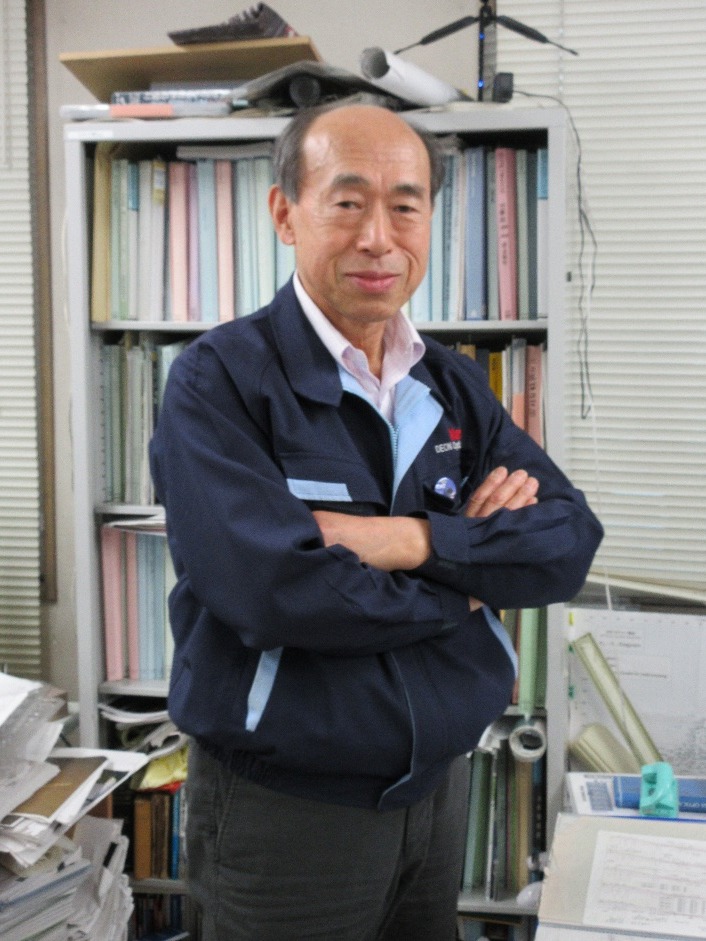 Nishikubo is one of the founders of DEON – Deon Optical Design Corporation which is the manufacturer of March Scopes.
Why did you decide to launch a new business?
As a child I was fascinated by a telescope which made far objects look large and I loved it so much. I would roll up a cardboard, put a lens of a magnifying glass into it and made a hand-made telescope to show it to my friends.
It had an inverted image with a great chromatic aberration of red and blue but I enjoyed playing with my telescope.
My passion for optical instruments naturally lead me to this industry and I worked for an optical company developing optical products for many world famous manufacturers for over 30 years.
When I reached the age of retirement 55, I decided that I wanted to make my own rifle scope bearing the ultimate premium quality with my associates.
What are you in charge of and what do you find most challenging?
I'm in charge of designing the lenses and
 to conduct the final inspection of rifle scopes.
 There is no correct answer to lense design.
There can be multiple answers.
What I think is the best today might not be the best
tomorrow. After rethinking for a week I often come up
with even better ideas. So I never stop thinking to
search for better ideas.
The most challenging thing is to keep balance between
quality, cost, easiness to manufacture and to assemble.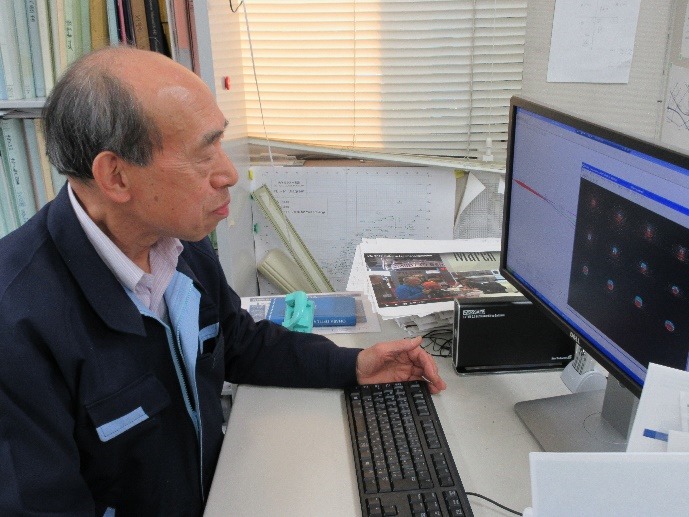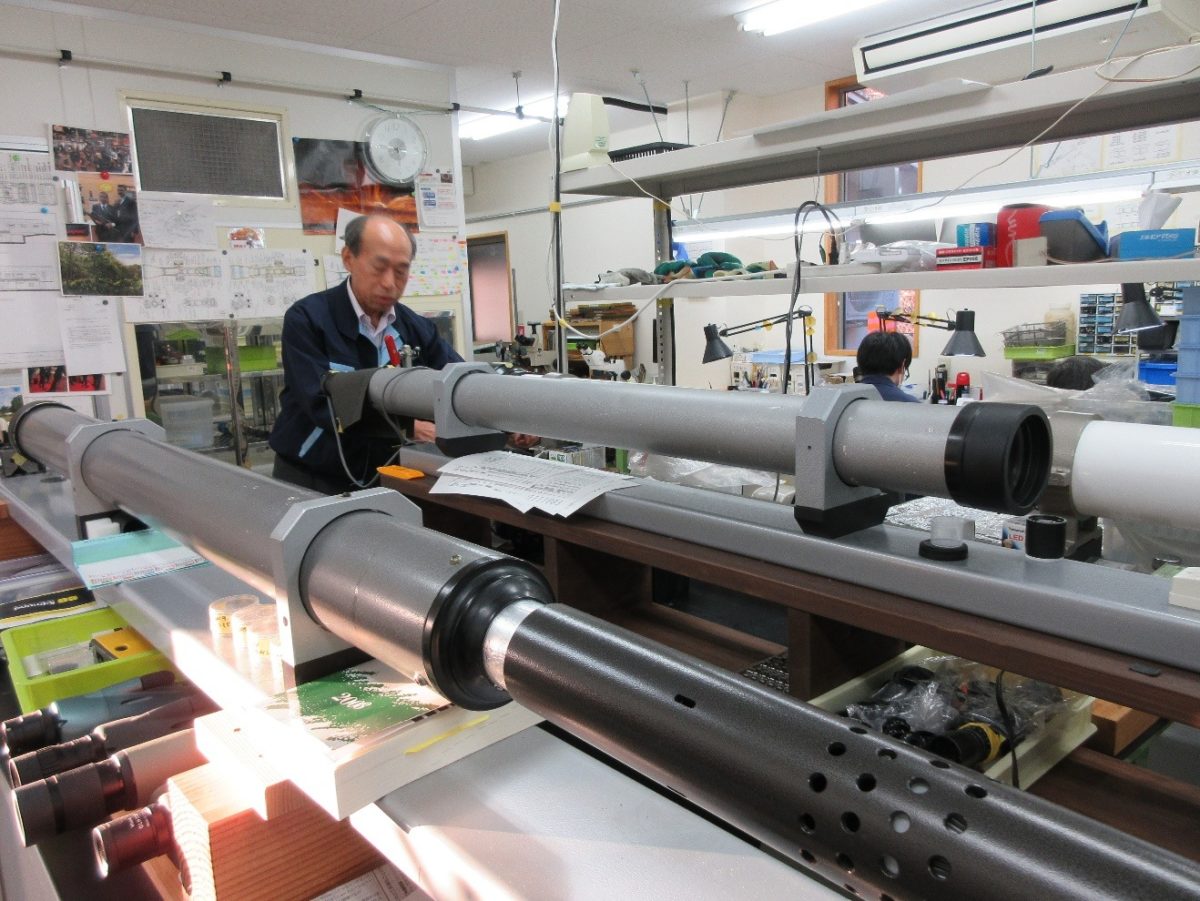 ▲This long tube equipment is called a "collimator" which is designed to adjust the position of the focal point and to incorporate components such as lenses precisely without tilting. There are 2 collimators showing in the picture. One is adjusted for 100yard and the other is adjusted for infinity.
We use collimator when we adjust the position for infinity and the positions for lenses during assembly, and also for adjusting the state where we can see the clearest. At final inspection we check the resolution at the state of infinite distance.
We also conduct a box test to check if the click travel of adjustment apparatus for MIL and MOA is accurate. Each collimator has a different purpose to serve.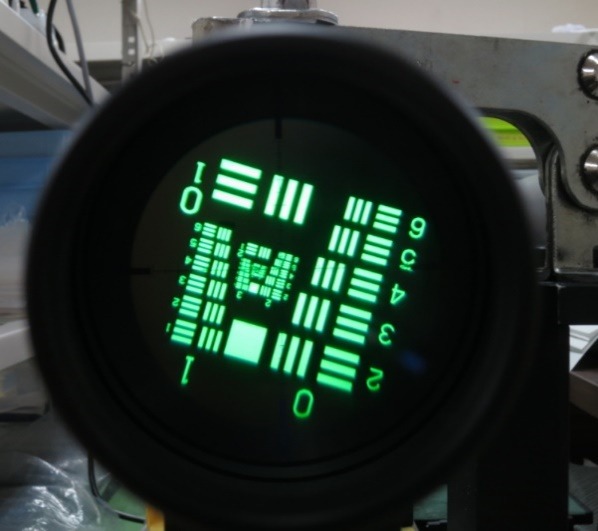 ▲(The upper right)Since it is taken by a mobile phone the image is coarse,
but this is an image called a collimator data measuring the resolution of the rifle scope.  
What kind of effort do you make to be creative?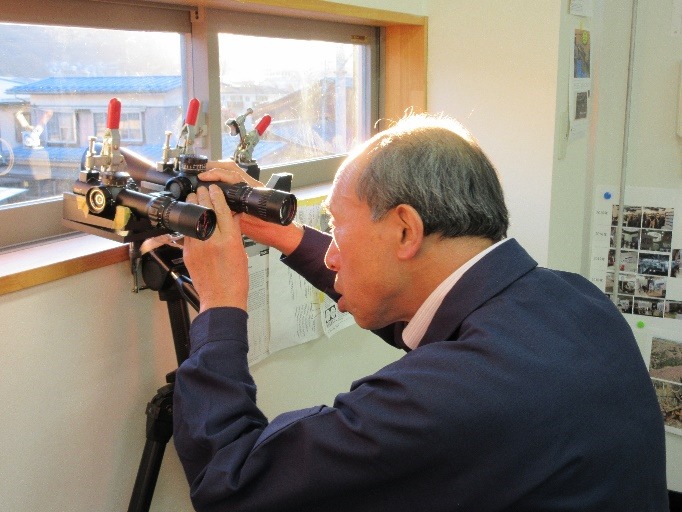 40 years ago, we handwrote the aberration diagram and designed lenses by calculating every single ray of light using a pocket calculator. Our job was to use the calculator throughout the day. But now thanks to the computer it instantly calculates hundreds of rays of light and we can even print out an aberration diagram.
Due to the advanced technology, we are able to evaluate the performance of the lenses of a rifle scope before manufacturing a prototype.
 On top of that, glasses using new materials are developed one after another which we have never imagined. Because we can develop entirely new products I'm overwhelmed with joy and am inclined to adopt everything new as much as I can.
What would you like to work on?
As the analog camera has evolved to a digital camera, rifle scopes are being digitalized as well.
Taking the merits of analog scopes into account such as its utilization without a battery, I would like to
make a new rifle scope integrating with the digitalization.
What is your hobby?
To design lenses – I can't get enough of it.
To design lenses is not just a work to me.
It is my life. I can design lenses all day long.
I am very fortunate to have encountered
something that I can feel so passionate about.
Other than above, to grow grapes, to watch martial arts
and movies are my hobbies.
What is your motto?   
Find something that you love, and enjoy your life!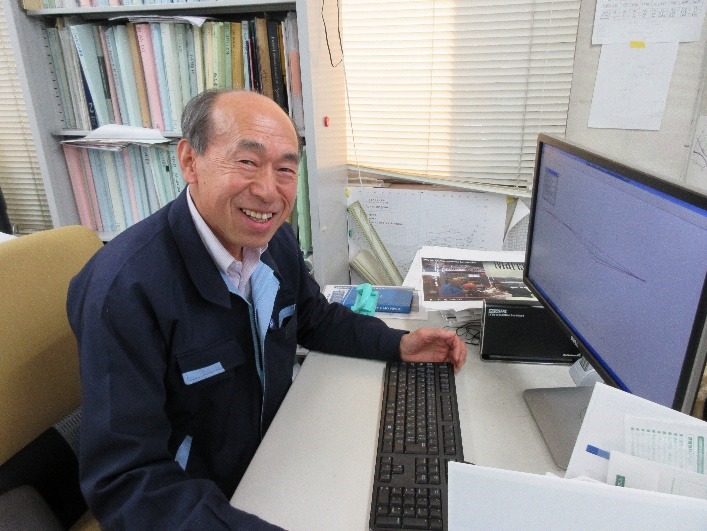 Nishikubo's accomplishments
2007 Develop the lenses for Bench rest shooting competition 40×52 scope
            using the ED lense for the first time in the world.
2008    Develop the lenses for 50×52, 60×52, 10-60×52, 5-32×52 which are the sister scopes of 40×52
2009    Develop the lenses for 1-10×24, 2.5-25×42 which are the world's first rifle scope
           with 10-fold ratio.
2010    Develop the lenses for 10-fold ratio scopes 8-80×56 and 5-50×56.
           which is still the world's highest magnification ratio.
2011    Develop the lenses for 3-24x FFP rifle scope.
2012    Develop the lenses for 5-40x FFP rifle scope.
2013    Develop the lenses for 1-8×24 FFP rifle scope.
2014    Develop the lenses for 2.5-25×32 and 3-24×52.
2016    Develop the EP lenses for 1-4.5×24 and 40-60×52 with larger pupil diameter.
2017    Develop the lenses for 1-8×24 Shorty which is the world's shortest rifle     
           scope among 8-fold ratio scope..
2018    Develop the lenses for 6-60×56 FFP (GENESIS) and 4-40×52 (GENESIS)
           which are the FFP scopes with world's highest magnification ratio. 
Edited by : Mari Morita
Back to page