Meet the March Scope's Top Hardware Designer – CEO Shimizu
Posted 07/25/2019
Meet the Hardware Specialist – CEO Fumio Shimizu 
Shimizu is one of the founders of DEON- Deon Optical Design
Corporation which is the manufacturer of March Scopes.
Why did you decide to launch a new business?
For a long time, I developed and designed high-end optical products
for OEM production. However after I turned 55 years old, I decided
that I want to spend the rest of my life doing what I enjoy the most
-rifle scope's hardware design. Also as I wanted to contribute to the
optics industry, I decided to establish a new company DEON with my
fellow friends so as to aim for the world's top quality and pursue the
possibility. That is why I decided to start our own business.   
Can you explain the details of your work?
I do my duties as CEO in my spare time, and enjoy designing and developing the new rifle scopes.
As we are trying to launch 2-3 new scopes every year, I devote myself to development night and day.
We presented out newest production model of "GENESIS"
at Shot Show 2019(@Las Vegas, USA)
and at IWA 2019 (@ Nuremberg, Germany).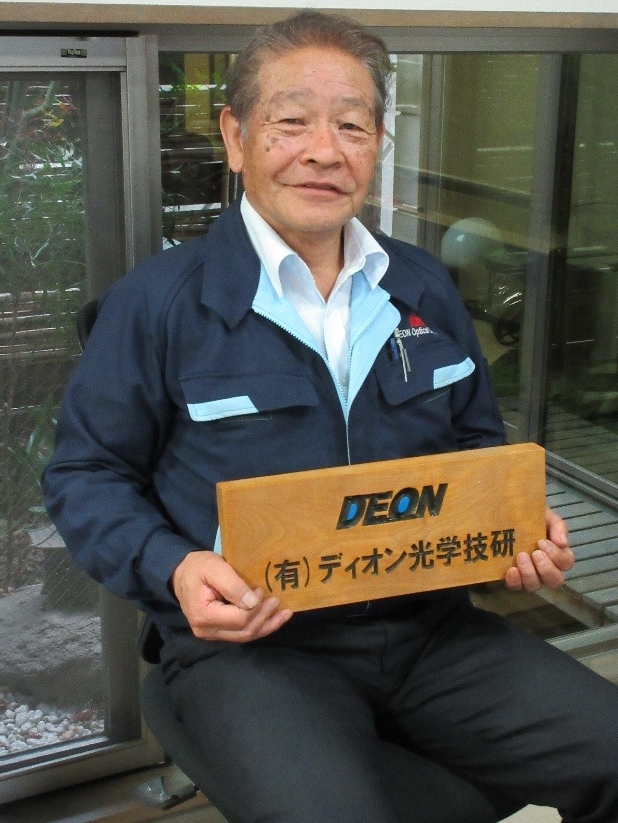 GENSIS is an epoch making scope which extends the accuracy capability of modern rifles
without the need for modifications including inclined rails, adjustable mounts, or prism systems.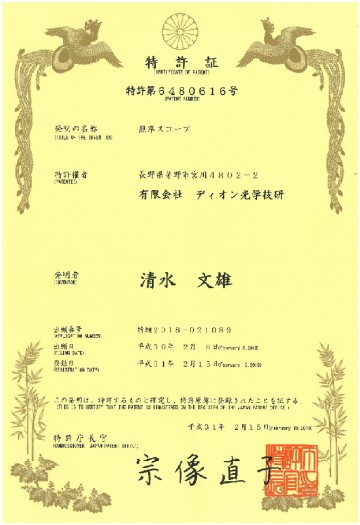 GENESIS ELR (extreme long range) rifle scopes offers up to 400 moa of elevation, which will allow the shooter to shoot from 20 meters up to 3 miles (4827m).
When you turn the elevation turret, the scope will incline.
Actually I toiled and moiled to develop this special and unique scope.
The reason why I decided to develop GENESIS is because I sympathized with the difficulty the long range and ELR shooters facing. When they shoot at long distances, they mount a canted base underneath the scope but since the canted base is fixed, it is hard to adjust at various distances and to be in a shooting position immediately.
Since this scope with flexible base is a brand new concept which has never existed in the world, we took time testing.
We asked our distributors overseas to test and evaluate GENESIS. It took time to develop, but we were finally able to launch a product model in 2019.
We have been granted a patent from the Japanese government and are waiting to be granted from other countries as well. I am delighted to be approved of the innovation and the inventive step of GENESIS. You can see my name in the patent.
And I have a secret to share. As a matter of fact, I am old fashioned and I am bad at computers…
I design everything by hand. Because I have been in this field for a long time, strangely enough measurements are very accurate.
I use a ruler to draw lines and color pencils to paint.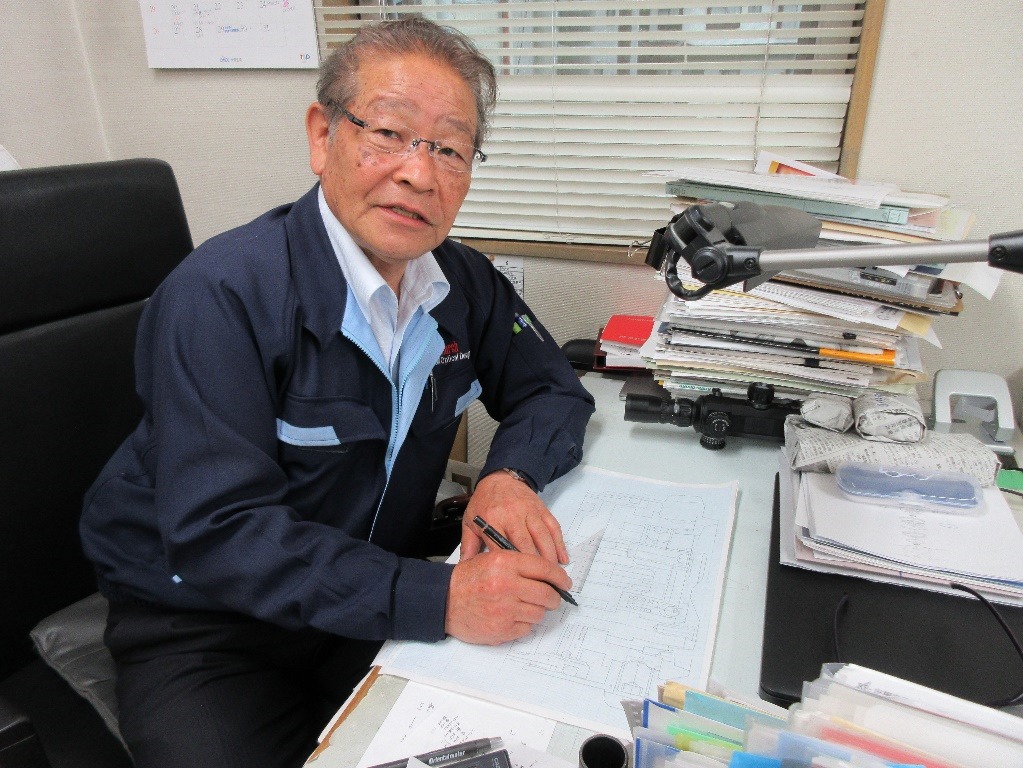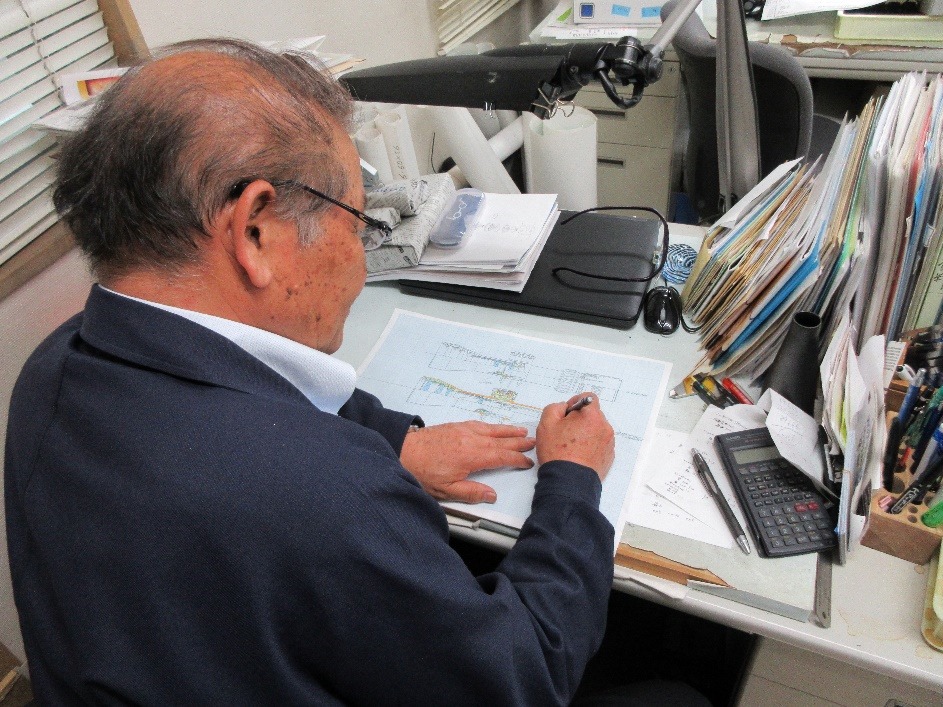 This is the CAD design I drew for GENSIS and below is the picture of the actual product.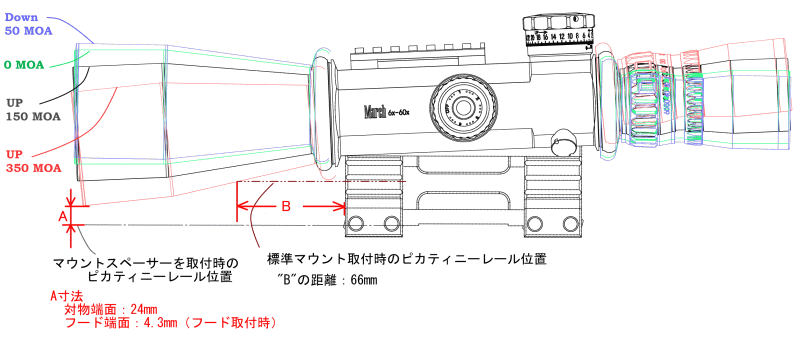 For prototypes, I never fail to assemble myself and
check the manufacturing process.
In the picture in right, I cut GENESIS in half lengthwise
to see if the movement inside the scope is smooth.
I have to check with my own eyes for every prototypes.
I can't help my inner desire to manufacture something new
that doesn't exist in the world. The more people tell me
that it is impossible to develop, the more I am thoroughly
aroused to challenge it and make something new that would surprise the world.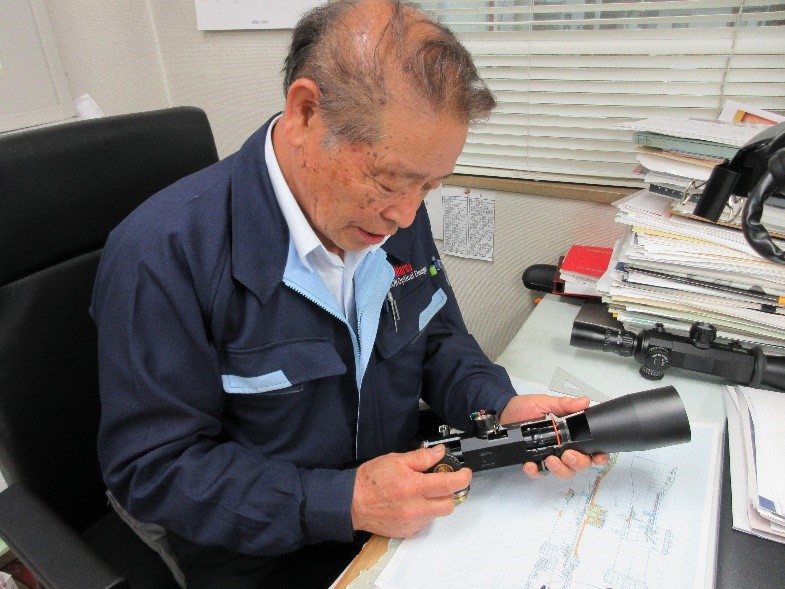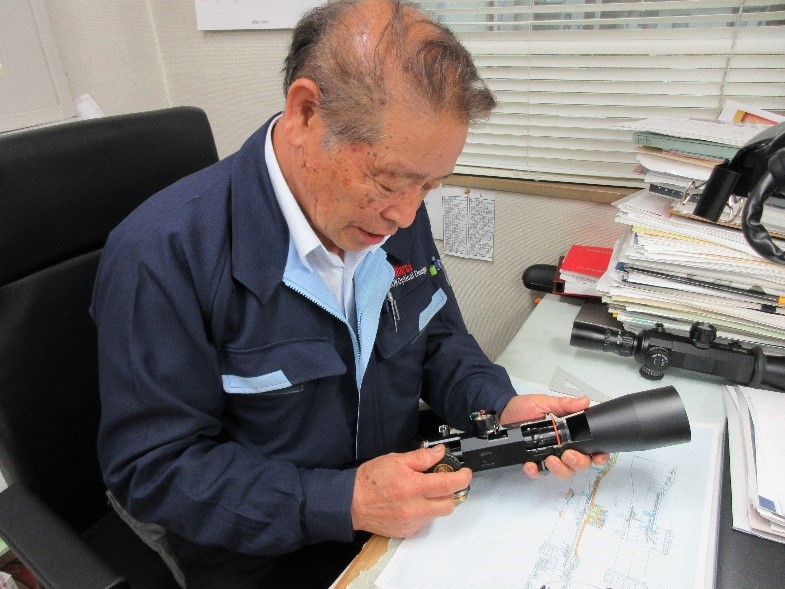 March-F 1x-8x24mm Shorty also very useful for hunting, is one of the products that my soul was stirred
to develop. This is the smallest and lightest 8-fold ratio scope in the world with 210mm (8.27 inch)  
overall length and 485g(17.1oz)weight. 21cm is the same size of an average size man's palm.
At the time when I developed 1x-8x24mm Shorty, we already had 1x-8x24mm in our lineup.
1x-8x24mm was a selling model and it still is, but I wanted to improve the scope to the extreme.
I shortened the overall length by 48mm and lightened by 75g. I can't help myself wanting to improve
our scopes even better. This may be a developer's nature.
---
I keep thinking what I can design that doesn't yet exist in the world. When I come home from work, I go straight to my study and keep thinking of designs. My wife tells me to get out from there!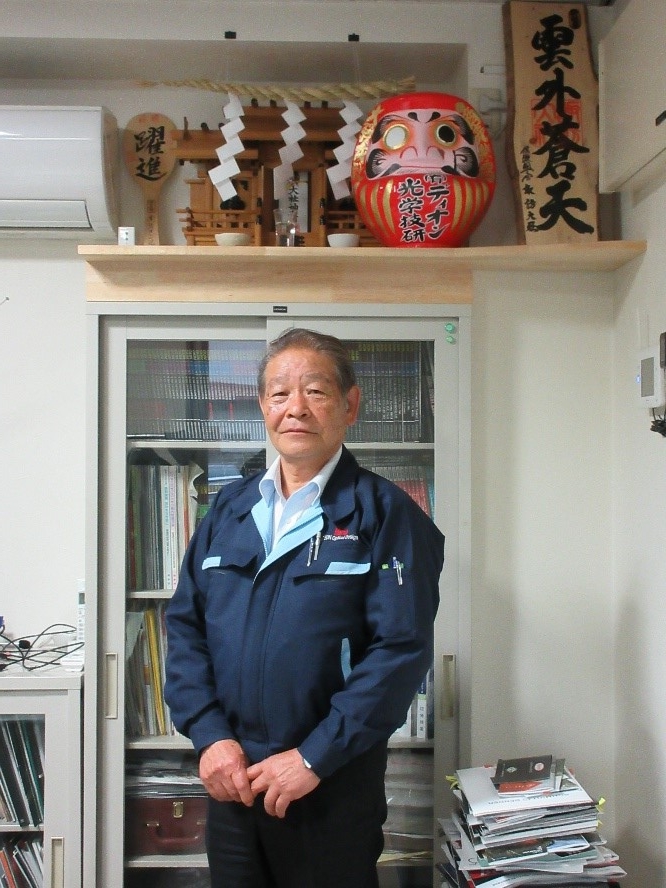 What do you find most challenging?
It is difficult for me to take balance between thinking of future business plans and doing what is required at present.
What do you attend to?
I think about my companions' (employees') happiness and what I can do to help them grow and carry out an action.
What would you like to work on?
I would like to keep developing scopes that have never existed in the world with excellent performance, quality and feature.
I would also like to listen to our user's voices even more and develop scopes based on their opinions and needs.
Please see the picture. There is a Daruma doll on the top shelf.
In Japan when you accomplish something you paint Daruma doll's eye black. I have already painted one eye black. Maybe one day hopefully I can paint the other eye black.   
What is your hobby?
I like to draw, sculpt, read and gardening.
In Japan we send New Year's greeting cards to our friends instead of Christmas cards.
Every year I design my own card. Then I shave wood and make a woodcut print. I apply paint on it and print one by one. When I design I come up with the woman's design first and design the original picture. After that I design the landscape that will match the woman.
It is embarrassing to show you, but below is my collection displayed at the entrance of my house.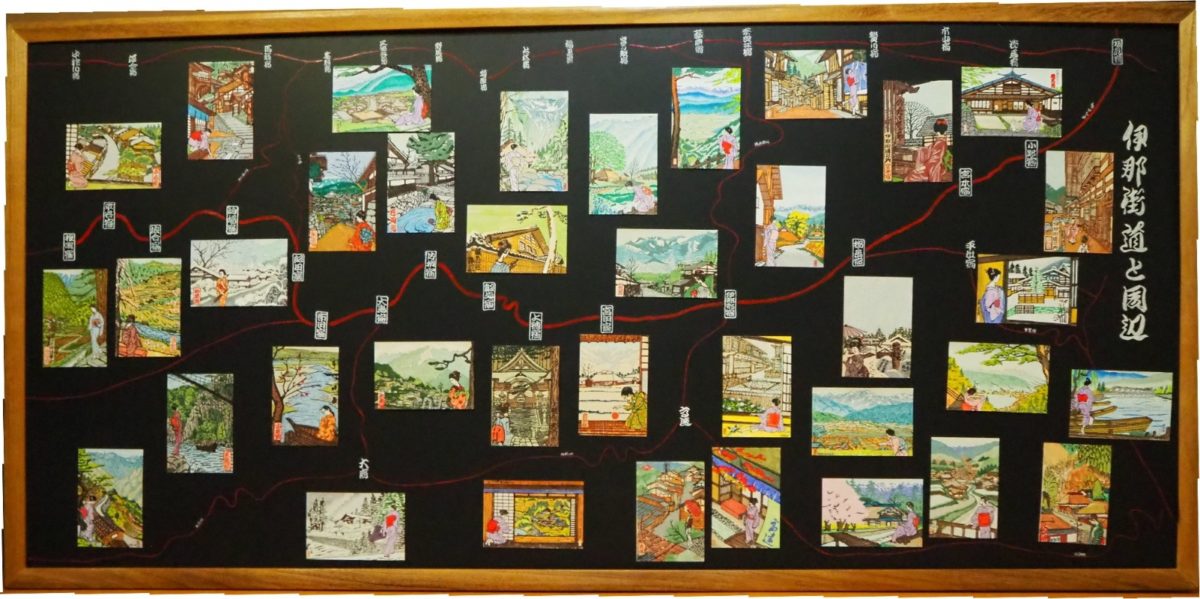 What is your motto?   
The company's existence value does not lie in the size but the content of it.
Company should contribute to employee's happiness, local community, country and the world.
Shimizu's accomplishments
During my 38 years of work at an optical company manufacturing OEM products I developed below.
Japan's first development of dual axis binocular,
(I received an award by the Director General of the Science and Technology Agency and Good Design
award in 1975 for this development)
watertight dual axis binocular,
zoom dual axis binocular,
watertight Porro-type binocular,
watertight roof prism binocular,
watertight roof prism zoom binocular,
two-step magnification binocular etc.
These are all world's or Japan's first products which I have designed.
Accomplishments at DEON
2007 Develop the Bench rest shooting competition 40×52 scope
            using the ED lense for the first time in the world.
2008    Develop the 50×52, 60×52, 10-60×52, 5-32×52 which are
            the sister scopes of 40×52
2009    Develop the 1-10×24, 2.5-25×42 which are the world's first
           rifle scope with 10-fold ratio.
2010    Develop the 10-fold ratio scopes 8-80×56 and 5-50×56.
           which is still the world's highest magnification ratio.
2011    Develop the 3-24x FFP rifle scope.
2012    Develop the 5-40x FFP rifle scope.
2013    Develop the 1-8×24 FFP rifle scope.
2014    Develop the 2.5-25×32 and 3-24×52.
2016    Develop the 1-4.5×24 and 40-60×52 with larger pupil
           diameter.
2017    Develop the 1-8×24 Shorty which is the world's shortest rifle
            scope among 8-fold ratio scope.
2018    Develop the 6-60×56 FFP (GENESIS) and 4-40×52
           (GENESIS)  which are the FFP scopes with world's highest
           magnification ratio.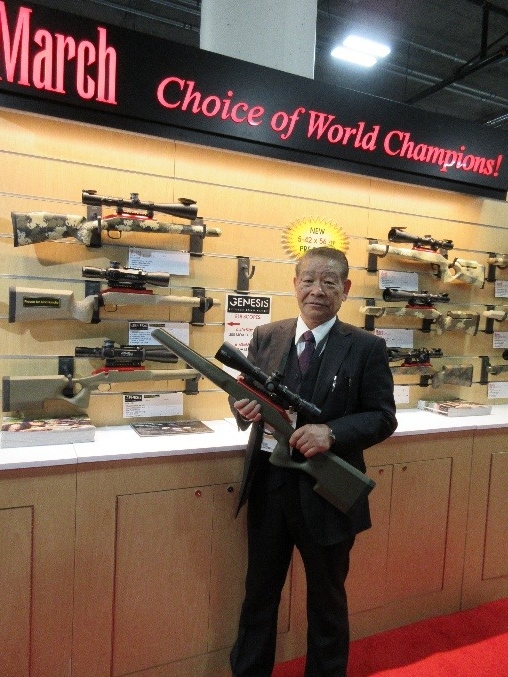 Back to page