Shot Show at Las Vegas 2019 – Mari's Travelogue
Posted 05/17/2019

My first time at the Shot Show   Written by : Mari Morita

I went to the Shot Show held at Las Vegas (Jan 22-25, 2019)
with DEON's (manufacturer of March Scopes) CEO Shimizu and engineer Gomi.
I'm very excited to see many new products and I wrote this article as my journal.
If there is any clerical errors please contact us.
There is a reception down the escalator.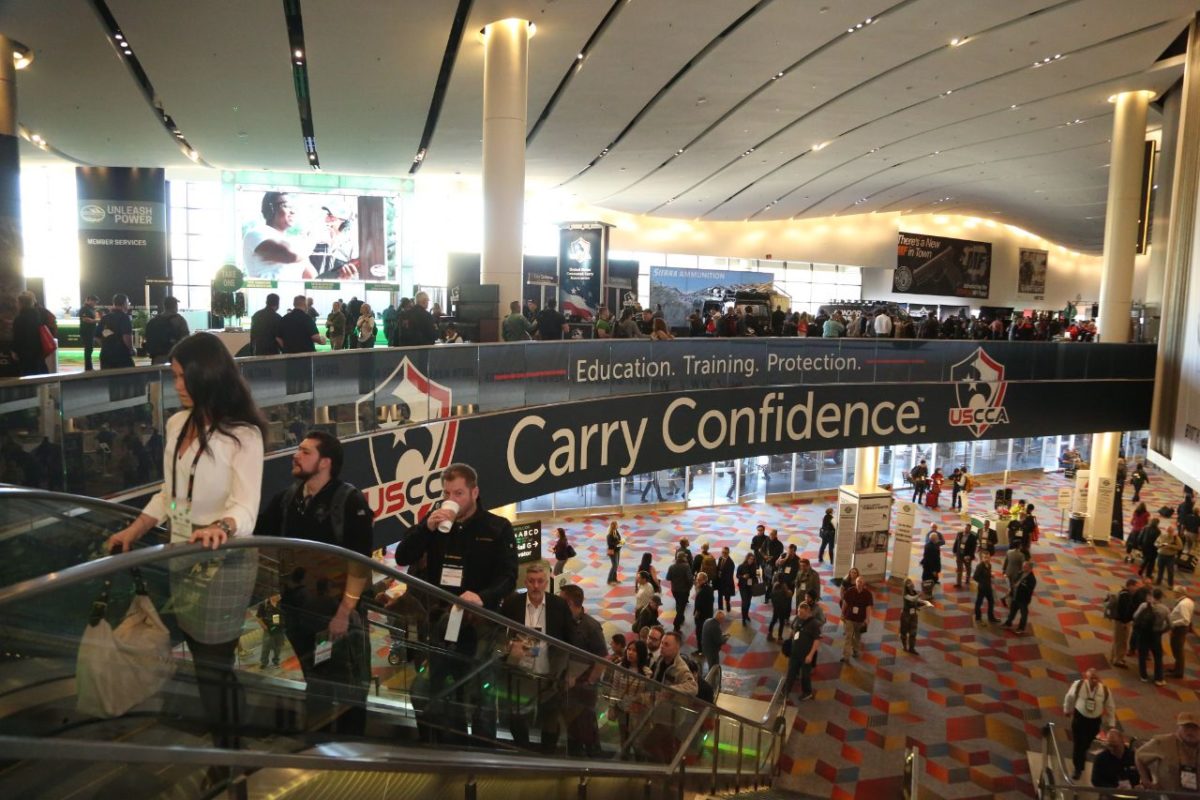 Source of reference : https://shotshow.org/photo-gallery/
At the reception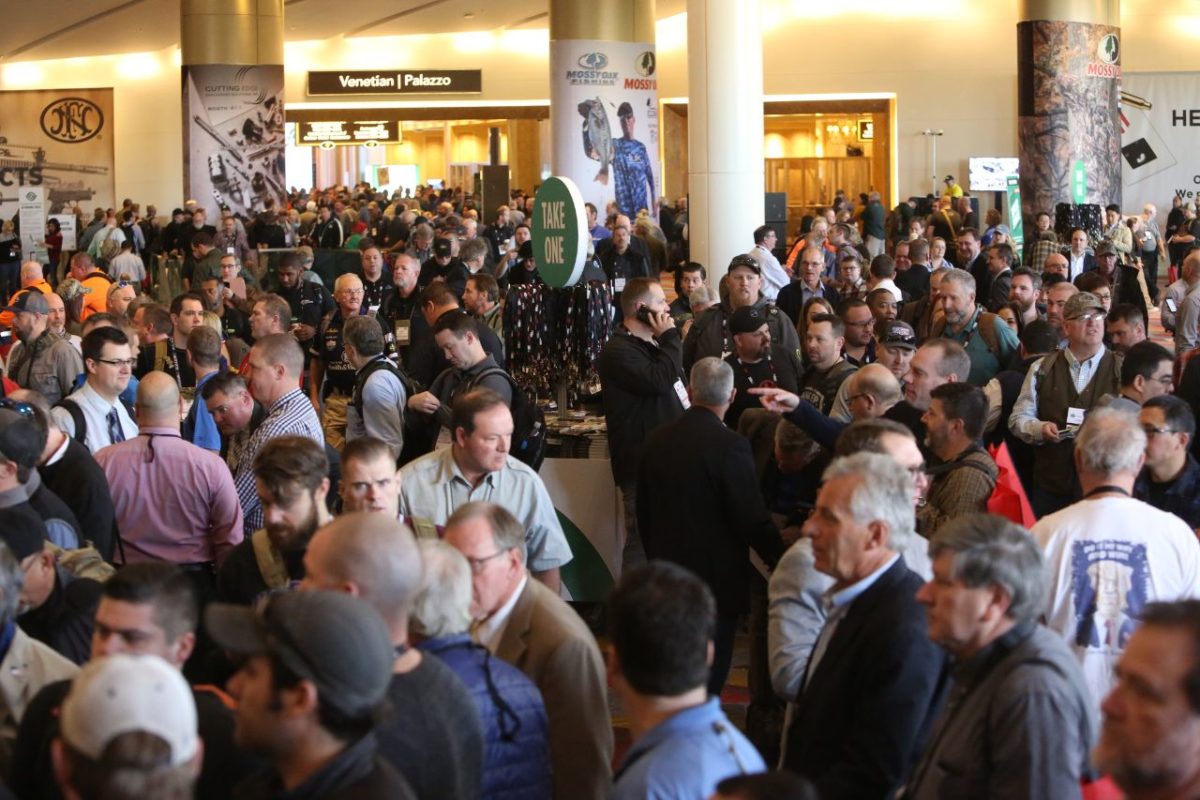 Source of reference : https://shotshow.org/photo-gallery/
IWA, which is a Show held in Europe is also famous,
but the scale of the Shot Show in Las Vegas is said to be the largest in the world.
Reference)
IWA  Held every March    Exhibitors 1,630 Visitors 46,500 people (2018)  
https://www.iwa.info/en/ausstellerprodukte/exhibitorlist
https://www.tradefairdates.com/IWA-OutdoorClassics-M5491/Nuremberg.html
Shot Show Held every January    Exhibitors 2000 Visitors 60,000people (2018)
https://www.hesco.com/explore/events/shot-show-2019/
Surprisingly, security is stricter at the Shot Show than at the IWA.
An individual can't enter the Shot Show if not invited.
My friend who lives outside Las Vegas tried to come see me but unfortunately she couldn't.
There were many surveillance cameras and security guards (in a yellow tie below).
We had to pass through many security guards before entering the convention hall.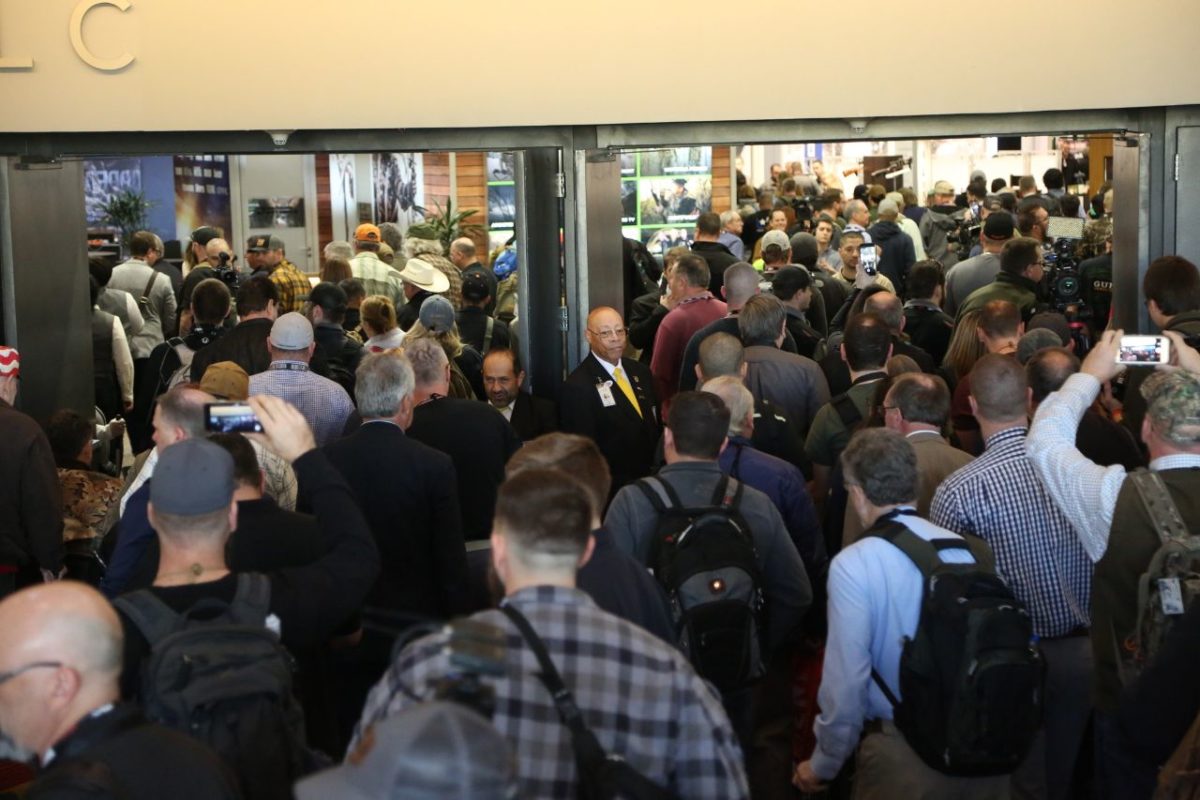 Source of reference : https://shotshow.org/photo-gallery/
As embarrassing as this is to say, I dropped my card case at the Show and couldn't find it.
However after a few days a gentleman who has found it came to our booth to hand it to me.
The next day he came to see if there were any scopes for Cross Bow.
Because of the strict security system, you can tell that visitor's fidelity is guaranteed 😉
I should have scattered my business card!
A picture of a Cross Bow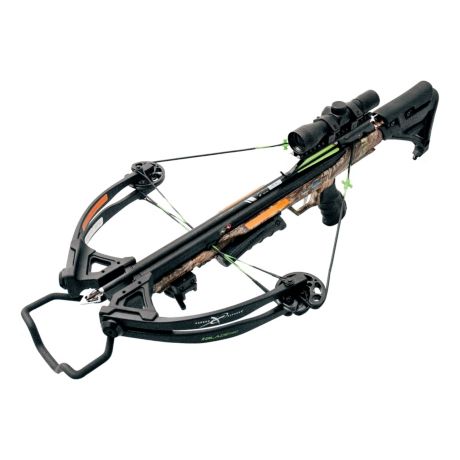 Source of reference: https://www.cabelas.ca/product/108815/carbon-express-blade-pro-crossbow-package
About our flight going in Las Vegas, there seemed to have been a confusion at the airport.
There were many departure delays.
Fortunately we only had to wait additional 3 hours to get on the plane.
When we arrived at the McCarran International Airport, I was surprised to see roulette machines even at the airport!
This is truly the town of Casino.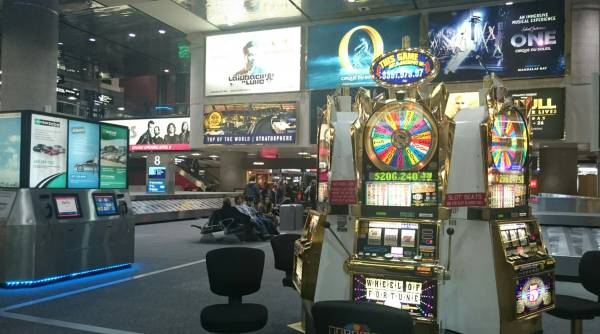 Source of reference: https://www.targetmytravel.com/media-all/photos?m=wN99B
We went to the hotel by taxi, but it was further than we had expected.
When I looked at the map I expected the hotel to be close since there were few buildings.
But because all the buildings were gigantic it took us quite a while to get to the hotel.
I felt like I was in a Gulliver's world.
On our arrival at the hotel, we ran into Mr. Turk Takano who is a famous Japanese writer about small arms.
Good night.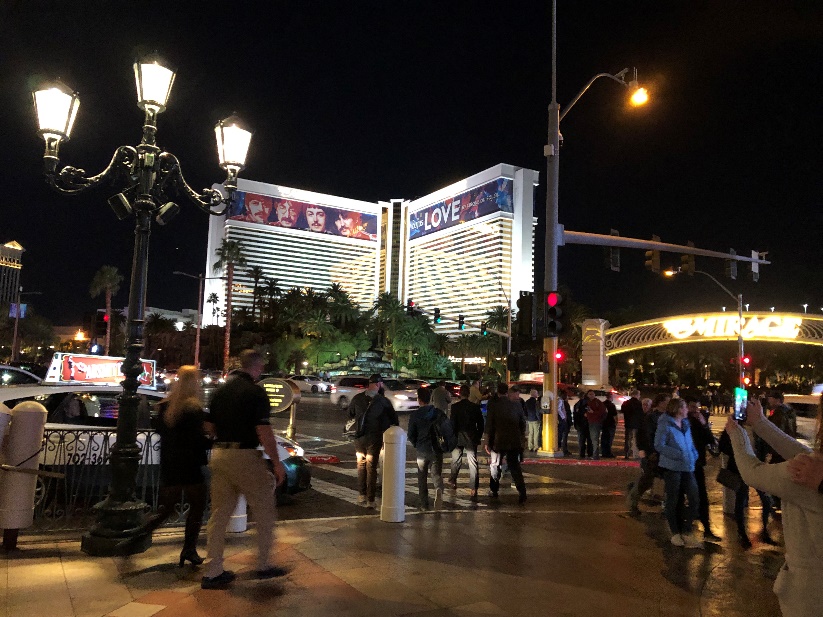 January 22nd   First day at the Shot Show
DEON is the name of our company. It stands for Design Engineering Optics Nagano.
Nagano is the Switzerland of Japan where many precision machinery manufactures are located.
And March is our trademark for our scopes named by our first client whose birthday was in March.  
Many people get confused but now you know the difference.
DEON has 3 main distributors – US, UK and Australia. There are dealers under them.
Exhibitor's booth is run by a local distributor so today let's head to March Optics USA's booth. 
The President of March Optics USA is Mr. Shiraz Balolia.
 ( He is no longer March Scope's distributor, but he was the sole distributor of March Scopes for a long time.
DEON- manufacturer of March Scopes would like to take this opportunity to express our gratitude for his great contribution.
Thank you Shiraz!  It was our pleasure to work with you.)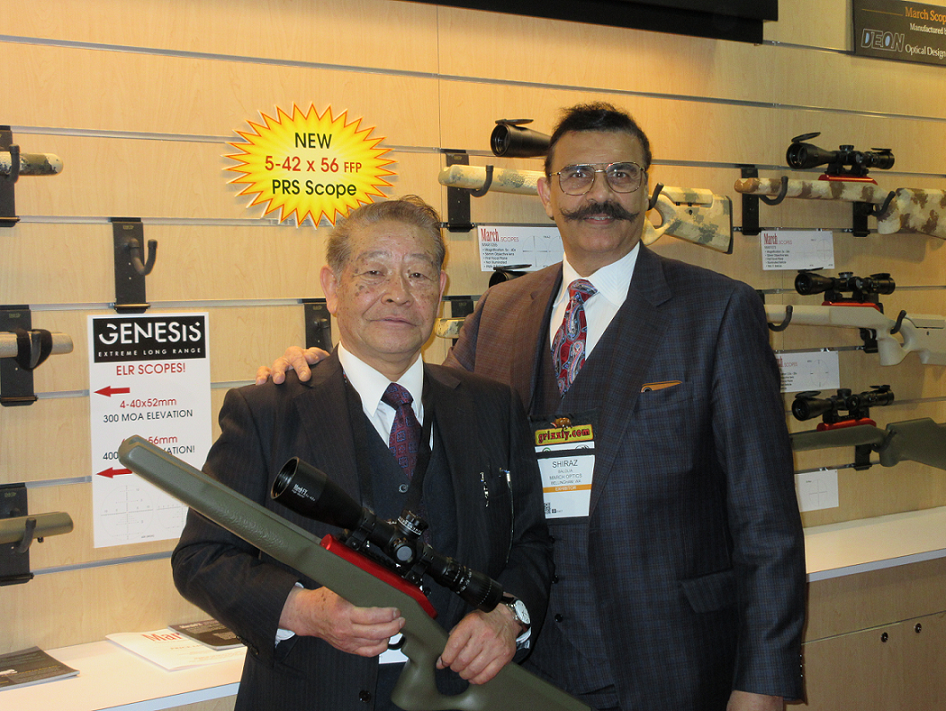 ▲Picture of Mr. Shiraz Balolia (right) and DEON's CEO Shimizu (left)
Not only is Mr. Balolia a successful businessman, but he has won several gold medals in long range shooting,
has set several National records using March Scopes and was recently awarded Distinguished Rifleman the highest honor in shooting.
In 2018, Mr. Balolia won a gold medal at the United States F – Class Championships and
at Four Man Team Match United States F – Class Open Team Championship both at 1000 yards.
It was true honor for DEON to have a chance to work with Mr. Shiraz who is also a renowned shooter.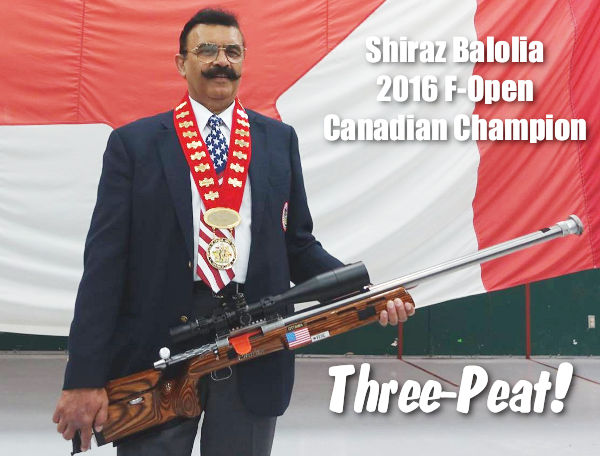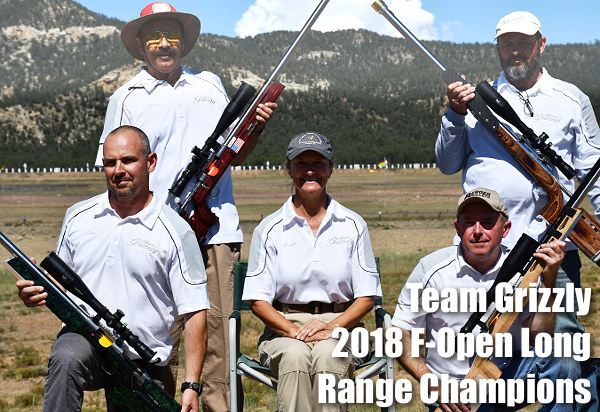 Source of reference : http://bulletin.accurateshooter.com/tag/shiraz-balolia/
The longest range in Japan is 300m, so I have never seen an F-class competition before.
One day I'd like to participate in F-class which is the reason why I started shooting in the first place.
This is the champion Mr. Balolia's equipment.

Source of reference: http://bulletin.accurateshooter.com/tag/shiraz-balolia/
Gun Components
BAT Machine Action
Master Class Stock, modified by Shiraz
Bartlein Barrel, 1:10″ Twist, 32 inches long
Fitted Barrel Harmonic Tuner
March 10-60x Scope with fine crosshair and 3/32″ dot
Caliber & Load
.300 Winchester Short Magnum (WSM)
215gr Berger Hybrid bullets, 2870 FPS
Norma .300 WSM Cases
H4831SC Powder
Tula (Russian) Primers
There were many customers coming to our booth.
One of the strong point of March Scope is its formidable resolution.
For our customers to check the resolution we put a business card on a pillar far away.
"Can you see what's written on the business card?"
"Yes, I can"
Of course you can see clearly because all March Scopes are hand made by Japanese craftsmen
only using genuine Japanese made parts.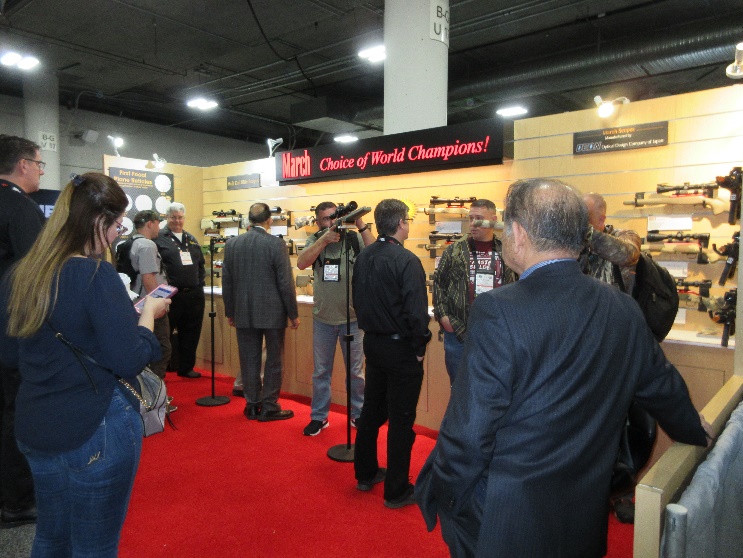 One of the newest product that attracted attention was an epoch-making scope GENESIS
with an external adjustment system.

GENESIS will extend the accuracy capability of modern rifles without the need for modifications including inclined rails, adjustable mounts, or prism systems. The GENESIS ELR (extreme long range) rifle scopes offers up to 400 moa of elevation, which will allow the shooter to shoot from 20 meters up to 3 miles.
The unique design of this scope allows the shooter to always see through the central part of the lens producing clarity, definition, and minimal chromatic aberration when extreme elevation is used even on 400 moa.
The lowermost scope in the lower-left picture is GENESIS and the scope in the middle is Mini Genesis
which is a shorter and lighter version of GENESIS with same external adjustment system.
In the lower-right picture shows a patent certificate from the Japanese government for GENESIS.
Now we are waiting to be granted from the US government.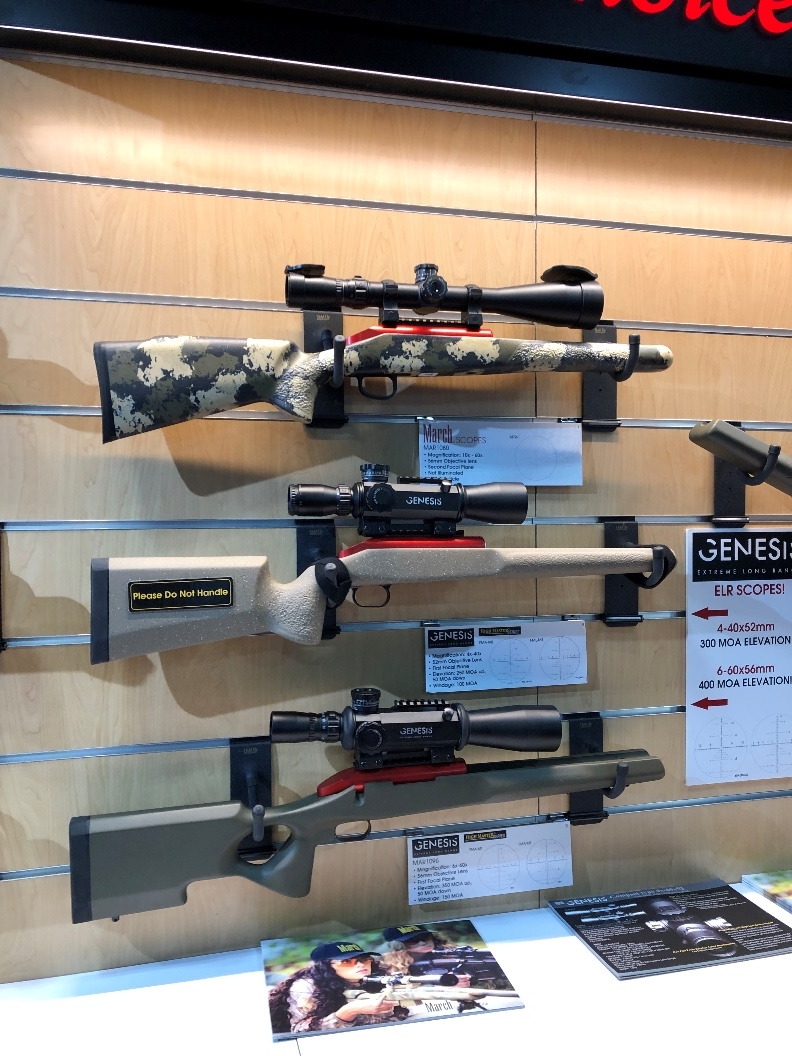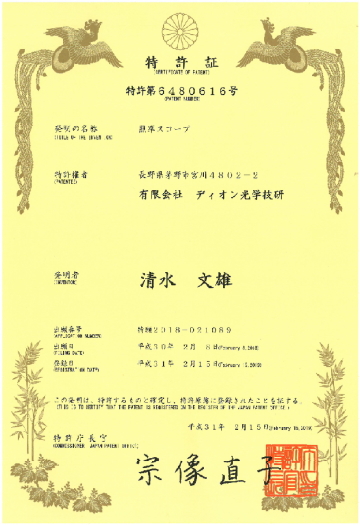 I had an opportunity to talk to many customers including a Canadian hunter, Italian and American bloggers,
a Field Target shooter etc.
There aren't many shooters in Japan in the first place so this was a precious experience to talk to many shooters
and hear their stories first hand.
We went out for dinner to a Japanese ramen restaurant.
And now it's time for bed. However my biological clock is too accurate and I can't sleep…
January 23rd   Second day at the Shot Show
I've noticed many decorations for Chinese New Year at various hotels when we passed by.
I can easily assume that there are many Chinese travelers.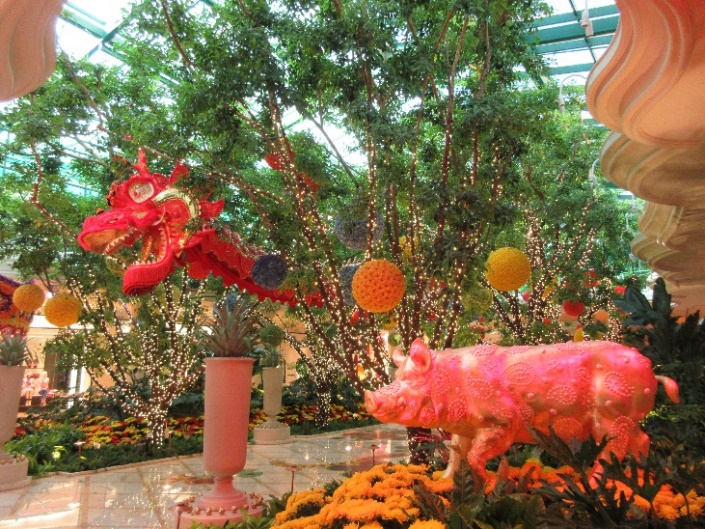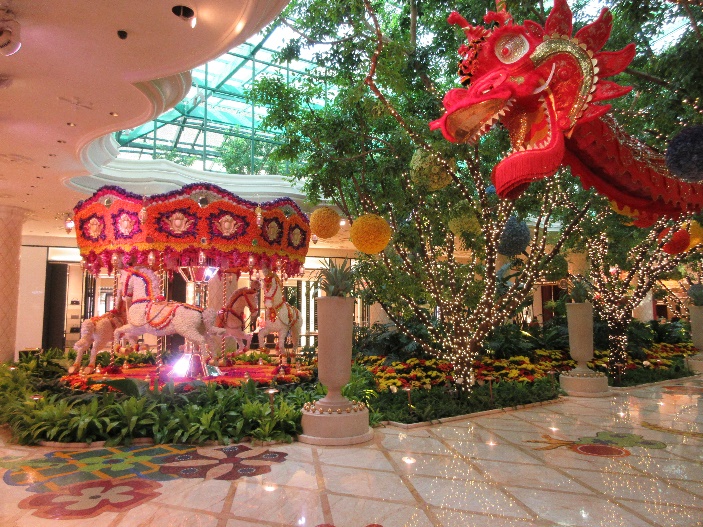 Mr. David Albers was being interviewed when we went back to the booth.
https://www.youtube.com/watch?v=NauqwugG1Wo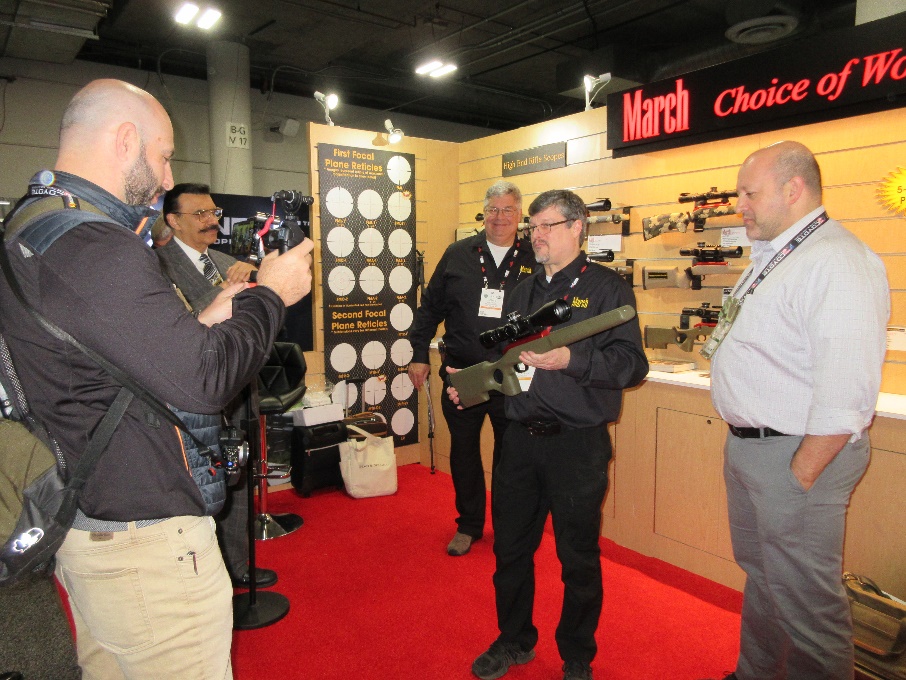 We had dinner at Bellagio's buffet where there was a long waiting line.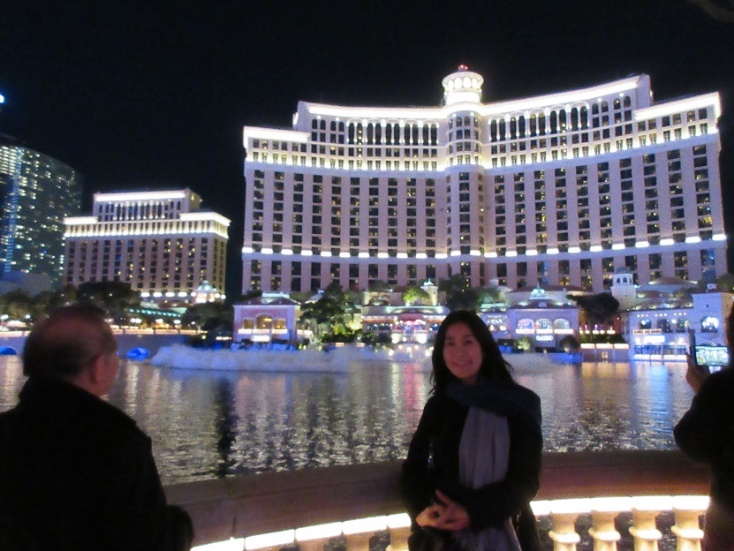 January 24th  Third day at the Shot Show
Today we are going to look around other booths.
I went to see an automatic rifle at Heckler & Koch a Germany manufacturer.
Displayed rifles were so heavy but the staffs at the booth told me that they are light to carry for German soldiers!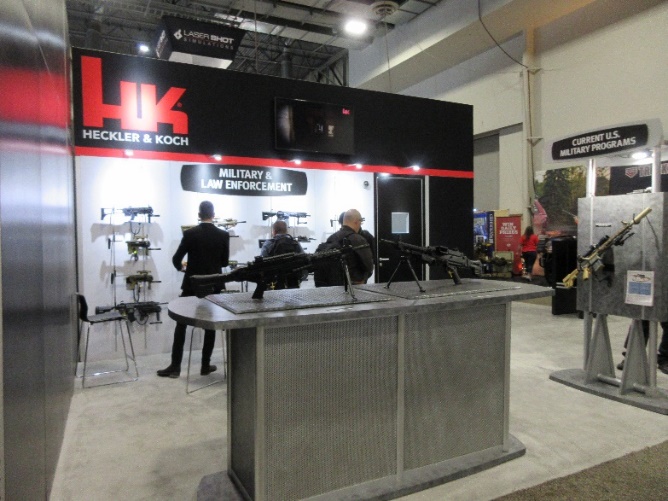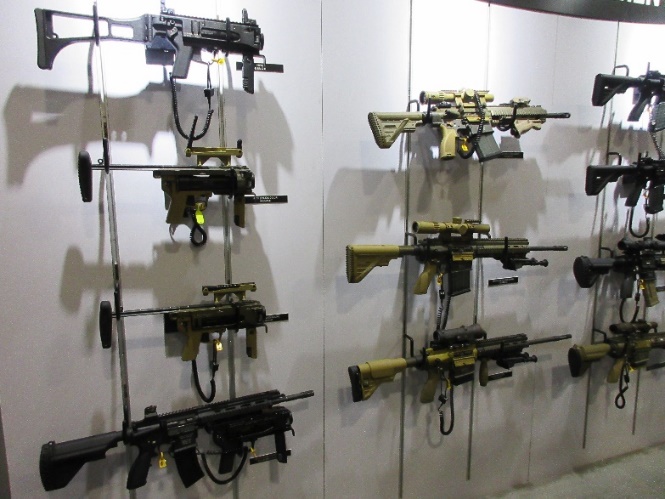 Sig Saure had a huge booth. Maybe they're financially well off now that their semi-automatic pistol P320
has been adopted by the U.S. Military service in 2017.
I have only seen air pistols for ISSF competitions (Olympic games) so this is my first time to see a pistol for service use.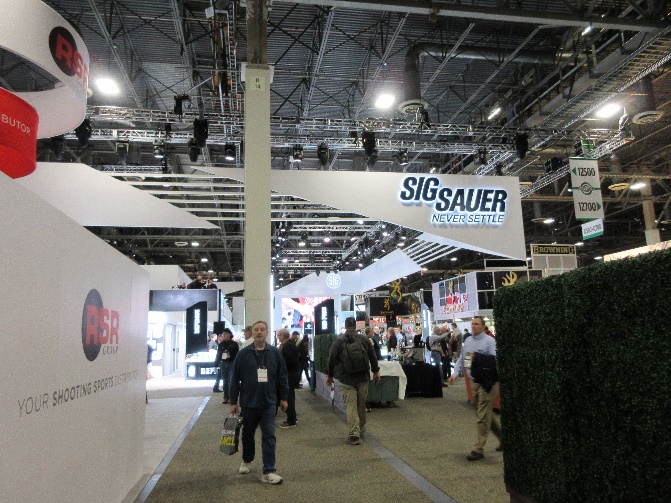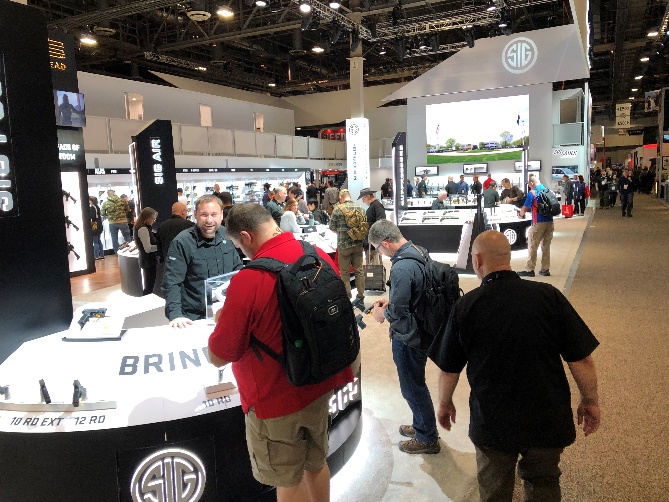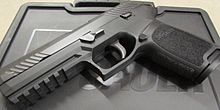 Inside the hall is very spacious and I got tired walking around.
Now that I got a free beer I'm getting a short break.
The Sky is so blue. A beautiful weather in Las Vegas.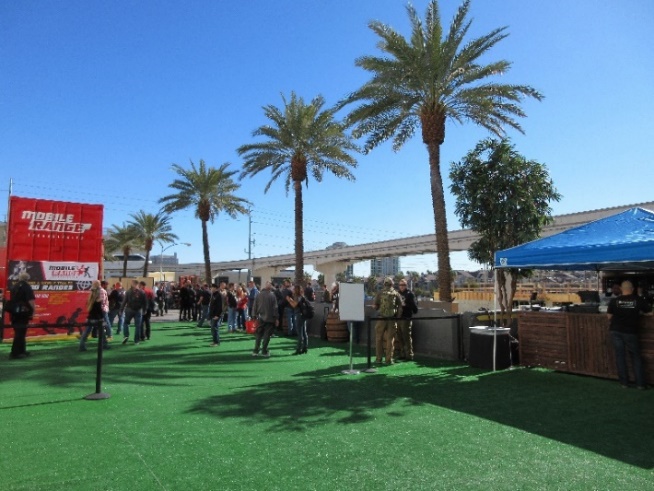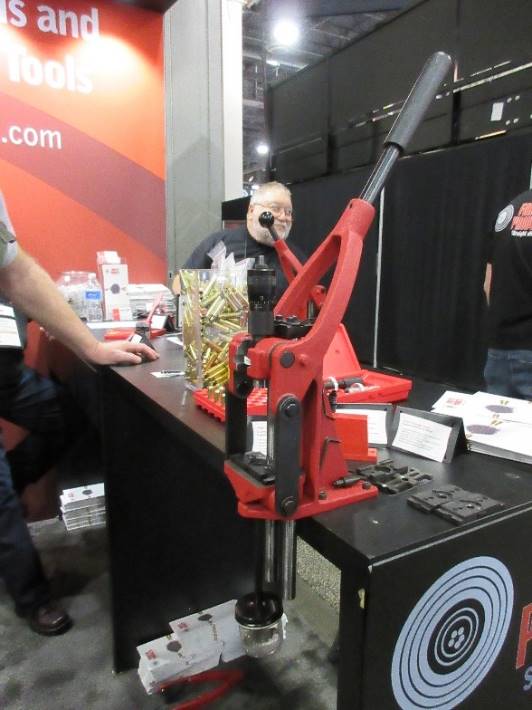 I was walking around the hall and found an interesting tool.
I've just started handloading using RCBS equipment.
Now the one I saw at the Fosters had a long handle and
seemed easy to handload.
He is a friend of our Australia's distributor.
The world is smaller than I thought.
Anschutz as an exhibitor displaying rifles for competitions. They are famous for small bore rifles which I own one 😉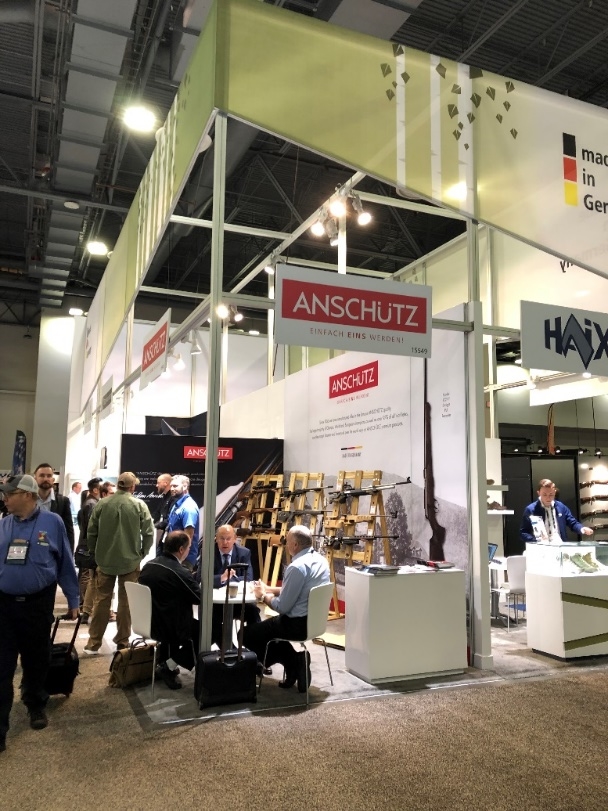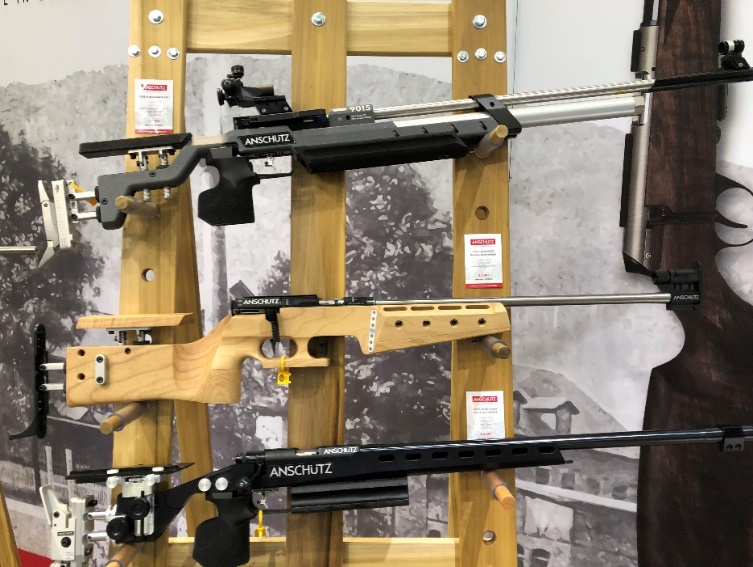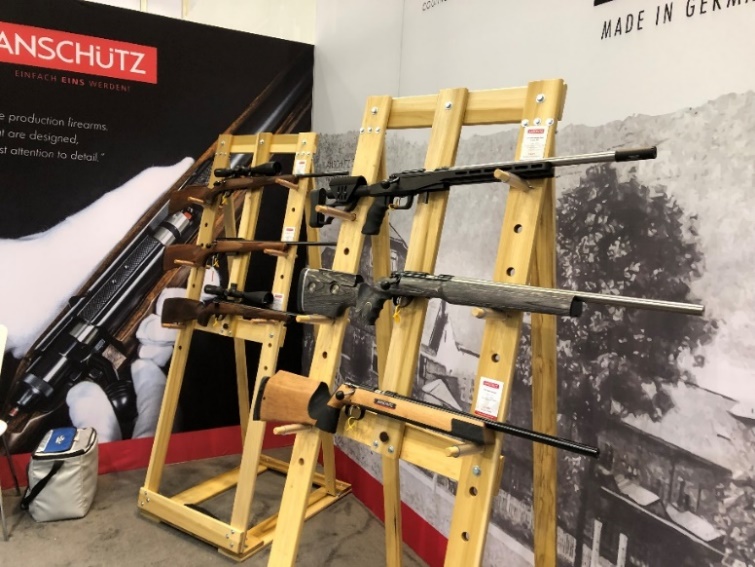 A major Italian small arms manufacturer – Beretta.
The collection of their pistols were overwhelming.
The first order that they had was a musket from the Venetians in 1526.
Their history is very long with their products loved for centuries.
I wish DEON will be a long lasting company like Beretta.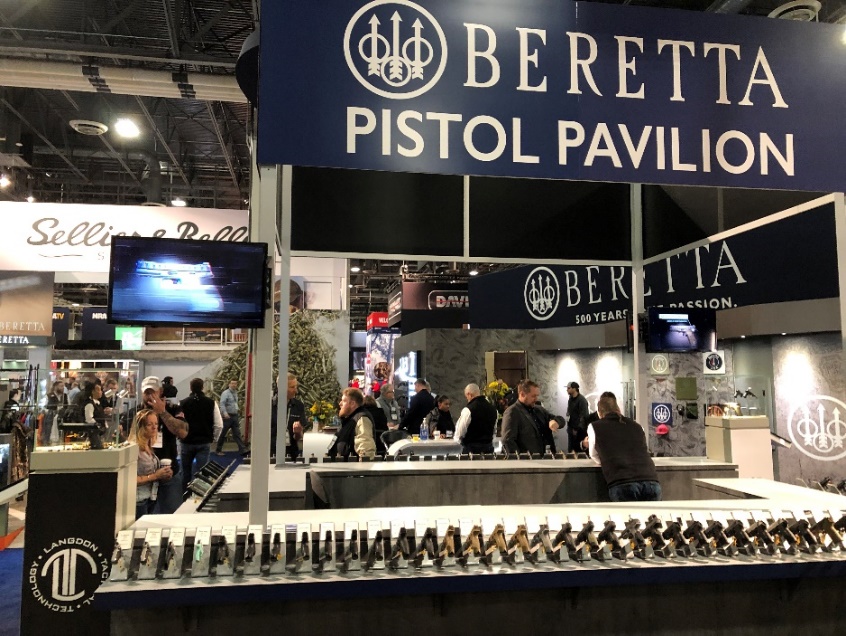 There were many other interesting booths.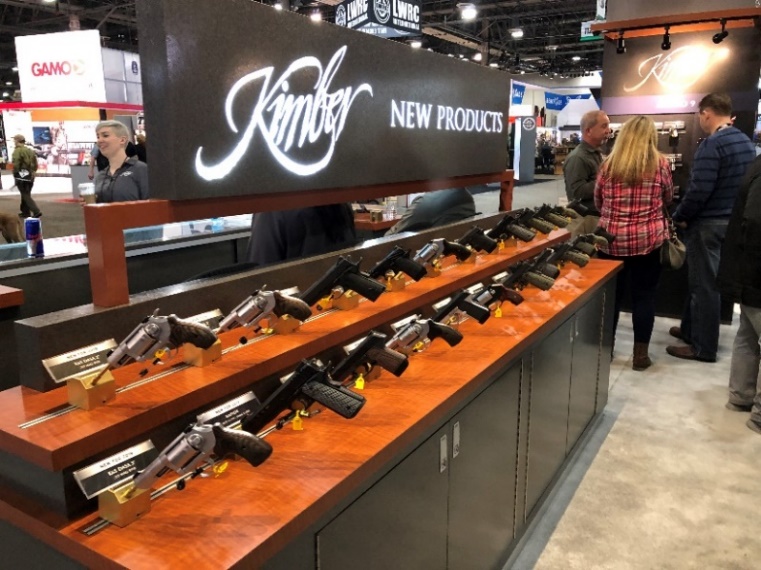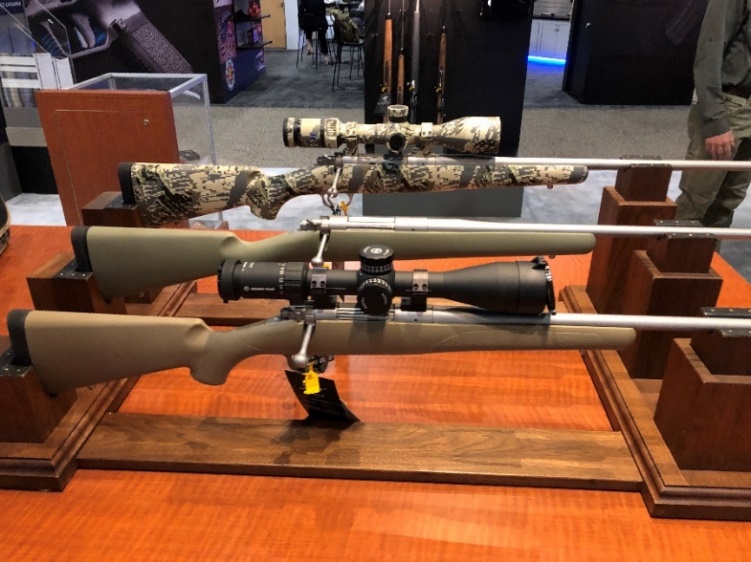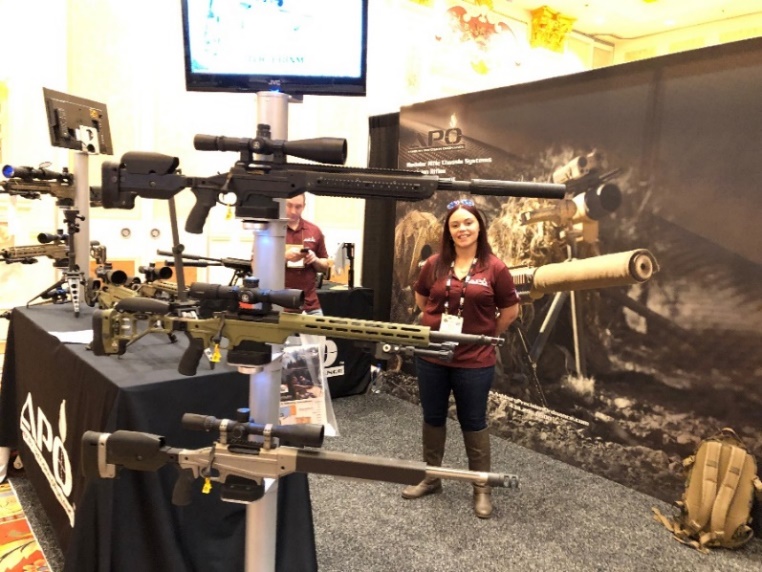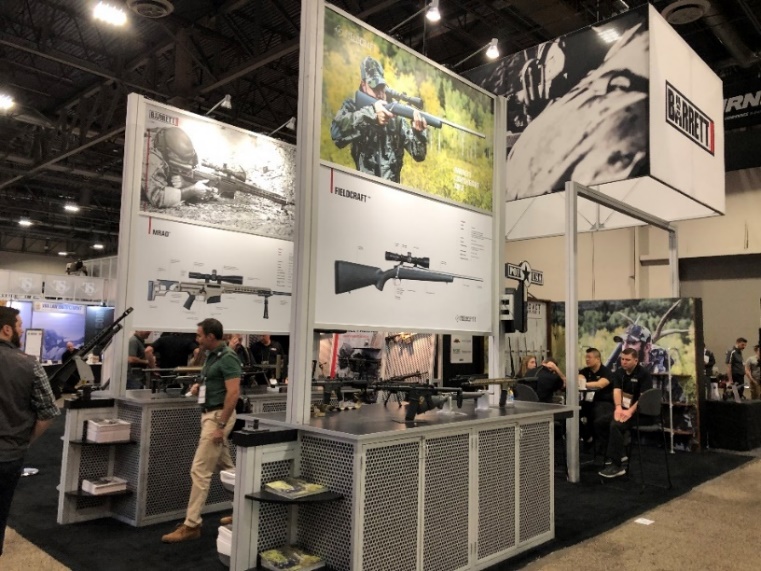 For dinner, we went to a teppanyaki restaurant where celebrities such as Mariah Carrey have been to.
They did a flashy performance.
However there were 3 bullet marks on a pillar outside the restaurant.
It seemed like a nice area, but it made me remind that we need to be cautious at all times.
From left in the picture below:
Mr. Gomi (DEON's engineer), Mr. Turk Takano, writer of this article Mari, Mr. Shimizu (CEO of DEON), Mr. Doc Beech
Mr. Beech works for Applied Ballistics and their ballistics software is popular among shooters.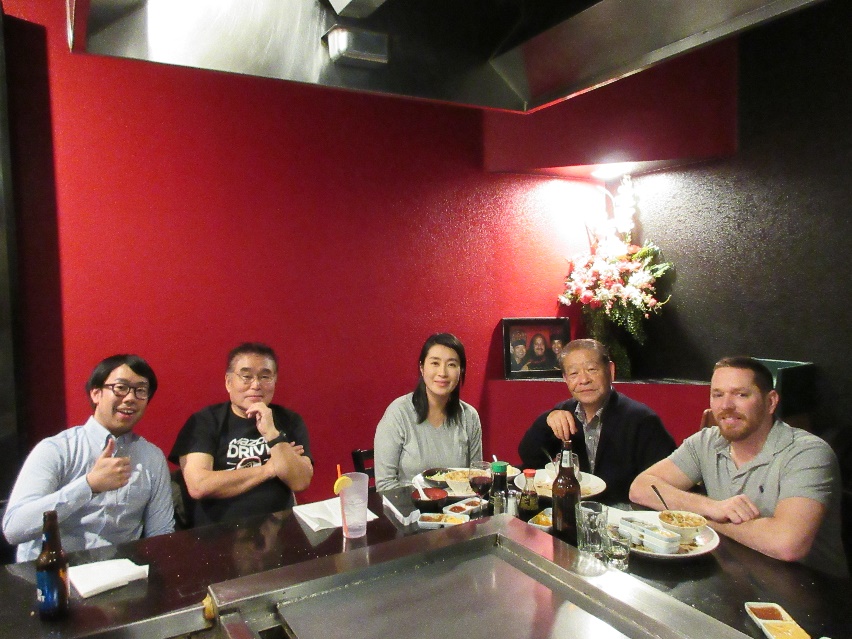 Janurary 25th  Last day in Las Vegas
On the last day we went to Hoover dam which is about an hour drive from Las Vegas. It was constructed during the Great Depression. It still supplies 90% of the water to Las Vegas.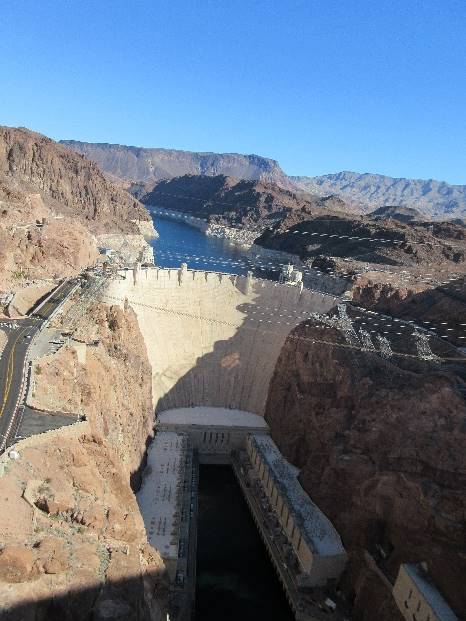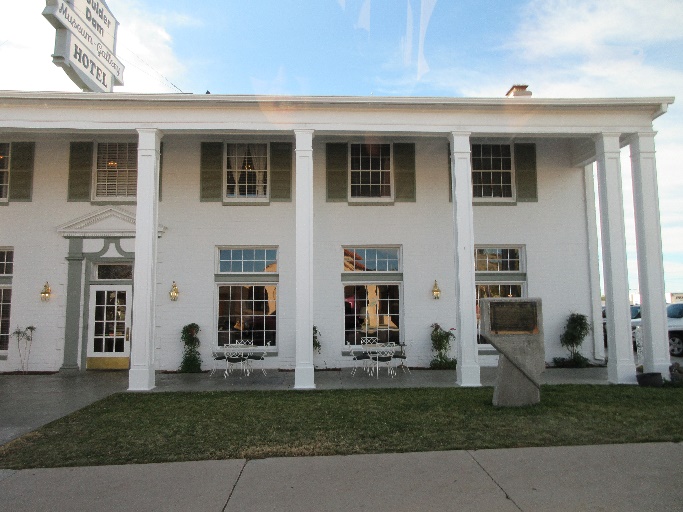 Picture in the upper-right is Boulder Dam Hotel. This hotel was built for President Roosevelt so that he can stay
while inspecting the construction site at the Dam. It is still now operated as a museum and a hotel.
At night we went to see La reve- the Dream whose director is the same as the show "O" by Silk de Soleil.
It was an exciting show with sexy dances, jumping in the water, and synchronized swimming etc.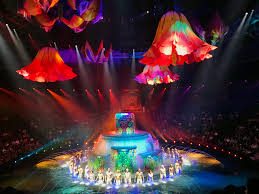 Source of reference :  https://www.celebrityradio.biz/review-le-reve-wynn-vegas/
Shot Show was of course the high light of my stay in Las Vegas but there were many other interesting places to see.
Lastly
I tell my children that the goal in life is not to make a lot of money but to make friends and have good experiences.
At this Shot Show I met many wonderful people and they were kind enough to teach me about rifles and competitions which I have just began to learn. Thank you so much for your kindness and hope to see you next year at the Show!
Also thank you for reading to the end.
Back to page