March 2.5-25×52 Riflescope Review- By Ryan Furman
Posted 10/03/2019
Yesterday I (Mari) received an email from one of our March Owners – Ryan Furman
saying that he wants to shoot with his March Scope on ATVs and prop planes !
To tell you the truth, his comment made my mind blow. What an exciting adventure.
Quoting his words, he is a hunter hunting in harsh conditions. 
After that he told me that he wrote a review on March 2.5-25×52 Riflescope. 
This review below was written on May 8th 2019, meaning that it was written way before Ryan and I exchanged emails.
This is purely a non biased review quoting every single words of his.
He has stated his view of pros and cons and what it's really like to use a March Scope.
You may all find his review intriguing as there are no words added by the manufacturer.
As a manufacturer, we will embrace Ryan's words, bear in mind where the scope needs to be improved and we will try our best to do so.
Have fun reading everyone !  And thanks Ryan for sharing your review. 
Click here to see Ryan's amazing hunting pictures !
March 2.5-25×52 Riflescope Review – By Ryan Furman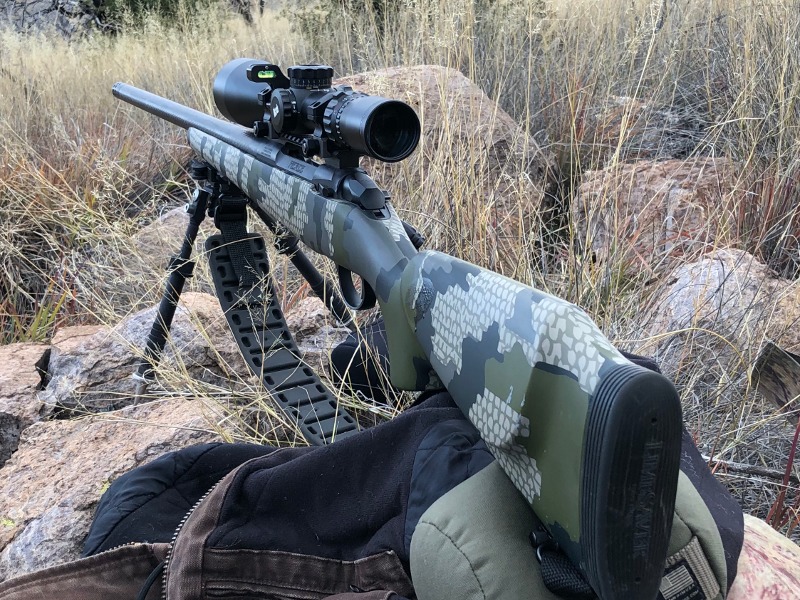 There are a large number of scopes available in what I will call the Alpha tier of glass so before I get started on this review let me answer the question "why even look at the March?" In recent years I have gravitated towards lighter long range hunting rifles and the number of lightweight dependable scopes are very slim if not non-existent. The March 2.5-25×52 riflescope looks great on paper and only weighs 23.5 oz. 
So with very little real-world information, I figured it was time to find out for myself. Let's take a look at how the March performs.
March 2.5-25×52
I mounted the scope as soon as I received it. I wanted to use it to take a couple of long range does for the freezer. After quickly getting the scope zeroed and drops validated for my rifle it helped me take two does at 700 yards with the bullets hitting within a quarter minute of where I was aiming.  After hunting season was over I went straight to doing some serious tracking tests and it performed flawlessly. It dialed the correct amount of elevation and windage and always returned to zero.
Glass and Coating Performance
The glass is great and competes with scopes like the Swarovski X5 in color and clarity. It performed very comparably on the optics chart and I could not detect any chromatic aberrations. I do not make it a habit to do low light testing but as a part of a larger low light test, I found that this is a weakness the March has. It lost resolution about 12-14 minutes before the X5. It was on par with the Nightforce NXS in low light testing. One odd thing I noted while using it was its ability to handle glare, in bright light, better than most scopes I have shot behind.  The scope will focus down to 10 yards, which could come in handy for those who still hunt on occasion.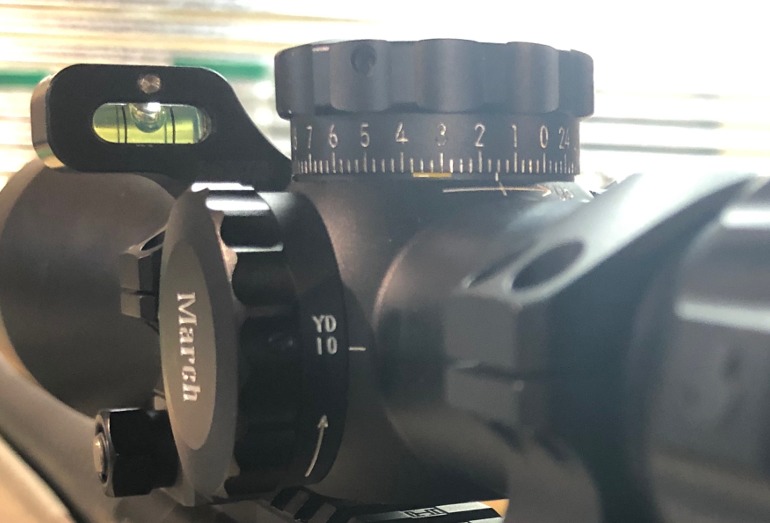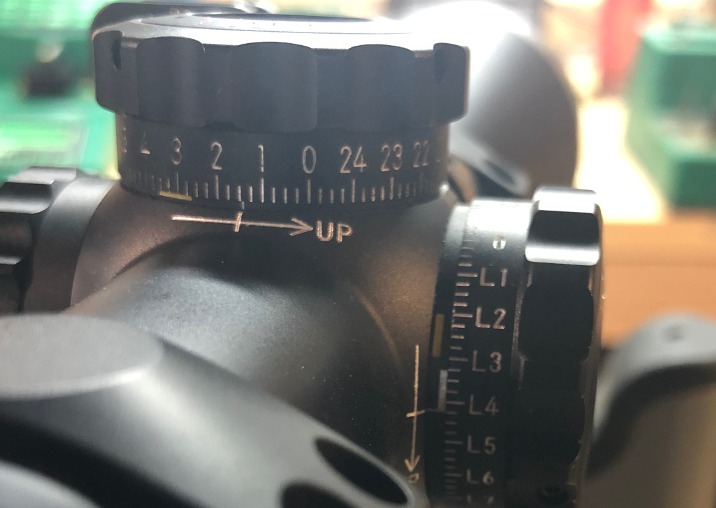 Eye Relief
I have heard a few complaints about the finicky eye relief and parallax. I had never noticed until I had the scope off the rifle and doing the low light testing but the eye relief is a little less forgiving than other scopes. The parallax adjustment is very narrow but I actually favor this because when the scope is in focus the parallax is gone and to me it makes it far quicker to get it dialed in.
(Manufacturer's note : We strongly recommend to attach a MD Disk in order to increase the depth of field. MD disk increases the depth of focus by up to 50% (35mm MD disk for 52mm objective lens) and also reduces the amount of seen mirage. By the improved depth of field, the image will have a lot more of it in focus. When it is very bright outside, MD disk will also reduce the light coming into the scope. )
Turrets and Reticle
The turrets are very precise, audible, and have a great tactile feel. The zero stop is without a doubt the easiest of any scope on the market to set. The zero stop is not as solid as some other scopes but it serves its purpose well. The scope has 120 MOA of elevation adjustment and 60 Moa of windage, which is great for long range shooting and among the best in this specification.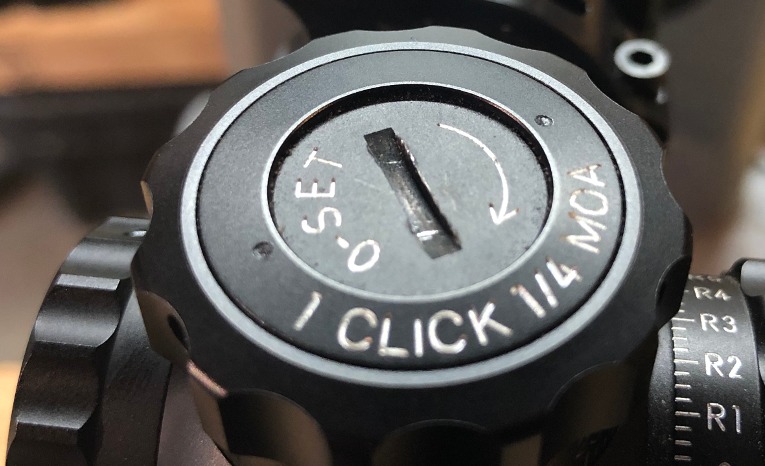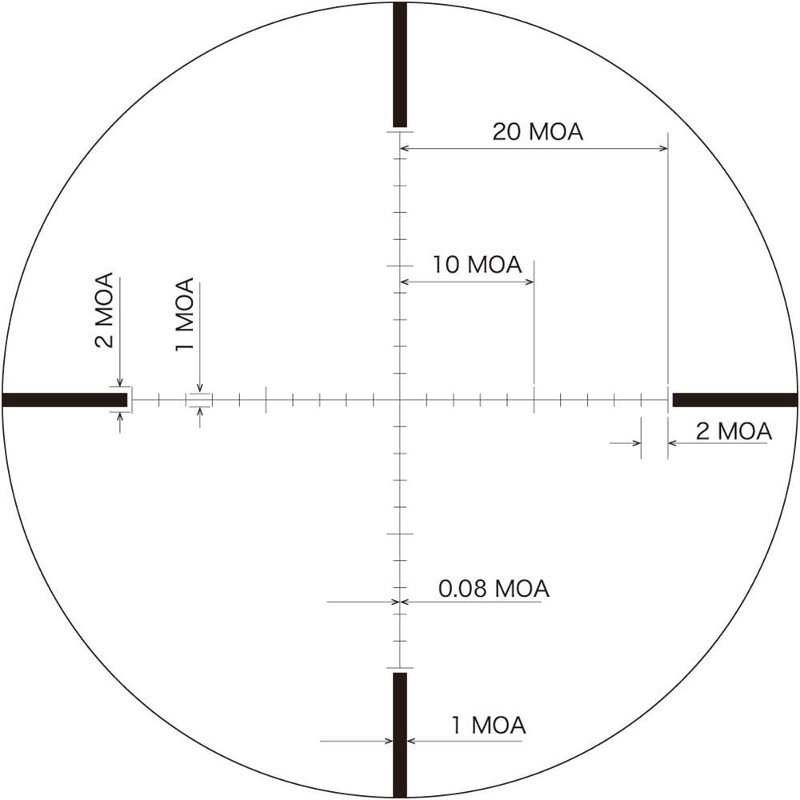 This particular scope is a second focal plane scope. The reticle is another weakness to me. I chose the MTR3 reticle, which is a 2MOA, subtended reticle on 20x. I would much prefer a 1MOA reticle subtended on max, in this case 25x. They offer a scope very similar with first focal plane and an excellent 1 MOA reticle.
Conclusion
I have been using this scope for over a year now. I like the scope so much, when all things are considered, I decided I needed to do some durability testing in order to really have the confidence to keep this scope on my main hunting rifle. I fired a group, removed the scope, smacked it repeatedly on a rubber mallet, reattached the scope, and fired another group. The scope performed perfectly. There was zero point of impact shift between the before and after groups with a total group of seven shots under .5 moa. I have zero concerns with any mechanical abilities of this scope. The March scopes are scopes I can confidently recommend to anyone looking at alpha tier glass and are unrivaled in lightweight scopes. I liked mine so much I ordered another in first focal plane. If you are looking for a great, reliable, and repeatable scope without the bulk and weight take a hard look at March. 
Back to page