Easy and useful tips to increase your marksmanship skill – March Scopes Accessories
Posted 03/16/2020
We understand that competition shooters want to increase their scores by every point they can get. 
Serious hunters want to be able to better aim at their target.
Purchasing a new rifle or scope is expensive.
Selecting proper scope accessories and knowing how to make use of them
can be a most cost effective way to improve your shooting experience.
March Scopes offers a complete assortment of excellent accessories designed to enhance an already marvelous riflescope. 
The accessories have the same fit and finish as your March scope and will not detract from your scope's appearance.
Why not customize your scope to fit your needs?
Here are some March Scopes accessories to consider for your March scope. 
Please note that some models come with a sunshade and/or MD disk.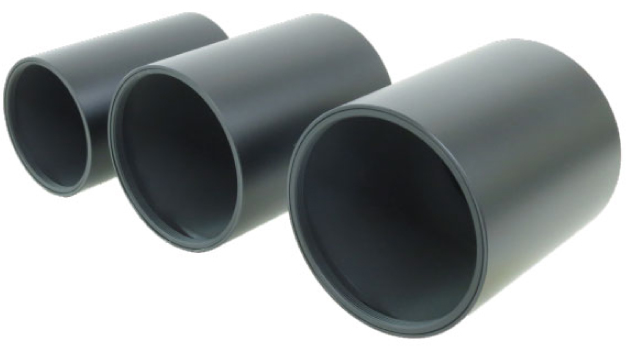 ▲From the left, sunshades for 42mm 52mm 56mm objective models
   We have sunshades for 24mm objective models as well.

▲ You can easily screw in sunshades to the objective lens.
    You can even attach double sunshades or more ! 
    (Except for 24mm sunshades)
When the sun is directly overhead or especially when it is near you field of view, a sunshade
will reduce or eliminate any flare caused by the incidence of light entering indirectly into the scope. 
A sunshade will also help tame the mirage effect created by the heat of the barrel.
A flare is an artifact engendered by the reflection of off-center light from one or more lenses. 
A flare will make reduce the contrast and sharpness of an image, making it appear more white and indistinct. 
Using a sunshade will greatly reduce or eliminate the occurrence of a flare in these situations.
When mirage is discerned in the riflescope, one mitigating strategy is to reduce the magnification. 
However, advanced shooters will maintain the magnification and use the mirage to detect changes in wind direction and speed.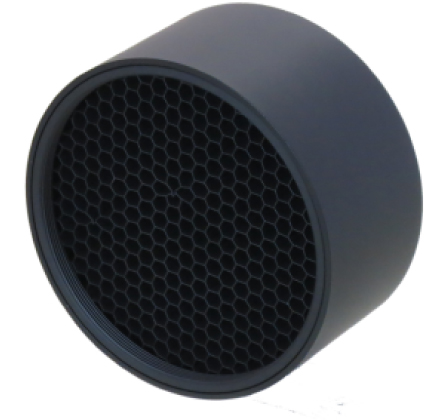 ▲Honeycomb hood for 42mm, 52mm, 56mm objective models
The Honeycomb hood is used to eliminate any reflections from the objective lens.
If you want to use a sunshade and a honeycomb hood,  screw in the honeycomb hood to the objective lens first then add the sunshade. 
This way you will not be bothered by a honeycomb pattern appearing in the eyepiece.
---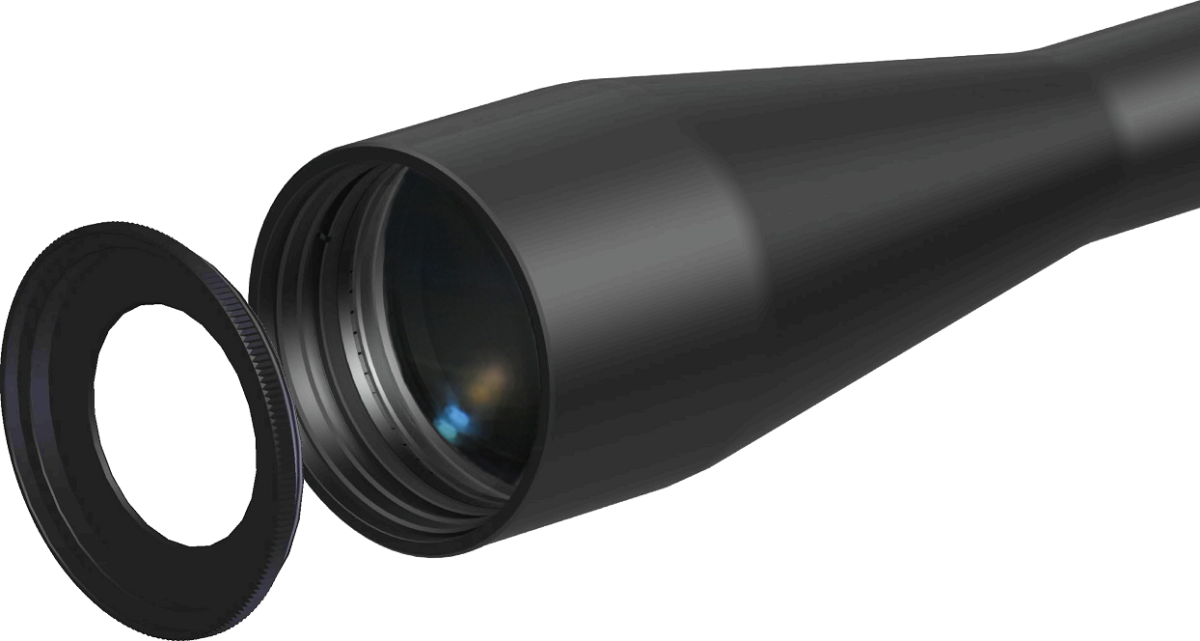 ▲MD Disk for 42mm, 52mm, 56mm objective models
When it is very bright outside, you can screw in a MD disk, which is designed to reduce the light coming into the scope by 50%. This reduction has the benefit of increasing the depth of field of the riflescope. By the improved depth of field, the image will have a lot more of it in focus. 
You can attach the MD disk at the end of a sunshade or directly to the objective lens.  The image will appear darker in the eyepiece than without the MD disk. We recommend to take the MD disk off after dusk as the image will appear darker with it attached.
---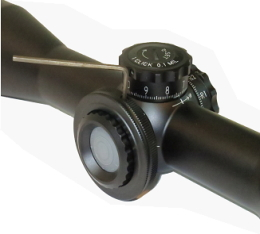 ---

▲Left : 31mm Middle wheel  (2-DB340-0)
   Middle : 34mm Middle wheel (2-DB341-0)
   Right : 36mm Middle wheel (2-DB342-0)
The Middle Focus Wheel is attached directly to the focus knob
and it comes in 3 sizes depending on the focus knob of your March riflescope. 
The attachment is done by tightening three small screws using the included Allen wrench
and the nylon tips of the screws will not damage the existing focus wheel.   
The Middle Focus Wheels all have the same outside diameter
and this large diameter makes it easier to make quick and fine adjustments with the focus knob. 
This is especially handy when it's cold and you may be wearing gloves.
---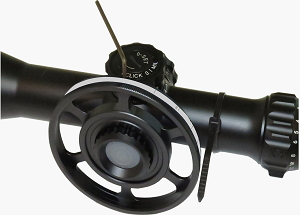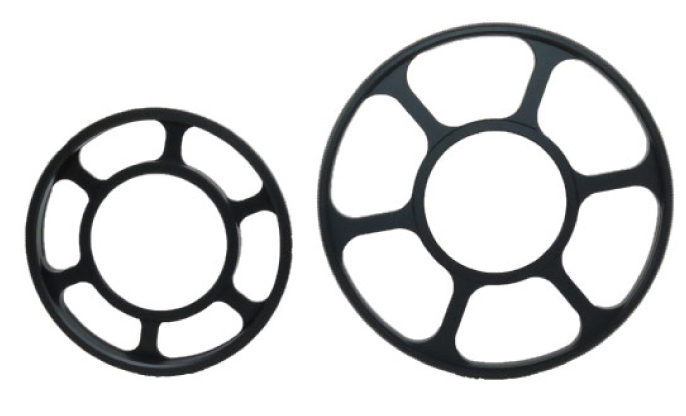 ▲You can choose from 2 sizes:  3.5inch(8.89cm) / 4.5inch (11.4cm)
Both will fit into all 3 middle wheels.
Once you have a middle focus wheel on your focus knob,
you may decide to go one step further and add one of our Large Wheels to the middle focus wheel. 
This Large Wheel allows you to make extremely precise adjustments to the side focus, something very important
when the focus is critical due to the shallow depth of field of the scope at high magnification. 
For example you can discern a 1 meter difference in focus at 50 meters, at high magnification.
The Large Wheel is indispensable for Air Rifle Field Target as well as
for other disciplines which require very fine adjustment of the focus dial. 
A March Scope owner shooting in F-Class has shared with us that he uses the Large Wheel
to quickly and precisely change the focus setting from 1000 yards to near 600 in order to check the mirage
at that distance and then he pops back instantly to 1000 yard focus to take the shot.
---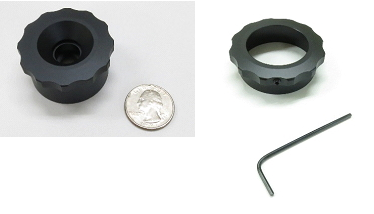 ▲Left : DB393-0 (5x-32x, 10x-60x, 5x-50x, 8x-80x)
   Right :DB392-0 (1x-4.5x, 1x-10x, 2.5x-25x, 1x-8x, 3x-24x, 5x-40x)
March offers two blank dials for shooters to create their own Ballistic Drop Compensator (BDC).
These blank dials replace the existing elevation turret on your March scope and let you create your own elevation adjustments.
Large Dial can also be used for windage turret as well.
However if you use large dials on both elevation and windage turret, they may bump into each other.
DB393-0 (replacing with a coin)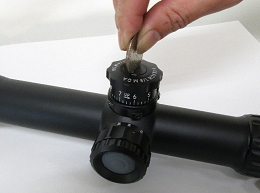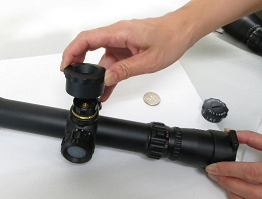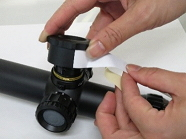 DB392-0 (covering the existing turret)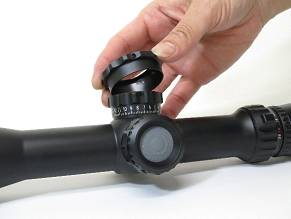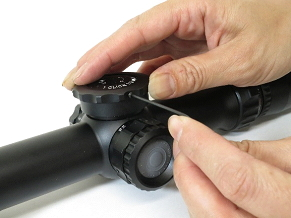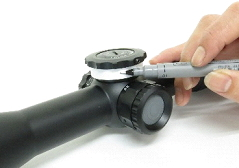 Windage Dial with special engraving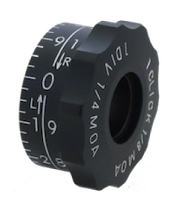 ▲With special engraving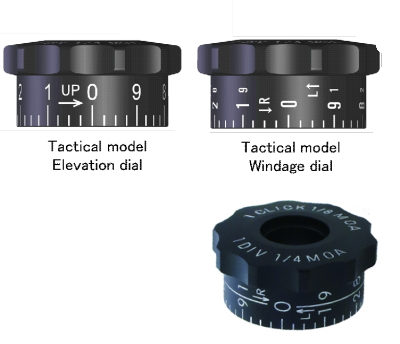 ▲Above: Standard engraving
   Down : Special engraving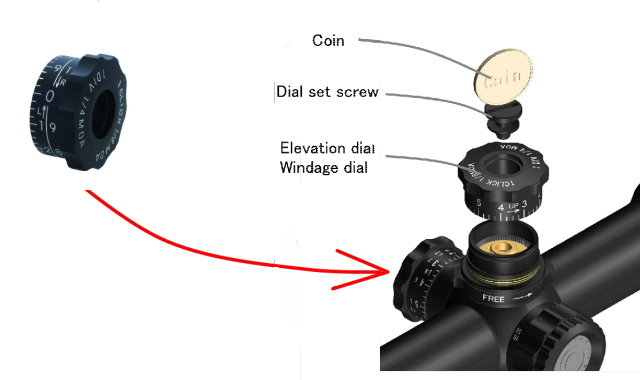 This a Windage dial with special engraving requested by F Class European & UK Champion Gary Costello. 
Rotate the dial set screw with a coin and you can easily replace the exisiting windage dial.
Special engraving has L on the left side, R on the right side and with numbers on each side.
You will no longer get confused with how many clicks you have rotated the windage dial.
---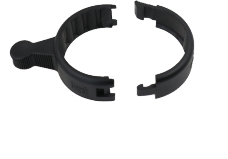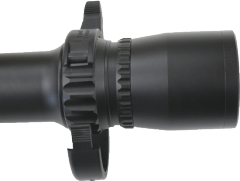 This is a great device to easily and quickly change the magnification.
We hope that you take the opportunity to consider customizing your scope
to fit your needs and further enhance your marksmanship skills 😉
Written by : Mari Morita

Back to page