Review of MARCH 4.5-28X52 with LDK reticle & Nightforce 7-35×56 F1 ATACR by a varmint hunter Norman Lindsey (USA)
Posted 09/22/2021
March Scope Owner and an avid varmint hunter Norman Lindsey (USA) kindly wrote a review for us so he could share his experience with other fellow shooters. It was the first time for me (Mari at DEON) to encounter a prairie dog hunter and I was intrigued by catching a glimpse of how difficult it is to hunt such a small creature. We hope you enjoy his well written review as I did!
(Below is written by Norman Lindsey)
---
I'm not a competitor or professional shooter of any kind. I shoot prairie dogs in Western South Dakota in August or September with an occasional venture over to Texas in October. We have been going out to SD for the last 18 years and have worked our way up to shooting at the 600yard to 1200yard ranges.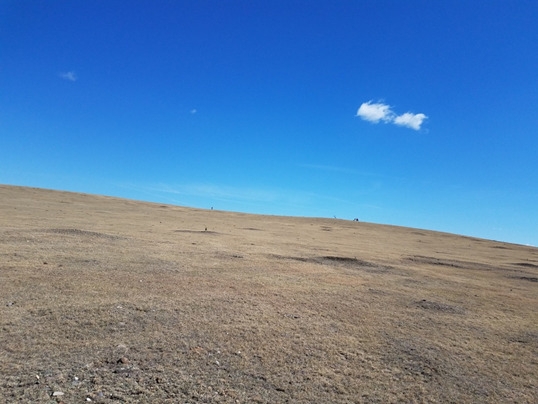 As our shooting skills increased so did our need for more capable rifles and scopes. I'm not very technically oriented so I have to learn by trial and error to find what works for me and after many experiences I pretty much became a Nightforce user. My primary gun wears a 7-35×56 F1 ATACR and my backup a 5.5-22×56 2FP NXS. When it became evident that the backup gun, a .22-250 Remington was not capable of playing at the far end of the ranges I wanted to play, it got relegated to a tertiary role and a new backup was built. This left open the question of what glass to put on it. I really liked the ED glass in my ATACR and it helps cut down on some of the harsh mirage we often experience in SD but the wide angle on the March FX 4.5-28x52WA intrigued me and with it having super ED glass that sold me.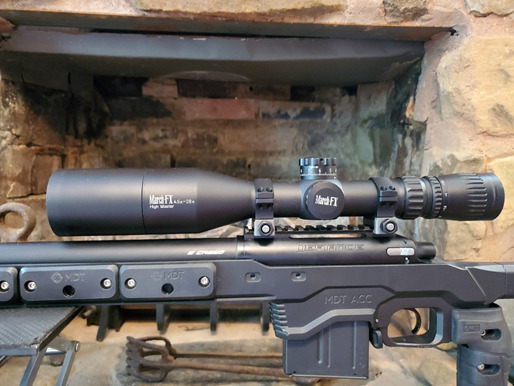 The last of August this year I finally got to try out the March in the field and compare it to my current NF. The reticle I got in the March was the FML-LDK which is very similar to the NF MOAR reticle that I use and like with the exception the MOAR is moa and the LDK is mil which was a little problem for me on the 100yard range when I was zeroing the March. This difference created no problem in the field as I rely more on holdovers and relationships in shooting at the rapidly changing target distances and I generally only use the elevation knob when I need to shift 400 or 500 yards.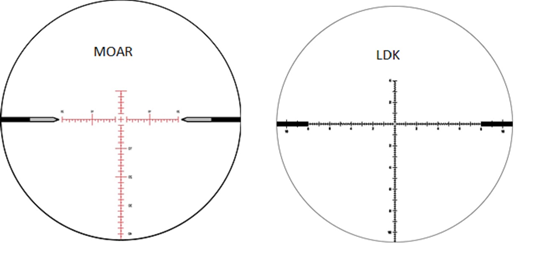 Note: All comparisons between scopes were made at 28X max magnification as that was max for the March and the Nightforce went to 35X.
Temperatures were mild this year and barely reached 82 degrees the first day so mirage was mild and proved no problem for either scope although the sun was bright and both scopes benefited from their sunshades. The wind was also mild for South Dakota for this time of year measuring only 20 MPH gusting to around 25-26 MPH. The March windage knob moved smoothly and the scope had enough adjustment that shooting in 90-degree crosswinds was no problem. In fact, both windage and elevation turrets operated with a crisp click and always returned accurately back to basic settings.
There were two big differences between the scopes noted that first day. First, the March wide angle lens made seeing the bullet strikes and adjusting for follow up shots much easier, and as I had no one spotting for me that made a big difference. In addition, the wide angle made it easier to keep the scope on the target during reloading. In the flat barren and arid terrain of South Dakota there are few reference points and the gun's recoil and subsequent movement of reloading can easily make you lose your target.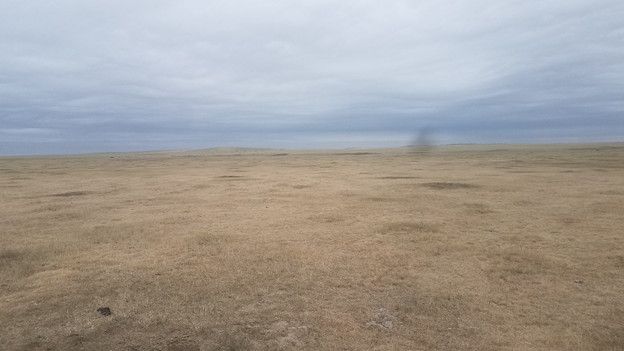 Second, I use my rifle scope to scan the field looking for targets. This normally means moving the scope to a lower magnification to widen the field of view to scan and then moving back to higher magnification to shoot. The wide angle eliminated this problem and let me scan at max magnification. On this day targets out to 800yards (longest we encountered this day) were sharp and clear and I was able to use 28X on both scopes with no problems.
The second day we ran into bad overcast weather with cooler temperatures. One of the prairie dog's biggest threats are flying predators such as hawks, eagles and owls so they rarely come out of their holes when they cannot see shadows. Today was no exception and we did not see a prairie dog all day. Not to waste an opportunity, we found a field where we had a clear 1000yard range (measured by both range finder and GPS) and set up some improvised targets about the size of a prairie dog, e.g., soda cans, aluminum beer bottles and a plastic 32oz oil bottle on top of some prairie dog mounds.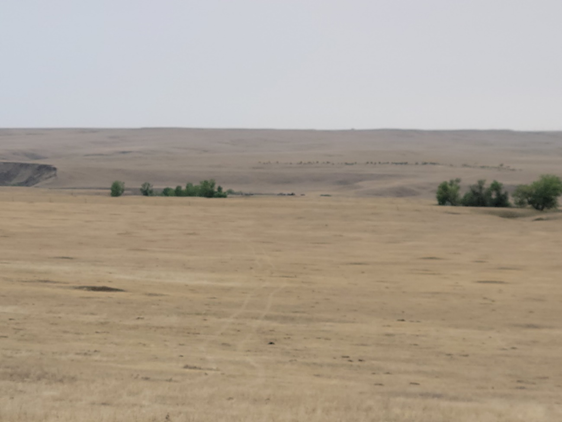 We set up our shooting tables and alternated shooting so that we could spot for one another. Wind was mild, running about 5-10MPH at about 30degrees, temperature 78degrees with heavy overcast that greatly lowered the light quality. We had a ball shooting at the prairie dog size targets.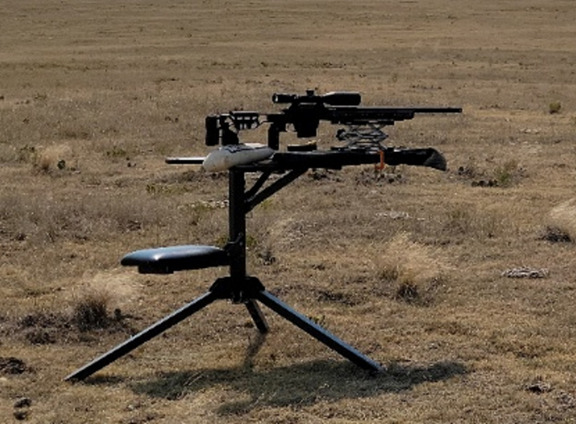 I started out shooting my backup rifle (a 6CR) with the March on it as I wanted to get actual range settings for a thousand yards for future reference. I shot about 30 rounds (10 of those was setting in the range and wind drift) and got four hits. I only shot 7 rounds with my primary rifle (a 260 Rem) with the Nightforce as I already had a good range estimation from previous hunts and only had to get the wind drift with it and I manage to get one hit.
Biggest difference I noted on this day were the marks on the LDK reticle were finer than the MOAR and proved to work better on seeing the distant small targets as both scopes are FFP and the lines got bigger at higher magnification on the MOAR right at the range that the targets are getting smaller. The smaller lines of the LDK enabled me to see better and make finer adjustment to the shot on the small target. The second thing noted was the March seemed to be a little clearer in the low light condition.
Initial Conclusion: With both scopes including good rings and mounts costing in the neighborhood of the $4K mark one had either better be made out of money or know exactly what he wants from the scope before he buys either one. For me it is all the usual things a good quality scope would have such as, good mechanics that stand up to hard use, accurate turrets that retain settings and return when changed, good glass, a scope that works under all kinds of adverse conditions, a reticle that's easy to use and most importantly easy to understand, a scope able to withstand the occasional abuse that happens on a hunt, good eye relief, good warranty, good reputation and most of all provide years of flawless service. Both scopes certainly deliver on these. But these things can be found in scope costing a lot less so the thing that would make me go for a scope in this price range is the advantage the newer ED glass gives in seeing the targets and the potential it offers me to see better and use higher magnification in the heavy mirage I often encounter in South Dakota. To give the reader a feel for the type of mirage I'm talking about consider shooting in 20-35 MPH winds at 90-100degrees F.
During this hunt we had one of those rare occasions where the mirage was negligible to the shooting so I was unable to determine which had the better glass. Under the conditions we had this year the only real advantage between the scopes went to the March's wider angle and finer lines of the LDK reticle. I'm going to have to wait until next year to find out if one works better with my eyes in the mirage. Regardless of future outcomes I was very pleased with the March and think it with this reticle will be a great varmint scope.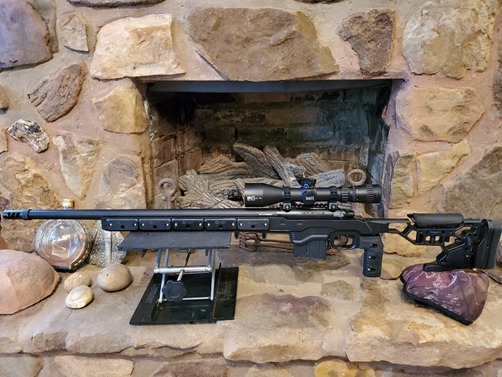 Back to page