Part 2 : Difference of the reticle manufacturing method (wire, glass, fiber dot)  – The reason March chose a Dual tree reticle over a FFP reticle for 1-10×24 Shorty FFP scope
Posted 10/05/2021
After DEON (manufacturer of March Scopes) launched the 1-10×24 Shorty FFP scope, we received many inquiries to make a tree reticle for this scope. We put a lot of thought into this discussing with our customers and dealers. The most difficult decision for us was whether to design the tree reticle in FFP or in dual reticle (combination of FFP and SFP). The technical and assembly challenges with respect to dual reticles are extreme and the tolerances required in assembly of dual reticles is such that very few manufacturers are able to do it, especially with a 10X zoom ratio. However we wanted to combine merits of both FFP and SFP reticles to benefit shooters and this is the reason for our decision.
We will explain Part 1 to 3 in each article. You can click the headlines below in blue and jump to the section you are interested. 
(Part 1)   Characteristics of each reticle (FFP, SFP, Dual) reticle
(Part 2)   Difference of the reticle manufacturing method (wire, glass, fiber dot) 
(Part 3)   Concrete reasons why we chose the dual reticle showing actual examples through videos and pictures 
---
(Part 2)  Reticle manufacturing method (wire, glass, fiber dot)
Wire reticle
The mainstream of reticles nowadays is glass reticle. Manufacturers who can actually make wire reticles are only 1 or 2 companies including us as it requires superb technique of a superior craftsperson. Under a microscope, an artisan places a 6micron (=0.006mm) ultra-fine wire and attaches a dot to the center. Technically we can make a wire reticle with 4micron but it is too thin to be visible. This is a craftsmanship that requires delicate manual work. Because the wire is just placed on the optical axis there is no glass (lens) that obstructs the transmission of light, which prevents the decrease in transmittance. The lines are very fine which is suitable for precision shooting. Wire reticle can be assembled in most of our SFP models. CH(cross hair), Dot (1/16,  3/32, 1/8, 1/4MOA dot), Di-plex, LR reticles are wire reticles. These are only available in non-illuminated models.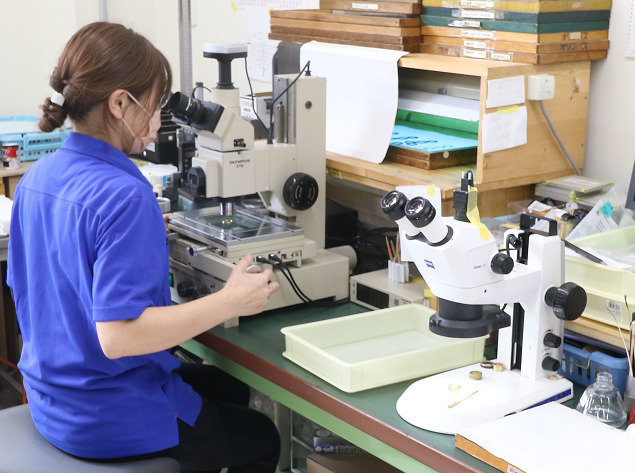 ↑ Picture taken by Satoshi Matsuo, deputy editor at Gun Professionals.               http://hobbyjapan.co.jp/gunprofessionals/
Glass reticle
These days, glass reticles are the mainstream. It has the advantage of being able to create complex reticles. This is a method in which the glass surface is etched using chemicals. The etched part is illuminated by the reflected High luminance LED. Non illuminated parts in a glass reticle are formed by chrome evaporation. Reticles other than wire reticles and fiber dot reticles are glass reticles. 
Fiber dot reticle
Fiber dot reticles FD-1 & FD-2, assembled in FFP : 1-10×24 Shorty, SFP : 1-4×24 / 1-10×24, 2.5-25×42, 2.5-25×52, are daylight bright which are usable throughout the day. The reason why the fiber dot reticle is much brighter than the glass reticle because the LED light is guided by fiber.
DR-1 dual reticle in the 1-10×24 Shorty FFP scope adopts a fiber center dot in SFP. (Scale in the dual reticle is in FFP.) The SFP fiber dot does not change its size throughout the entire magnification which we believe will benefit shooters. 1-10×24 Shorty FFP scope assembling the fiber center dot can be used as a dot sight at low magnification. Also as the SFP fiber dot will not increases its size at higher magnification it is suitable as a precise illuminated dot for long range precision shooting at higher magnifications with the use of the scale as well.
However, each reticle has different characteristics so please choose according to your preference.
You can click the headlines below in blue and jump to the section you are interested. 
(Part 1)   Characteristics of each reticle (FFP, SFP, Dual) reticle
(Part 2)   Difference of the reticle manufacturing method (wire, glass, fiber dot) 
(Part 3)   Concrete reasons why we chose the dual reticle showing actual examples through videos and pictures 
Written by : Mari Morita

Back to page