News Category
Archive
Newly Posted
New March Scopes are featured in in the "Optics 2022" on the Shot Daily magazine at SHOT Show.
Posted 01/20/2022
March Scopes is featured on p44-45 in the "Optics 2022" on the web version of the Shot Daily magazine provided at SHOT Show.
(Image quality in the original version is much better than the screen shot below.)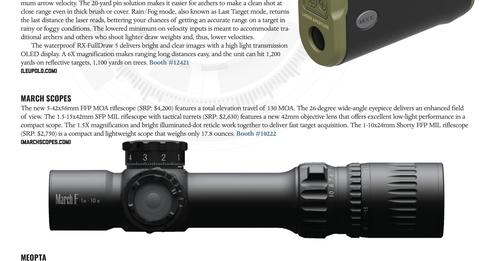 Our newest scopes are ;
★5-42x56FFP MOA model
This scope has 130MOA elevation travel amount and the world's widest field of view of 26degrees. Lockable turrets for Elevation, Windage and Side focus. Temperature Anti-Drift Lens System and High Master lens system are incorporated. MIL model with 40MIL elevation travel amount is also available.
★1.5-15x42SFP MIL model with tactical turrets
Newly developed 42mm objective lenses system produces a bright high resolution image. MOA model is also available. 
★1-10x24shorty Dual reticle(FFP +SFP) scope
DR-1 and tree type DR-TR1 reticles with a day bright center fiber dot can be assembled at your choice. Dual reticle has the convenience of the FFP reticle scale which magnifies and reduces according to the magnification and the usability of the SFP reticle with the constant thickness of the line as the magnification changes. Ultra compact scope with length of 214mm(≒8.4inch) and 505g(≒17.8oz) weight.
---
Thank you for your continued support!
Written by : Mari Morita

Back to page