News Category
Archive
Newly Posted
Specification for the FIRST prototype of 5x-42×56 scope
Posted 07/18/2019
We are improving the first prototype of our newest 5x-42×56 scope
and are now conducting further tests for the third prototype.
Hopefully we'll be able to launch this new 5x-42×56 scope within 2019!
Click here to see the full concept of our new 5x-42x56FFP  (First prototype)
Spec for the FIRST prototype of 5x-42×56 scope.
(This spec is for MOA but we will be making this scope in MIL as well)
Magnification Ratio: 5x-42×56 FFP (First Focal Plane)
Objective Lens Dial: 56mm
1 Click: 1/4MOA, One Turn: 50MOA
Elevation Adjustment: Total 140MOA
Windage Adjustment: Total 50 MOA
Eye Relief: 70-90mm
Focus Distance: Side Focus 10m-Infinity
Exit Pupil Diameter: 5.2mm at 5x, 1.33mm at 42x
Overall Length: 358mm
Weight: 950g
Field of View : 26 Degree Wide Angle Eyepiece View
Below is the picture of the FIRST prototype of 5x-42×56 scope.
We are thinking of adding more features to this first prototype.
Once we finalize the product model we will share all the information on this website!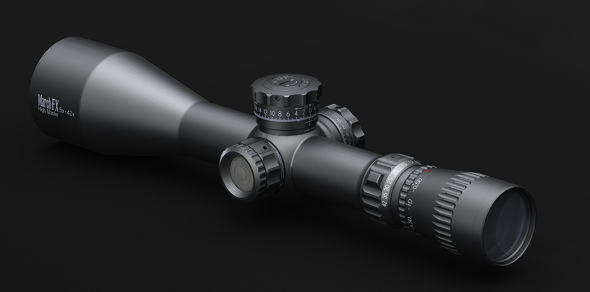 Back to page