Detailed review of March 10-60×56 High Master Scope by James Mock (USA) posted on AccurateShooter.com
Posted 10/06/2022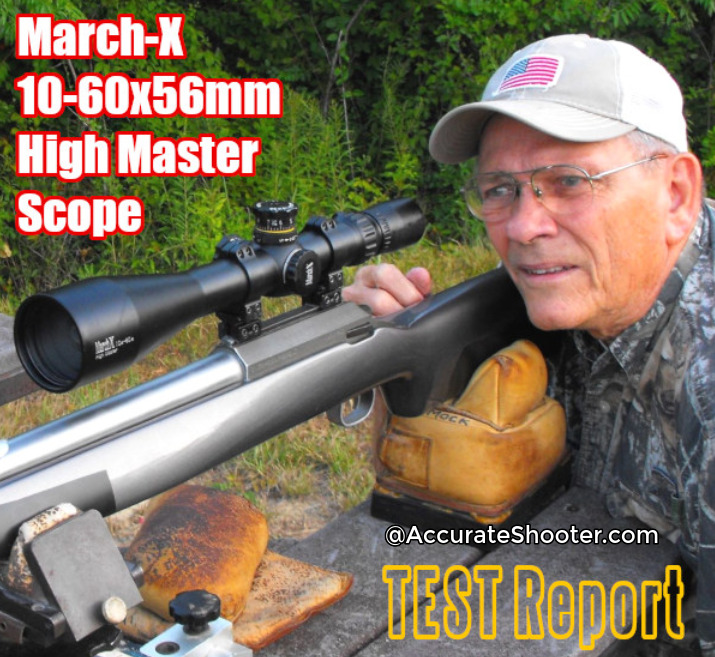 The first ED glass is believed to be invented in the late 1960s. In 2006, when we assembled ED lens into the newly launched 40×52 Benchrest scope at that time, ED lens was not used in any other riflescopes then. (*40×52 is no longer available and has been upgraded to 48×52) In those days, ED lens was only used in cameras, high magnification telescopes, and high-end spotting scopes. March Scopes was the first riflescope manufacturer to adopt ED lens. We have started the trend and now other scope manufacturers use ED lens for high magnification and high-end scopes.
---
After the development of ED glass, Japanese manufacturers competed in the development of advanced lenses. Super ED lenses, similar to fluorite, have the ability to improve chromatic aberration further than ED lenses, and in 2017 DEON incorporated two Super ED lenses in March scopes.
---
For your reference, our previous articles may further explain what is mentioned in James's review. Previous article of "Shimmer protection in March Scopes with Super ED lenses"
https://marchscopes.com/news/12385/
Previous article of "March Scopes being the pioneer in the use of ED, Super ED, Temperature anti drift lens system"
https://marchscopes.com/news/10054/
---
We would also like to say special thanks to
Lou Murdica
being mentioned a couple of times in James's review. DEON Optical Design Corporation (manufacturer of March Scopes) was founded in 2004. We first started business by designing for other companies. Then we received an order to manufacturer scopes and we shipped our very first March Scopes to the US in 2006. Benchrest and F-class shooter, the owner of March Scope's distributor Cal Shooting Supplies, Lou in the US is our first customer. Our founders had worked at an optical company manufacturing OEM high-end optical for more than 35 years and had been in this optical industry for more than 50 years now. However no one knew our company back then when we started DEON and we greatly thank Lou for trusting us and placing the first order. Today we have been able to expand the circle of TEAM March throughout the world. We would like to take this opportunity to say "THANK YOU" to each and every March Scope Owner, our trusted distributors and dealers for the support you have given us. Thank you!
---

Back to page