News Category
Archive
Newly Posted
Interviewing the 2022 US National F-Open Champion Tim Vaught (737 Airline Pilot & 25 year duty U.S. Army Warrant Officer Aviator)
Posted 12/13/2022
Tim Vaught (USA) is an excellent shooter to begin with and we asked him to shoot at the F Class Nationals 2022 with the prototype of the March-X 8-80×56 High Master Wide Angle Scope. To our delight, Tim Vaught won and became the US National F-Open Champion for 2022. (Link to Tim's comment on the Championship shooting with the 8-80×56 High Master Scope: https://marchscopes.com/news/14179/) Amazingly Tim just started shooting F class from 2018. He works as a 737 Airline Pilot and was an U.S. Army Warrant Officer Aviator for 25 years. As his background was so interesting we asked him to write a personal bio and shooting history for us. Tim kindly sent us the write-up below. Thank you for sharing your inspiring story with us!
Personal Bio and Shooting History and Accomplishments
Born and raised in rural Nebraska with very conservative and humble Midwestern family roots on both my fathers and mothers side of my family as multi generational farmers of corn, soybeans, alfalfa, and beef cattle. At 18 years of age enlisted as a Private in the United States Army as a Helicopter Mechanic. After 5 years had achieved the rank of Staff Sergeant E-6, and was selected for Warrant Officer Flight Training. Accumulated over 4500 hours of flight experience over the next 20 years for the United States Army in a wide variety of helicopter and airplane assignments across the Globe ranging from Alaska, Honduras, Colombia, Germany, Iraq, and Afghanistan. Awarded and decorated as a Master Army Aviator, with 4 Air Medals, the Bronze Star and the Legion of Merit, with over 1000 hours logged in a Combat environment. After 25 years of contiguous Active Duty service, I retired as a Chief Warrant Officer Four, and secured employment as a Boeing 737 First Officer with a very successful 121 airline headquartered in Dallas Texas, with which have now been employed for 7 years.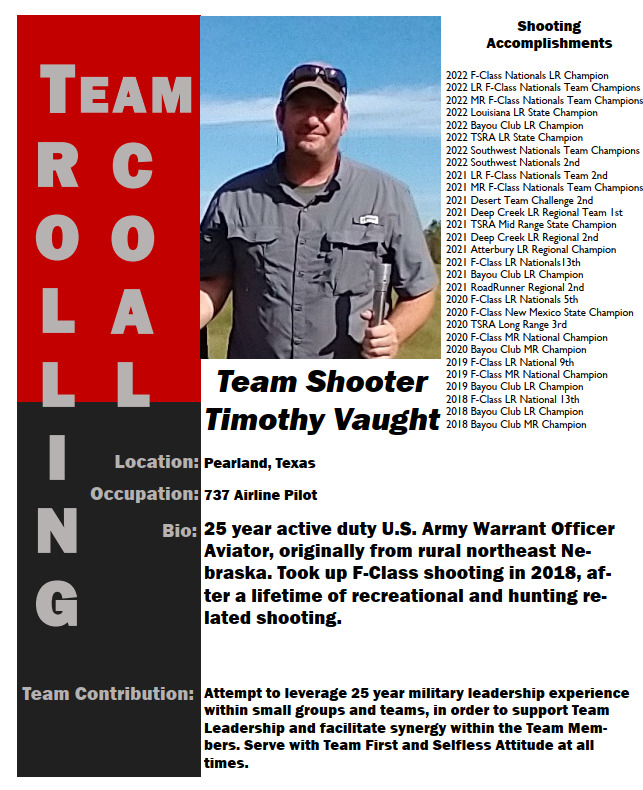 I own a home in Eagle River Alaska, and maintain a work apartment in Houston Texas where I am based for my work flight trips with the airline. In the winter months, I find myself enjoying the south Texas weather on my days off, and in the summer months, I spend more of my work free days enjoying the Alaska summer. My main passion is Long Range Shooting, however I am also fascinated and intrigued by Small Teams and their performance. The leadership and synergy of small teams to do great things is what I was a part of for those first 25 years of my adult life in the Army, so I very much appreciate the opportunity to contribute via my Team Captain, towards building a world class shooting team, that's cohesive, trusting, collaborative, and ultimately puts forward World Champion level performances. I also enjoy adventure motorcycle riding and exploring the great outdoor world on two wheels, and I very much enjoy all types of music. The art and science of long range shooting have always intrigued and fascinated me.
---
After having finished my Army service, I found myself with the time and energy to pursue this passion, and began a more serious and focused approach to long range shooting, in the form of F-Class, specifically the F-Open discipline. In April of 2018 I took delivery of my first purpose built F-Open rifle from the legendary Speedy Gonzales, and in the first 2 weeks of owning the rifle, won both the Mid Range and Long Range Club Championships at the highly vaunted Bayou Rifles. That initial success set the hook, and with mentorship from Speedy Gonzales, and Erik Cortina, I was given a fairly narrow path the navigate as new F-Open shooter, that I heavily attribute towards my shooting successes. In my first ever F-Class Long Range Nationals (2018), I placed 13th overall, and in the following year found myself as the 2019 Mid Range F-Open National Champion, and now 9th overall at the 2019 F-Open Long Range Nationals.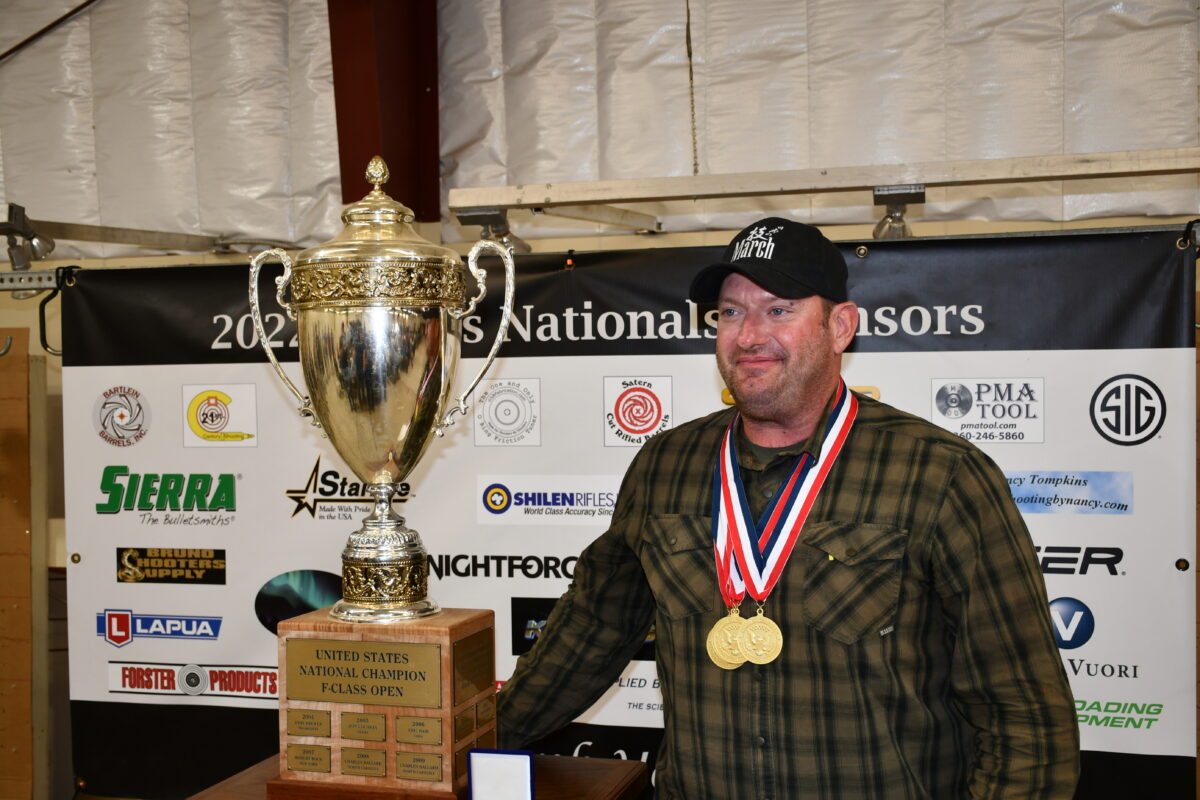 In 2020 I again was fortunate enough to win a consecutive Mid Range National Championship in F-Open, and placed 5th overall in F-Open at the 2020 F-Class Long Range Nationals. 2021 was an odd year for the world, and my shooting reflected that in terms of my work predictability and employment stability, I didn't perform to my full potential during the height of the pandemic. In 2022 however, I find myself with a 2nd place finish at the Berger Southwest Nationals in February, the 2022 TSRA Texas State Long Range Champion in April, the 2022 Louisiana State Long Range Champion in September, and now the 2022 F-Open Long Range National Champion in October.
March Scopes offer a competitor a competitive advantage. The capabilities of the scope mean real points on my scorecard, that I otherwise may not achieve. You cannot aim at which you can not resolve, and the image resolution of the March High Master Scopes offer the best aiming resolution available in a rifle scope. A successful competitor must trust and have faith in his equipment, to respond to adjustments, and to withstands the rigors of travel. My March High Master Scopes have, and both continue to pass my own annual rigorous mechanical tracking tests, and have a flawless reliability record for travelling and being robust and reliable. In my specific discipline of F-Class, the larger forgiving eye box allows for rapid reacquisition of the target image from shot to shot, and also when transitioning from the use of a spotting scope when monitoring range conditions during the match. March as a company is responsive to the F-Class Competitor community, and you can see it throughout the design of the scopes, from the reticle choices, easy to re zero and adjust turrets, and the high performance and quality throughout the scope. The clarity of the image, the mechanical repeatability, the forgiving exit pupil, and the resilience of the optic to bumps and scrapes of travel, all combine themselves into the Competitive Advantage I seek as a Competitor.
---
This recent opportunity to evaluate and use this most recent scope (prototype of 8-80×56 High Master Wide Angle Scope), and then to be able to use it at the Long Range Nationals has been an amazing and humbling experience. To have the Tournament result end like it did, is very difficult for me to put into words, but am able to say I am very thankful for the opportunity and the recent win has motivated me to work even harder and smarter in the future.
Back to page