NEW March Scope "5x-42x56mm" coming in 2020 Jan at the Shot Show
Posted 10/15/2019
At the Shot Show 2020 @ Las Vegas USA, we will be launching 2 NEW March Scopes.
One of them is the "5x-42x56mm" (First Focal Plane)
This scope will have the Widest Field of View among all our March Scope models.
I (Mari) compared looking at the 5x-42x56mm prototype and our various scopes with field of view from 20 degrees to 25 degrees.
Because the 5x-42x56mm is designed to have a formidable wide view (the prototype has 26 degrees wide field of view),
it seemed that my visibility was enhanced by 30% or even more.
When seeing through the 5x-42x56mm, it was so easy to spot the target.
This is a crossover scope with many applications.
This is not only suitable for shooting competitions but also very suitable for hunting as well
because when you hold your gun at the ready and look through your scope, you will be able to find your target immediately. 
Also this will have a large amount for total elevation.
We are still developing the final production model, but for our first prototype 5-42×56 has 140MOA for total elevation. 
You won't be needing a canted rail anymore.
Please click HERE to see more about our first prototype.
2020 NEW March Scope  "5x-42x56mm"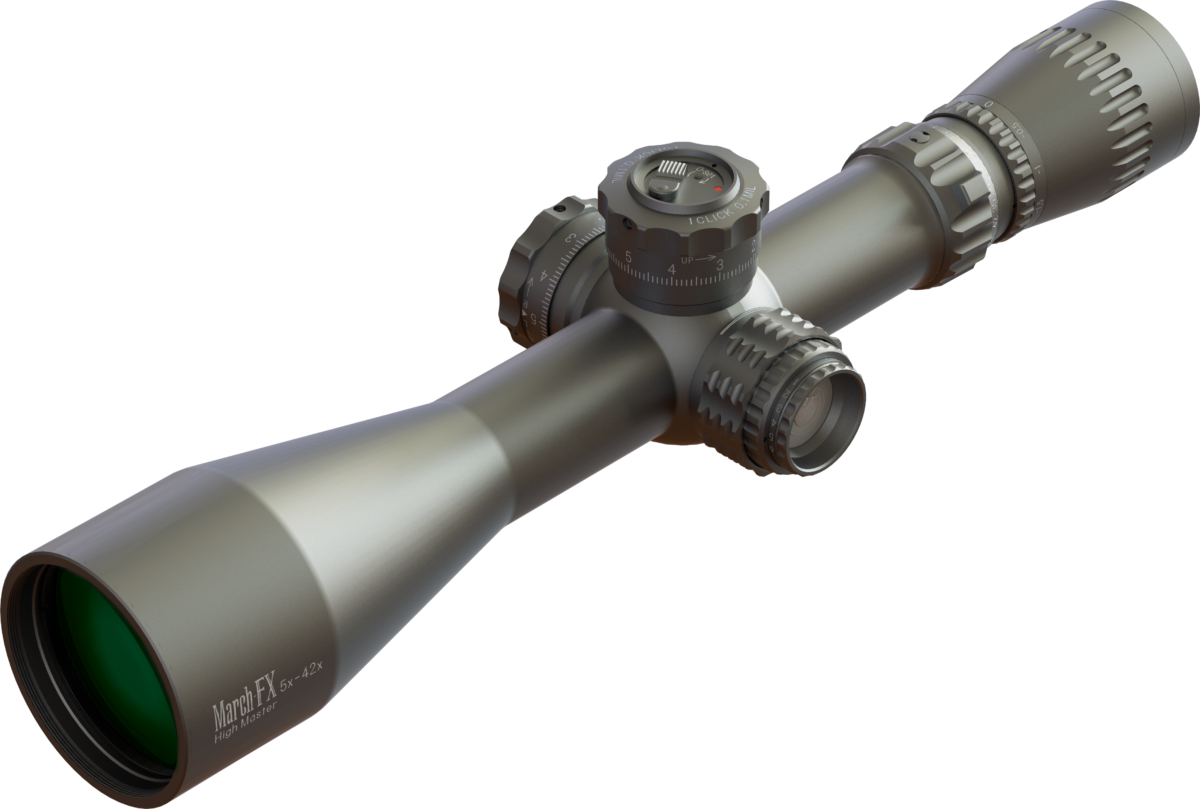 This scope employs two new optical technologies.
1.  "Super ED Lenses"
This scope has 2 Super ED lenses within its lens system.
Optical characteristics of Super ED lens is even closer to pure fluorite crystal which has virtually no dispersion
that result in chromatic aberration in the image.
By using Super ED lens elements, we can suppress chromatic aberration even more than with ED lenses
and thus produce a sharper image with greater contrast, while still having a strong scope.
2. "Temperature Anti-Drift Lens System"
In the latest optical systems, a new lens material has been developed to accommodate changes
in environmental temperature by altering the refractive index of the lenses.
This new lens material has been adopted to create a more stable lens system
that naturally adapts to changes in temperature to maintain focus and clarity over a wide range of conditions. 
We are still working on the development of 5-42x56mm scope till the last minute of manufacturing deadline
as we do not like to make compromises and we aim only for the ultimate.
Once we have finalized the specification, we will be posting the information on this website.
---
We will be displaying our New Scopes at the Shot Show 2020,
so if you have a chance please come to our booth to see the actual scopes !
---
Booth : 3263
Corporate name : March Scopes

Back to page