News Category
Archive
Newly Posted
Collaborating with the top shooters, NEW Service rifle scope 1-4.5x24mm (SFP) will be released
Posted 11/06/2019
New model of the Service rifle scope D4.5V24TM  March1x-4.5×24 (Second Focal Plane) will soon be released. 
We collaborated with several top shooters at service rifle competitions in the USA.
We would like to especially thank Nez Rongero for his contribution.
Thank you all for your enthusiastic cooperation.
It took us about a couple of months to discuss and decide the specification for this scope.
And most significant of all is that we designed a New reticle MTR-D3  adopting top shooters' opinions.
In other words, you can say that shooters designed the new reticle for themselves !
Also we managed to manufacture this new service rifle scope 1-4.5x24mm to be more affordable than the current one.
We will use the same top quality Japanese made parts. This scope will also be 100% hand built by Japanese craftsmen. 
Therefore by improving manufacturing process, new model (non-illuminated only) will be better pricing than the current non-illuminated one.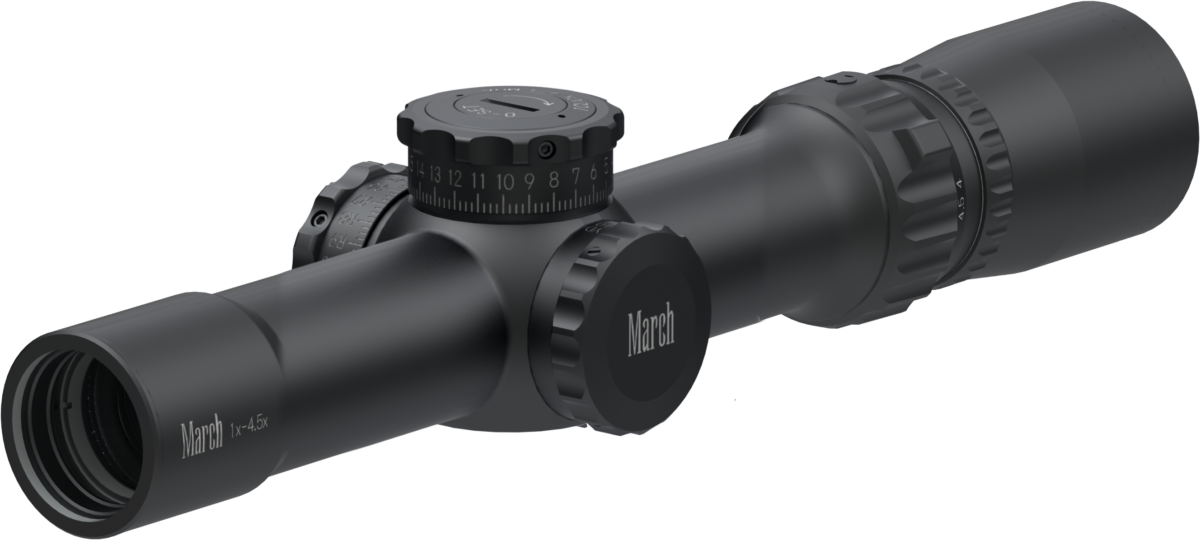 New model                  D4.5V24TM March1x-4.5x24mm(SFP)
Body tube              30mm 
Objective lens        24mm 
Magnification            1x-4.5x
Side focus                 10yards ~ ∞
1click                        1/4MOA 
per 1 turn                  25MOA
total elevation travel  200MOA  (Up:100MOA, Down:100MOA)
Non illuminated reticles only
---
Reticles that can be chosen are as below ; 
① MTR-D3 (NEW reticle  0.75MOA dot at 4.5x)  
② MTR-D2 (0.5MOA dot at 4.5x)
③ MTR-5  (1.1MOA dot at 4.5x)
Please click here to view the full specification of the NEW 1-4.5x24mm service rifle scope.
① MTR-D3 (NEW reticle  0.75MOA dot at 4.5x)  
This NEW reticle is especially made for competitive service rifle shooters.
The service rifle reticle MTR D3, with a 3/4 MOA dot coupled with an 8 minute ring,
allows for quick centering of the 6 MOA target black inside the ring. A beneficial feature in the rapid fire events.
The ring acts like aperture sight for competitors familiar with match sights.
Potential use of just the ring for precision shooting is highly feasible.
Others who prefer to focus and use the 3/4 MOA dots allows them to fine tune and favor inside the 1 MOA X ring at 600, for example.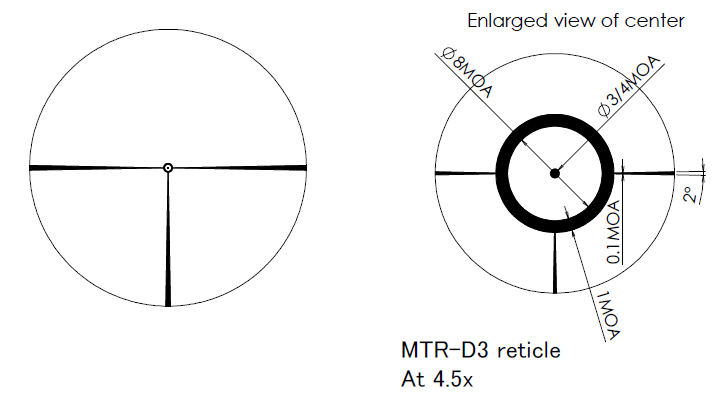 ② MTR-D2 reticle
Center Dot Reticle  1/2 MOA Dot at 4.5x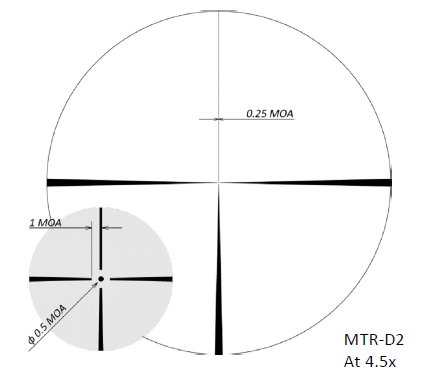 ③ MTR-5 reticle
Center Dot Reticle      1.1 MOA Dot at 4.5x
Thank you and enjoy shooting !

Back to page