Recipe for Success – Ulrich Kwade (Germany, Age 78) Champion of European F-Open class 2019
Posted 11/29/2019
Congratulations to Ulrich Kwade (Germany) who recently won the European F class Championship in Open Class, held at Bisley UK.
Uli achieved this amazing feat at the age of 78 years old!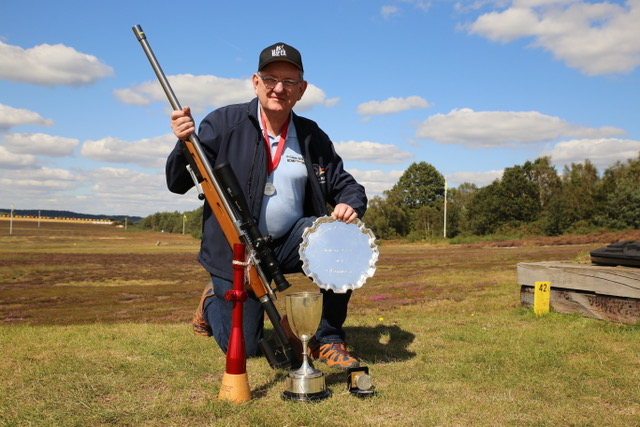 Uli had some health issues previously however prior to the European Champs he underwent surgery
and made an amazing recovery and is enjoying excellent health again.
Uli is certainly not a stranger to winning, below is his shooting records.
You will see several World and European Championship wins as well as numerous medal wins over his long Career.
Uli started competitive Shooting whilst serving in the German Military.
He has continued to enjoy and compete when most would be sitting in a chair watching TV!
In addition, Uli is a very competent engineer, he enjoys working on his lathe and mill in his workshop.
He is quite famous for his front rest and recoil reducing stock.
Uli has written a short article below.
Ulrich Kwade (Age 78)
Member of BDMP e.V. Germany
Shooting career since 1968
Shooting Records
1993 Vice European Champ. Withworth Rifle
1994 World Champ. Perk. Pistol
         V.World Camp. Minie Rifle
          World Champ. Team Withworth
1999 V. World Champion BP Long Range Team
2003 World Champion BP Long Range Team
2017 F-Class European Ch. Gold 800yards 75.14
2018 F-Class European Ch.Team  Silver
2019 F-Class European Champion   1000yards  /  800, 900, 1000yards 1.day
After a long shooting career (since 1968) using many different arms
I finally had to stop shooting black powder long range firearms in 2003.
The heavy recoil of a 540grain bullet with a heavy load of black powder made me sick. 
I sold all my beautiful rifles. But I hadn't forgotten what fun especially long range shooting sport is.
So I tested disciplines like target rifle and F-Class.
Finally my decision was the discipline F-Class.
When I started 6.5 mm was the most popular calibre, the little 140 grain bullet had little effect on the heavy 10 kilo weight of the rifle,
however quite quickly heavier bullets and calibres were the only way you could be successful.
The effect was again heavy recoil.
From the beginning of my shooting career I all times had been very interested in gunsmithing.
So I learned how to build rifles and all accessories around it.
Also reloading of ammo was a very important theme,
and I had a successful teacher that gave me a lot inputs to this wide field of ammunition.
So I started building my own F-Class rifle.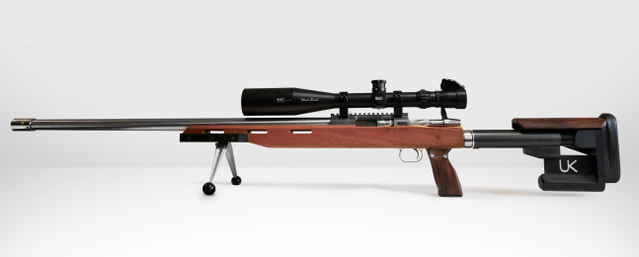 In the beginning I used barrels from Lothar Walther and the GS 04 action from G. Prechtl, Germany, Mauser-Type action.
This rifle is still in my possession but now applied with benchmark barrel 9 inch-twist, calibre .284.
It shoots also extremely well, but now my favourite is my BAT M-action with an 8.5-inch twist 7 mm BENCHMARK barrel.
The stock is my own invented UK-recoil absorbing system and shoots a calibre 7/270 WSM.
I like this English-designed calibre very much. Both rifles using the same mounted recoil absorbing system.
Another advantage of these rifles is that I can disassemble the rear end and use a short guncase.
This is very successful because I shoot often in South Africa and makes transport easier.
The mounting system is very strong, so when the rifle is assembled, it is like one piece.
I can shoot with these rifles all day long, with no interference as you do it with conventional stocks and heavy recoil.
On both of my rifles I have mounted MARCH SCOPES.
The quality of the optic system is highly adjusted to the so called chromatic and aspheric aberration.
The clear and sharp picture and elevation and windage adjustments are of the highest standard.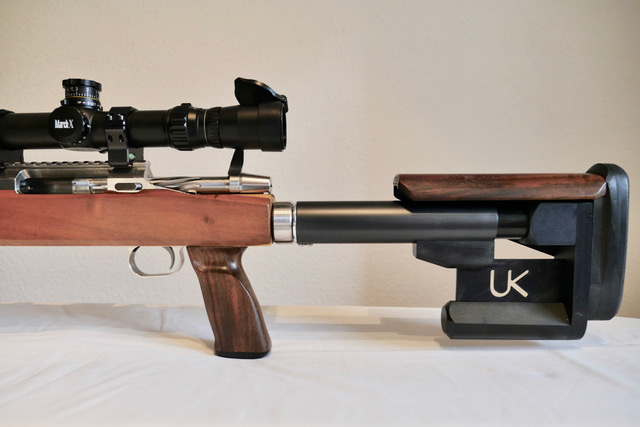 Ammunition
7/270 WSM cartridge
Case: Norma 270 WSM
Bullet: Berger Hybrid 184 grains
Powder: Hodgon H4831 SC
Primer: Muron
I found that the Norma .270 WSM cases the best and opened the neck to 7mm
The neck was turned down to a space in dia. of 0.05mm to the bore after loaded.
For these workmanship I use my own produced tools.
My loads are still made with the most known Hogdon 4831SC
The velocity with that load is around 3050 f/sec.
The bullets Berger Hybrid 184GR are pointed with my own designed UK Pointer (foto).
Most important is the bullet seating.
The push in pressure must be all times Exactly the same.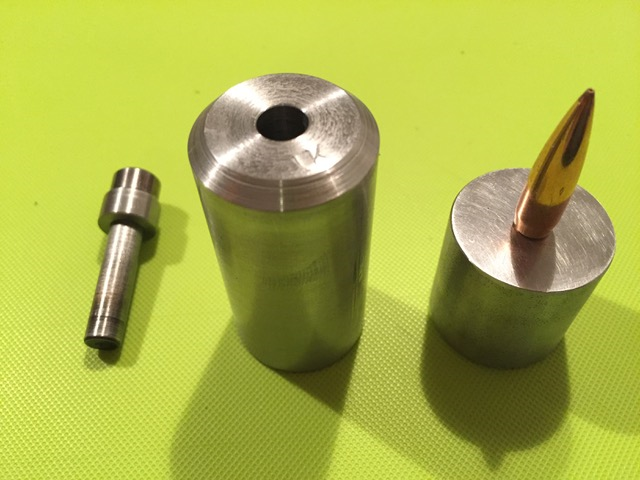 I have to give a very big THANK YOU to GS Precision esp. Mr. Stuart Anselm.
Stuart chambered and mounted me that new BENCHMARK barrel onto my BAT M action and used the reamer of my Friend Gary Costello.
That was his Winner tool for his World Champion title. Thank You
The precision of my rifle is outstanding.
The amazing thing was I only received the Barrel a day before the start of the 2019 European Championships.
I had already prepared all my ammunition in advance based on the specifications and reamer dimensions supplied by Stuart and Gary,
when I received the barrel it was screwed on and I shot just 20 rounds to condition the  Benchmark barrel, then it was used in the competition.
For my rear bag I use the outstanding bag of ALBERTO LENZI.
The front rest I am using is also out of my workshop. 
Weight only 5.6 Kg (12,4 pounds) and can be used in all environment conditions with the same high quality and is also a winning equipment.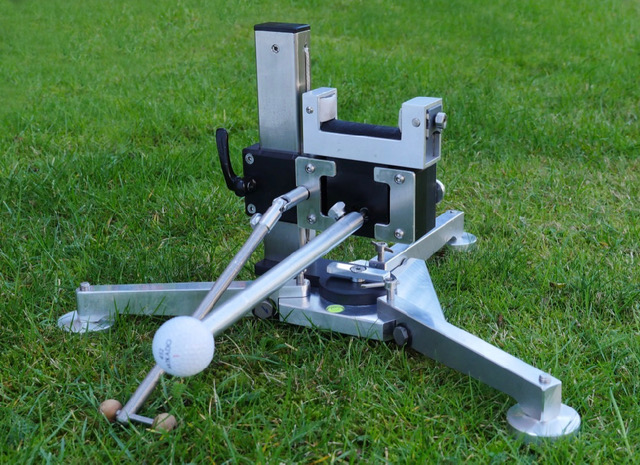 I had the luck during the competition that my heath condition was very stable.
My wind reading was very successful and my aiming had been top,
The reason: My MARCH HIGHMASTER SCOPE the best Scope I ever used.
For wind reading I still use my 11years old Leica Spektiv SPOTTING SCOPE still red dot quality.
Finally  a big Thank You to MARCH SCOPES UK CEO Mr. Gary Costello and Ass. Jordan Rubio for years of outstanding support.
They are part of my success.
Ulrich Kwade
European F-Class Champion 2019
Back to page