Miraculous story from "SSAA Fly Nationals 2020 & BRT Federal Cup" in Australia
Posted 04/21/2020
Some of you may already know or even participated, but to those who are not familiar,
SSAA ACT hosted the "SSAA Fly Nationals 2020 & BRT Federal Cup"
celebrating 30 Years of 500m Fly Shooting in Australia held on March 7, 8 & 9 2020.
Many shooters all over Australia gathered in Canberra, the National Capital, for this special event.
http://www.500mflyshooter.com.au/index.cfm/2020-fly-nationals-brt-federal-cup/
The Fly Shoot event was created by benchrest competitors who saw the need for a way to prove
centrefire rifles under organized range conditions at a longer range that is 500 meters.
Rifles would be shot off the benches, but unlike short range benchrest, the match would be for group size, and include the score.
This would encourage competitors to place their groups with a higher degree of accuracy than in short range benchrest matches.
Fly competitions may be shot at any distance, but records are only recognized
and kept for Registered Matches at 500 meters (Centrefire) and 200 yards (Rimfire).
 (Quoted from : Fly Shoot Official National Rules 2017 No1.)
At this SSAA Fly Nationals 2020, it was for 500 meters (Centerfire).
Regulation for Centrefire
◆Caliber – Any centrefire rifle, up to and including .49 caliber, may be used.
◆Other specifications – The rifle may have any stock configuration, any barrel,
 any trigger (other than release type), any scope or sighting system
◆Maximum Weight – Heavy gun unlimited weight but must be manually lifted on to the bench by a single person.
 Light gun (including bipod if fitted) limit 17 lbs (7.711 kgs)
◆Restrictions – No return-to-battery set-ups (e.g. rail guns), No muzzle brakes 
You can click HERE to learn more  if you are interested.
This is a very interesting game and will encourage you to improve the accuracy of shooting.
March Scopes distributor – BRT Shooters Supply sponsored this 500m Fly Nationals 2020
and March Scopes donated a beautiful 8-80×56 Silver Scope for this special event !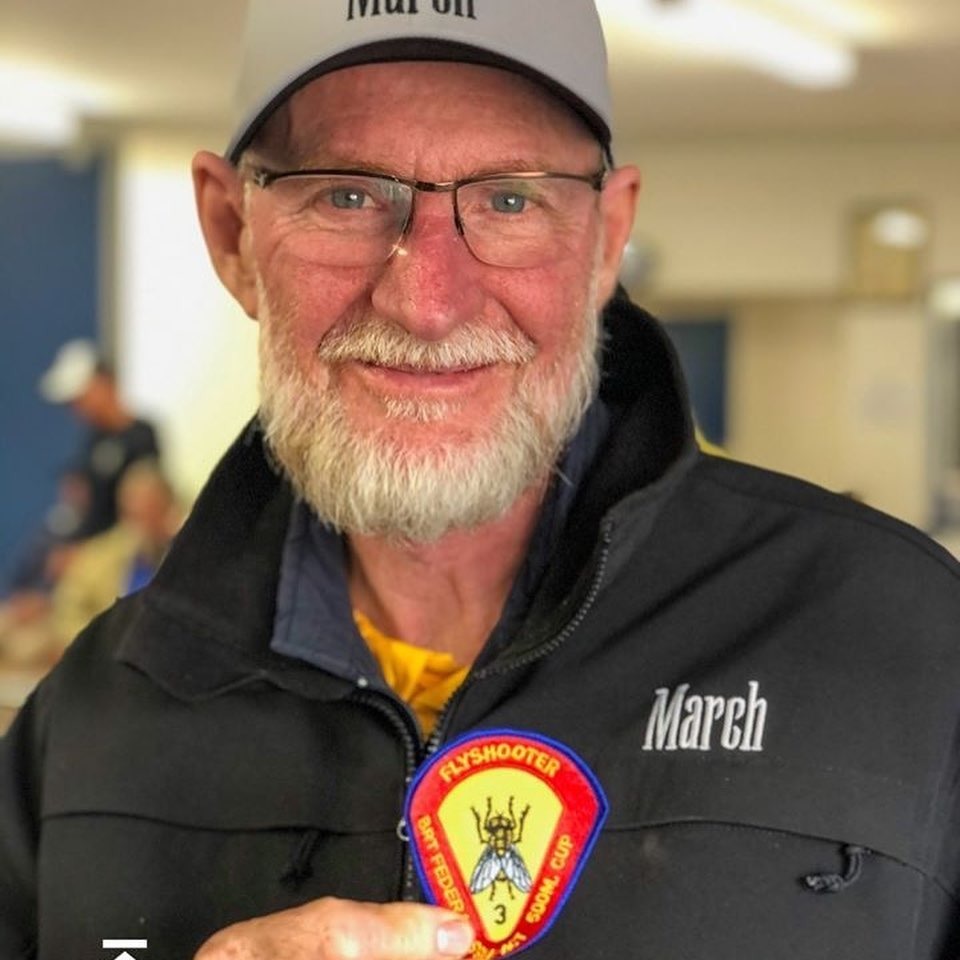 ▲Stuart Elliott – owner of BRT Shooters Supply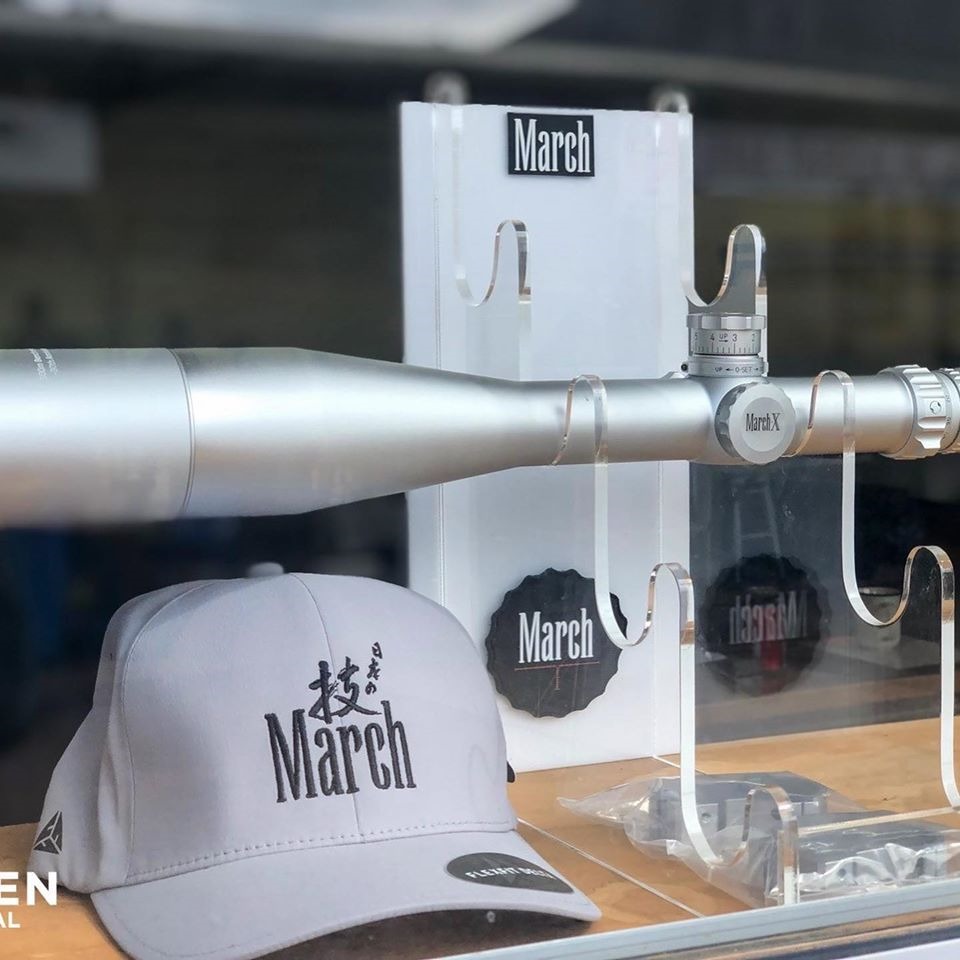 The prize "8-80×56 Silver scope" went to Peter Cross by lottery within all competitors!
As all of you are aware, Australia was deeply affected by the prolonged period of bushfires.
Peter Cross too was no exception and lives on the Eastern Coast on Australia near Batemans Bay area.
Their little township of Nelligen was threatened for weeks with numerous properties in the surrounding area lost to fires.
Peter's property was burnt but he, his wife and daughter managed to save their house.
Regretfully, their neighbor was not as fortunate.
Their local rifle range was burnt to the ground also.
Not long after the fires came the rains. Then the floods too. So it has been a period of very tough times.
Peter already had a custom rifle build in process long before these unfortunate incidents occurred.
This rifle was being built so he could shoot with his daughter together at matches.
They came to the BRT Federal Cup Nationals to uplift their spirits.
They did not have a scope for their new rifle. But, Peter got lucky.
His name was drawn out and he won the top prize.
March Scope 8x-80x special Silver edition!
Also with special Trentech Scope mounts and special engraving on the sunshade.
A worthy winner !!  Now he has everything set ! (Picture below)
Good fortune and happiness will come to the home of those who smile 😉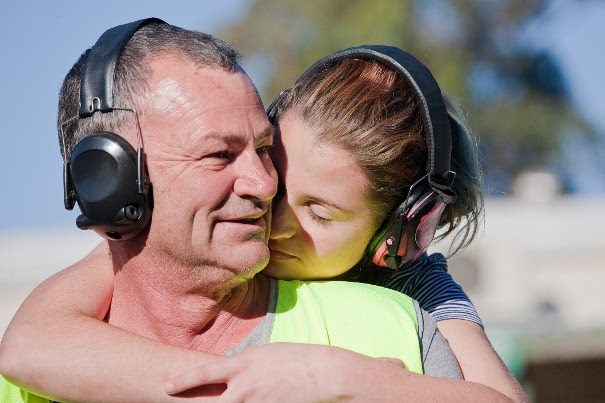 ▲Peter and his beautiful daughter
Looking forward to seeing you all at the next competition when it resumes.
Till then keep safe !
You can see pictures from BRT Shooters Supply Facebook post in the links below.
https://www.facebook.com/brt.shooterssupply/posts/2856683251044609
https://www.facebook.com/brt.shooterssupply/posts/2842304529149148
You can also see more pictures taken by Mark Lacey from Kaizen Tactical in their Facebook.
https://www.facebook.com/pg/kaizentactical/photos/?ref=page_internal
Back to page