News Category
Archive
Newly Posted
Quality Control of March Rifle Scope – We keep records for each and every Scope
Posted 10/10/2019
DEON – Manufacturer of March Scopes has a severe quality control system in order to effectively secure and maintain the top quality.
This quality control system was established by Shimizu, CEO of DEON, who was an observer for ISO Standards Committee. 
Click here to read the full interview of Shimizu.
1) In order to inspect all the components, materials and processing methods etc.,
we use products which are made only in Japan within the range of our surveillance.
2) All the craftsmen are capable of assembling into finished products on their own.
By understanding how each task affects the quality of the finished product,
craftsmen assemble by hand with full knowledge of the importance of each task.
3) On conducting inspection, we compose a record for each and every scope, check all the items and fill in measurement datum.
Therefore we keep all the records for every single scope at DEON.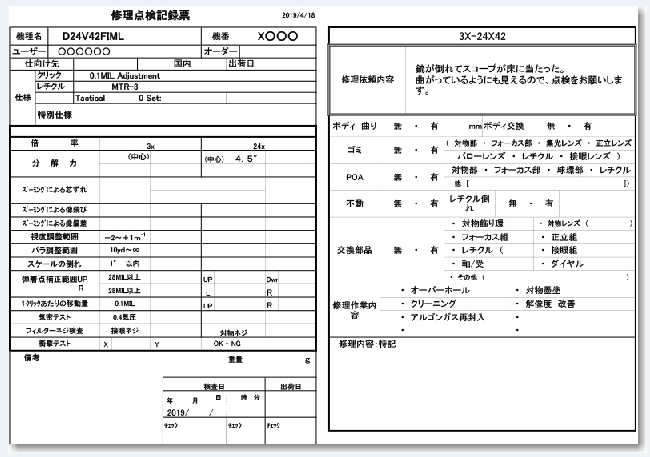 Below are some of the items inspected and written on your personal record above.
√ Scope model
√ Serial number
√ Specification – Magnification, Click, Reticle, any other special specification
√ Effective aperture of the objective lens
√ Pupillary diameter
√ Apparent field of view
√ Resolving power
√ Misalignment in zooming
√ Image jump in zooming
√ Image deviation in zooming
√ Range of diopter adjustment
√ Range of parallax adjustment
√ Degree of scale inclination
√ Range of correcting the impact spot  
√ Travel amount per click
√ Refuse   Lens/Reticle
√ Airtightness
√ Filter screw  Screw for the eyepiece/Screw for the Object lens
√ Shock resistance
√ Weight
This is how SERIOUS we are with taking care of your scope.

Back to page