A review on the New March Compact 1-4.5×24 scope by Russ Theurer (USA)
Posted 01/14/2020
Russ shot for the US International Team and the US Army Reserve Team.
Below is his candid review on March Compact 1-4.5×24 scope with the newest MTR-D3 reticle assembled.
"I noticed the Glass is unquestionably awesome as it should be.
Clicks are very tactile and solid but not too stiff, just right as they should be.  
I find I liked the Dot at 200yds sitting and Off hand as only having 4.5 power it was easy to see the rings. 
I also found that the Circle got a little bigger as I turned the power down to 4X which makes that nice
also if a guy where to use only the ring, you can custom fit the ring to your desire
with a slight tweek of the power adjustment just like an iron sight gun (Match Rifle).
Going back to 300 I found the Ring to produce the smallest groups for me during rapid fire. 
As the string of Rapid fire went on, I found myself looking for the dot a little more as where as the ring
was easy to index constantly and consistantly no matter what your vision or Mirage was doing. 
Same thing back at 600, the ring produced better Elevation than just using the dot as now,
the lack of Power with it being only 4.5X  that's not a lot of magnification
to make precise calls like a Match rifle on 15 to 20X scope at the 600 yard line.  
So far the Ring that is 8 MOA is the reason I purchased this scope
and it has not let me down on how well it would work.   
Repeatable 1/4MOA Clicks, 3/4 MOA dot, 8 MOA ring. Adjustable Parralax, World Class Glass. 
Its about Perfect. Glad someone finally got it right. "
Below is the March Compact 1-4.5×24 scope.
Please click HERE for more specification.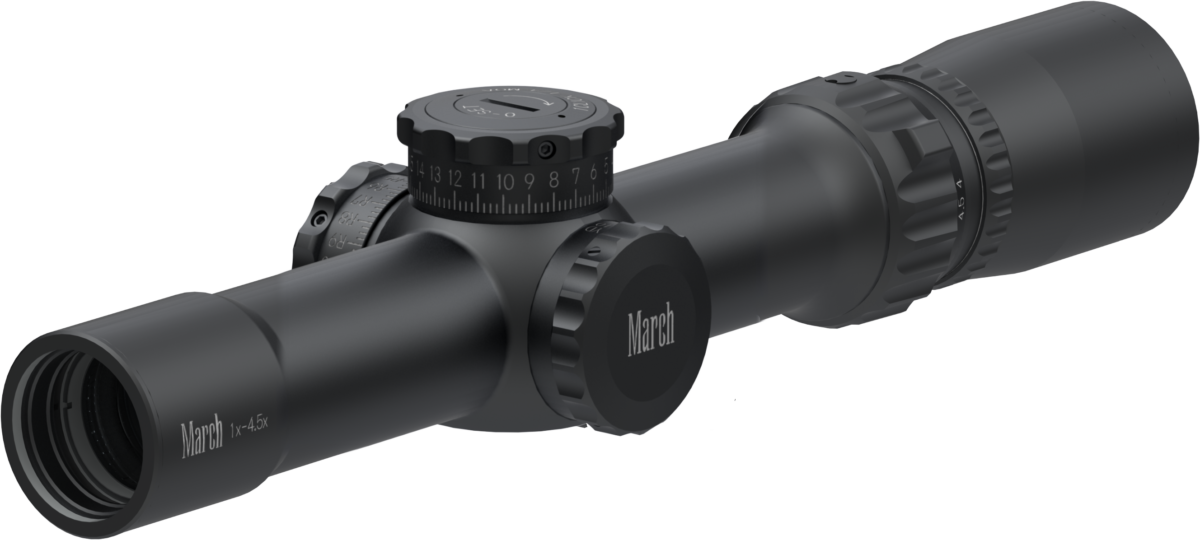 ---
Back to page