Specifications for 5 NEW Models / Upcoming events @ Germany(IWA) & Canada
Posted 02/12/2020
Thank you to those who came to March Scopes' booth at the Shot Show in January.
We were delighted to see many visitors from all over the world.
At the Shot Show 2020, we announced 5 new models.
Please click the blue letter to see the leaflets for each scope.
1. March 5-42×56 High Master – Wide Angle FFP Scope (Production Model)

 This amazing and my personal favorite scope has 40MIL (140MOA) with 26 degree wide angle.
    Among all our traditional style scopes (except for Genesis series), this has the most elevation travel ! 
    No need for canted rail anymore to shoot 1000 yard+. 
    26 degree wide angle eyepiece is the widest among all March scopes as well.
    Think of as if you were watching a movie at an IMAX theatre.
    We call this scope as an "IMAX Scope" 🙂
    Many customers visiting our booth loved the feel of our simple lockable turrets as well !
    These turrets are designed by our CEO Shimizu-san who has patents for many scopes and have won awards.
    He has also developed numerous world's first scopes such as 10-fold ratio scope etc. 
    Elevation / Windage turret : Flip to the red and it will lock, flip to the blue and it will unlock. 
    Side Focus : Push in and it will lock, pull out and it will unlock.
    There is an illumination switch on the edge of the side focus.
    Press the grey button and you can switch on / off.
    By rotating the switch you can select your desired brightness.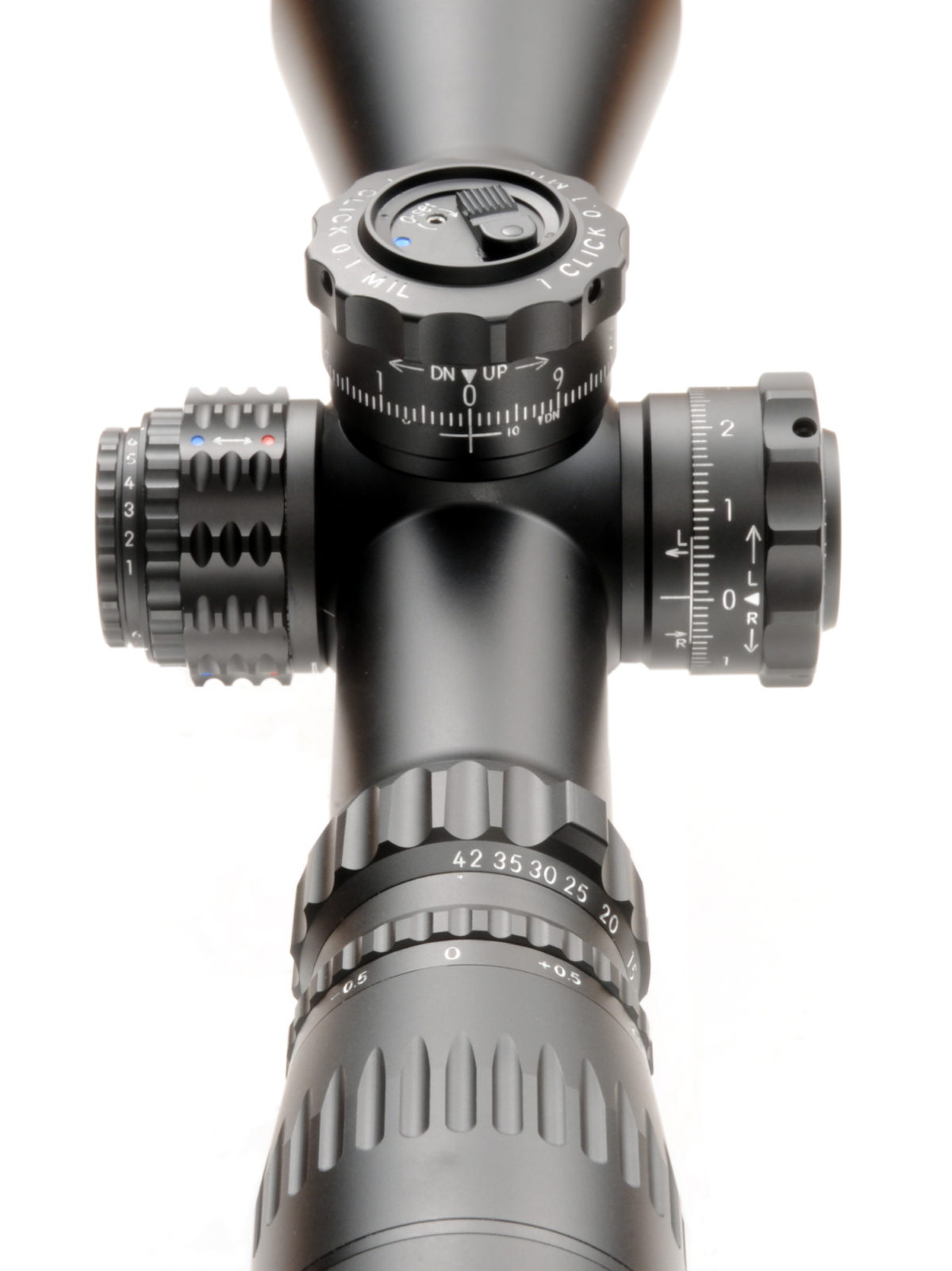 2. March 4-40×52 Genesis High Master – Wide Angle FFP Scope (Production Model)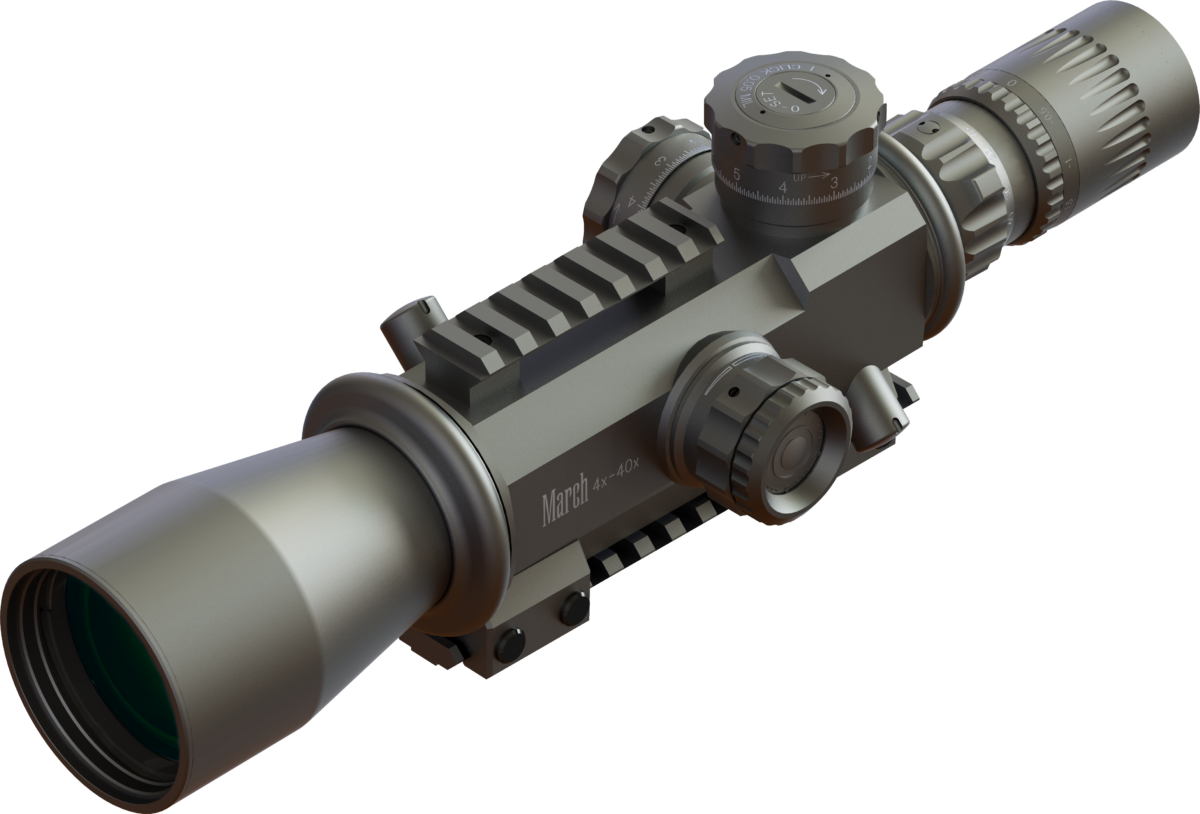 This 4-40×52 Genesis scope has 86 MIL (300 MOA) elevation travel.
It is a sister model of 6-60×56 Genesis (400 MOA) which proved its capability at King of 2 Miles in France. (Click here to read MORE)
4-40×52 Genesis was developed in order to make a smaller and lighter version of the 6-60×56 Genesis.
As the optical axes is always in the center with no impact on image quality and parallax setting,
4-40×52 Genesis is capable of engaging target from 22yard (20m) up to 3miles (4.8km) without any external accessories.
3. March 4.5-28×52 High Master – Wide Angle FFP Scope (Concept Model)
This scope was developed with practical precision shooting competitors in mind, but ease of use
and moderate weight make it equally at home on nearly any shooting platform.
At the Shot Show, this attracted many attention by serious PRS shooters.
4.March 1.5-15×42 SFP Scope (Concept Model)
42mm objective lens produces excellent low light performance in a compact form factor.
Light weight and compact 1.5-15×42 riflescope is equally ideal for hunting and for precision semi-auto platforms.
It is a perfect choice for NRA's new Mid-Range Tactical Rifle competitions as well.
5. March 1-10×24 FFP Scope (Concept Model)
The March-F 1x-10x24mm Shorty is the world's lightest and shortest scope with 10 magnification ratio.
The length is only 213mm(8.4 inch) and the weight is only 487g(17.2oz).
March Scopes Europe will be exhibiting at IWA from March 6th-9th 2020 in Nuremberg, Germany.
Those who are visiting, check us out at Hall 3A – 501.
Click Here to see the details of the IWA Outdoor Classics.
March Scopes Canada will be exhibiting at AACCA Calgary Gun Show from April 10th-11th.
Click Here to see the details of the Calgary Gun Show.
These upcoming events would be a great opportunity to actually take March Scopes in your hand.
I (Mari) will be at March Scopes booth in IWA flying from Japan.  See you soon !!
---

---
Back to page