Continuous innovations by an innovative company / Newest advances in the March Scope 5-42×56
Posted 06/29/2020
We are a small custom scope manufacturer in Japan located on the mountainside
in Nagano prefecture rich in nature. (You can see Mt.Fuji in the right in the picture below.)

All our scopes are hand assembled by expert Japanese craftsmen using only top quality genuine Japanese made parts.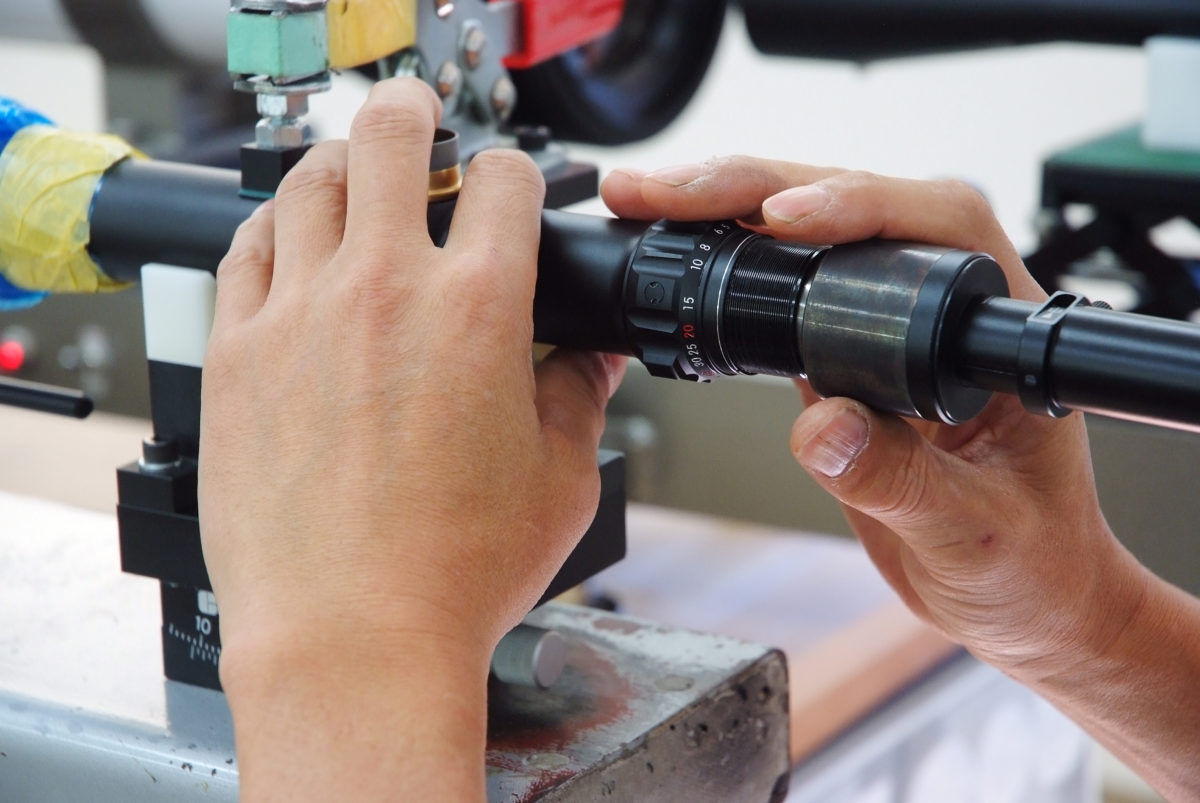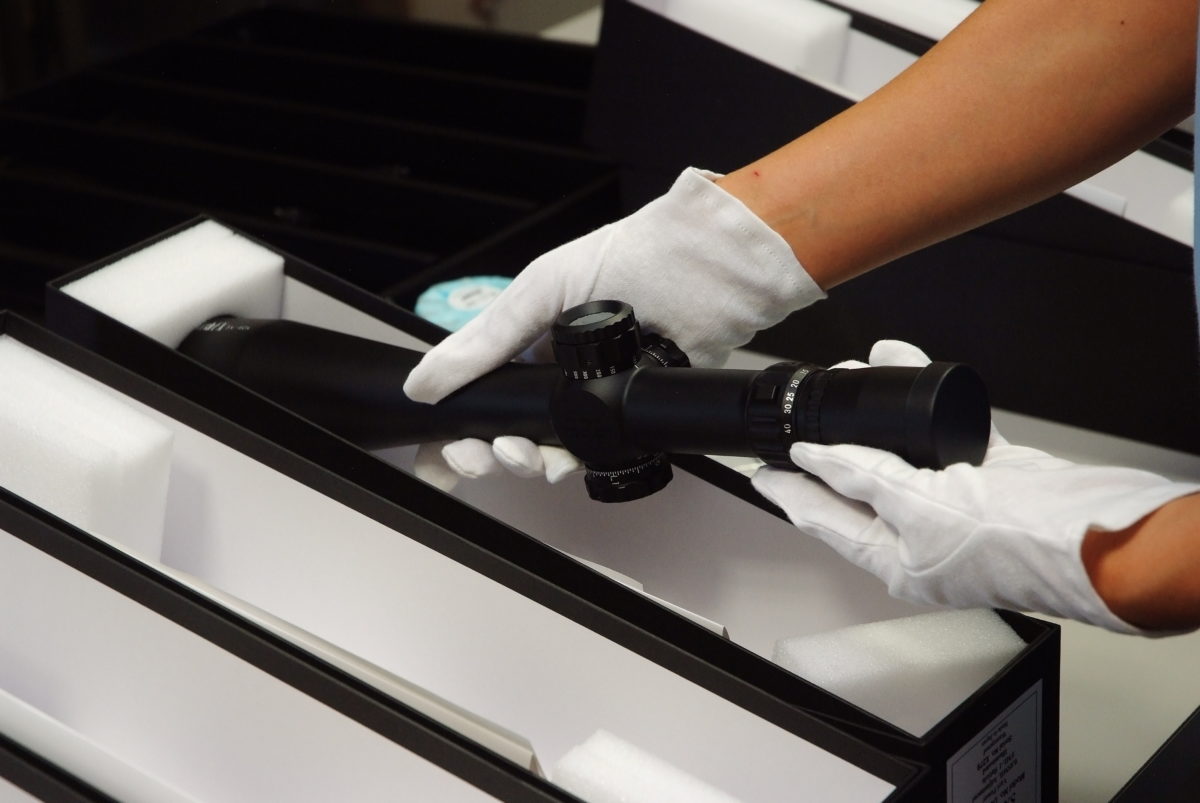 Now, when you hear this what do you think of us?
Old fashioned? Traditional? Ninjya group?
On the contrary.
We have always been the leading company in this riflescope industry manufacturing
many world's first products. We are at the leading edge of the newest technology.
【1】ED lens
13 years ago, when we launched the 40-x52 Benchrest scope, ED lens was not used in riflescopes.
(*40×52 is no longer available and have been upgraded to 48×52)
At that time, ED lens was only used in cameras, high magnification telescopes, and high-end spotting scopes.
March Scopes was the first riflescope manufacturer to adopt ED lens.
We have started the trend and now other scope manufacturers use ED lens for high magnification and high-end scopes.
【2】Super ED lens
Our High Master models (48×52, 40-60×52,10-60×56, 5-42×56, 4-40×52, 6-60×56) are favored by many shooters.
This is because the High Master Lens System adopted in all the High Master models exhibits outstanding clarity.
The High Master Lens System incorporates 2 Super ED lens elements within its new lens system.
By using Super ED lens elements, we can suppress chromatic aberration even more than with ED lenses
and thus produce a sharper image with greater contrast, while still having a strong scope.
Super ED lens was first developed by Nikon to use in a camera.
March Scopes is the first to adopt Super ED lens and is still the only scope manufacturer assembling it in riflescopes.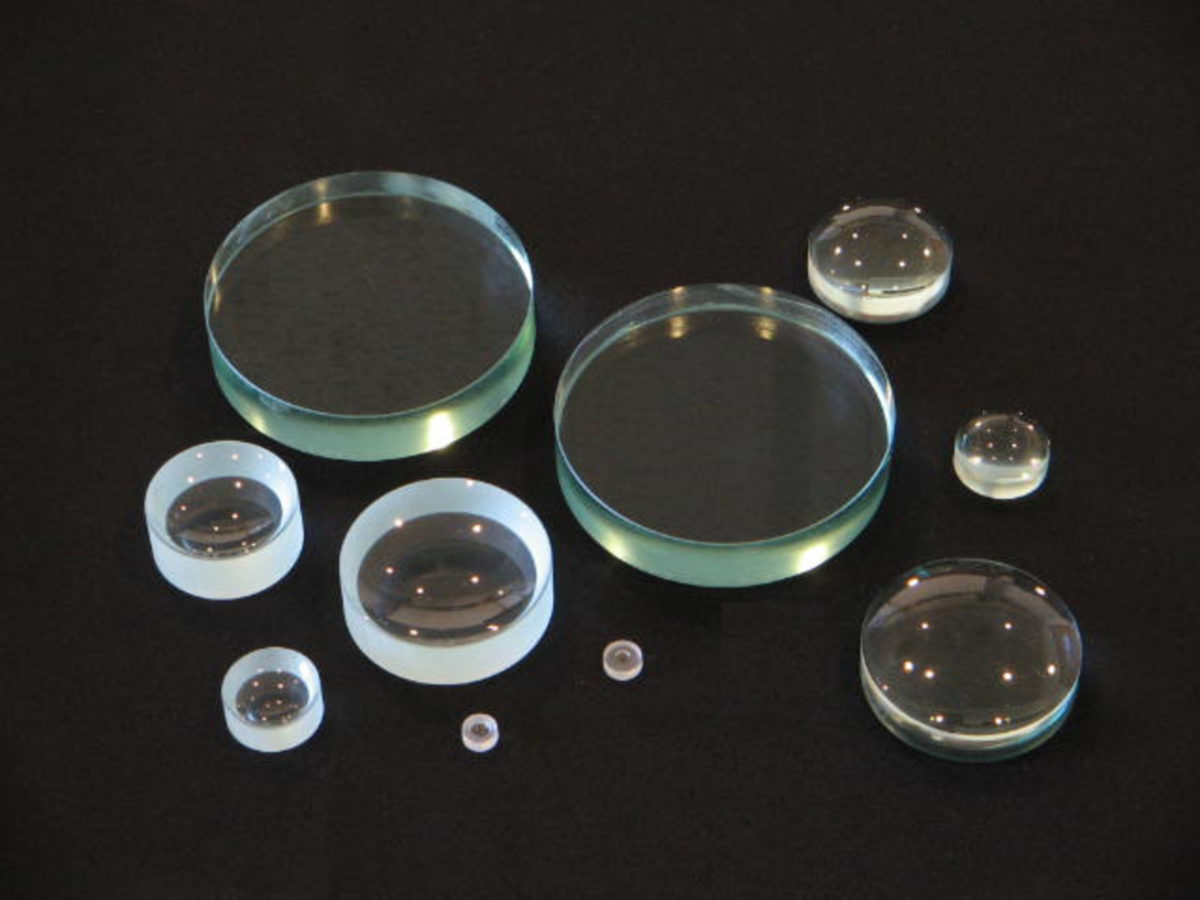 【3】Temperature Anti-draft Lens
We have also been successful in assembling a Temperature Anti-draft Lens last year.
We are the first and the only manufacturer to assemble a Temperature Anti-draft Lens.
This project started a few years ago when we received a request
from Field Target shooters who are sensitive to subtle temperature change.
We are a custom manufacturer and we try to listen to our customers' requests and try to improve our quality constantly. 
In the latest optical systems for automotive cameras, a new lens material has been developed
to accommodate changes in environmental temperature by altering the refractive index of the lenses.
We have adopted this lens material and have incorporated in the High Master lens system so that it will create
a more stable lens system that naturally adapts to changes in temperature to maintain focus and clarity over a wide range of conditions.
(*Fixed 40-60x52High Master and 48x52High Master do not incorporate Temperature Anti-draft Lens
in their High Master lens system as they have less lenses and therefore less susceptible than other High Master models.)
【4】Other accomplishments
10-11years ago, we developed the world's first 10-fold ratio riflescopes
(1-10×24, 2.5-25×42, 8-80×56 and 5-50×56) which are still the world's highest magnification ratio.
3years ago, we developed 1-8×24 Shorty which is the world's shortest rifle scope among 8-fold ratio scope.
We are an innovative company constantly developing and launching new products.
Our wish is to be a company that keeps surprising and amazing all the shooters.
Below is the 1-8×24 Shorty : world's shortest among 8-fold ratio scopes.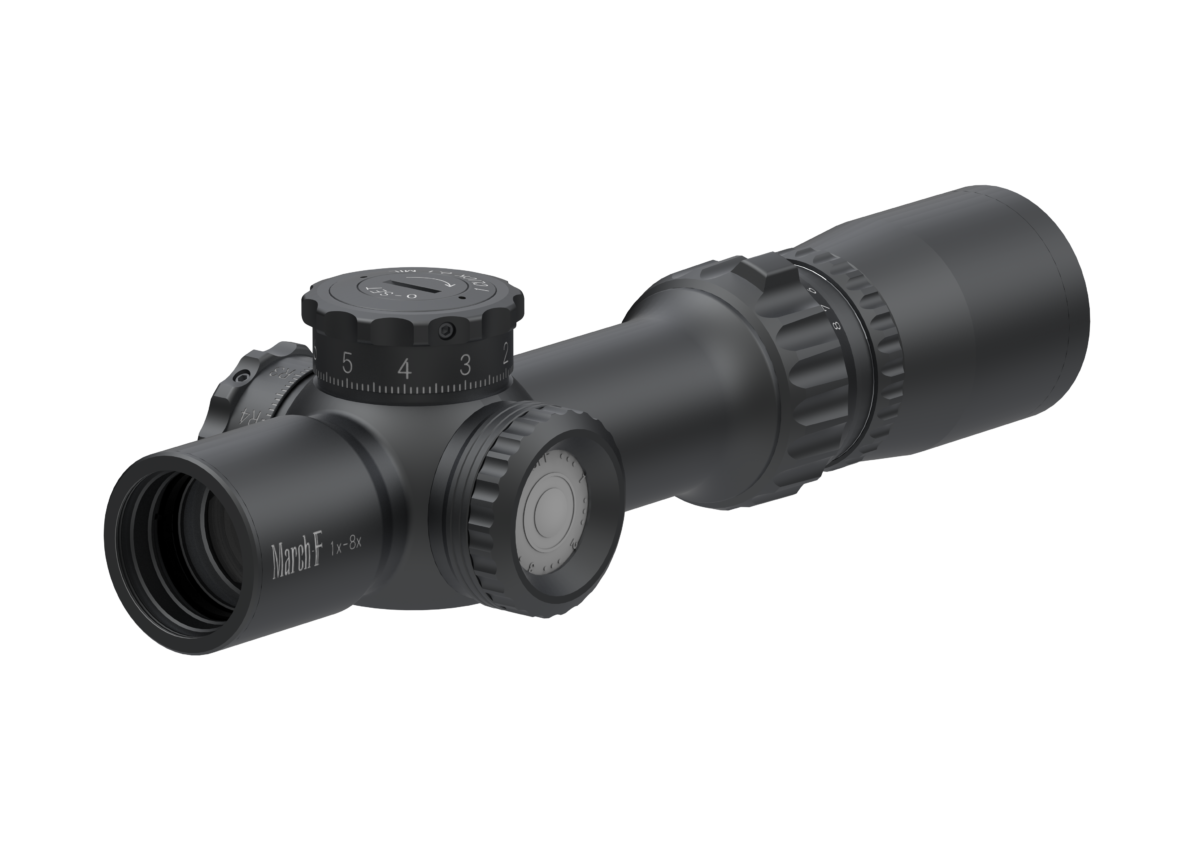 【5】Newest 5-42×56 March Scope
This year in January at the Shot Show in Las Vegas, we launched 5-42×56 which is compact and light weight.
(It is shorter than our 5-40×56, 5-50×56, 10-60x56High Master.)
Configuration of 5-42×56 looks like a traditional riflescope but it actually contains
the latest technology and some features are the world's first accomplishment.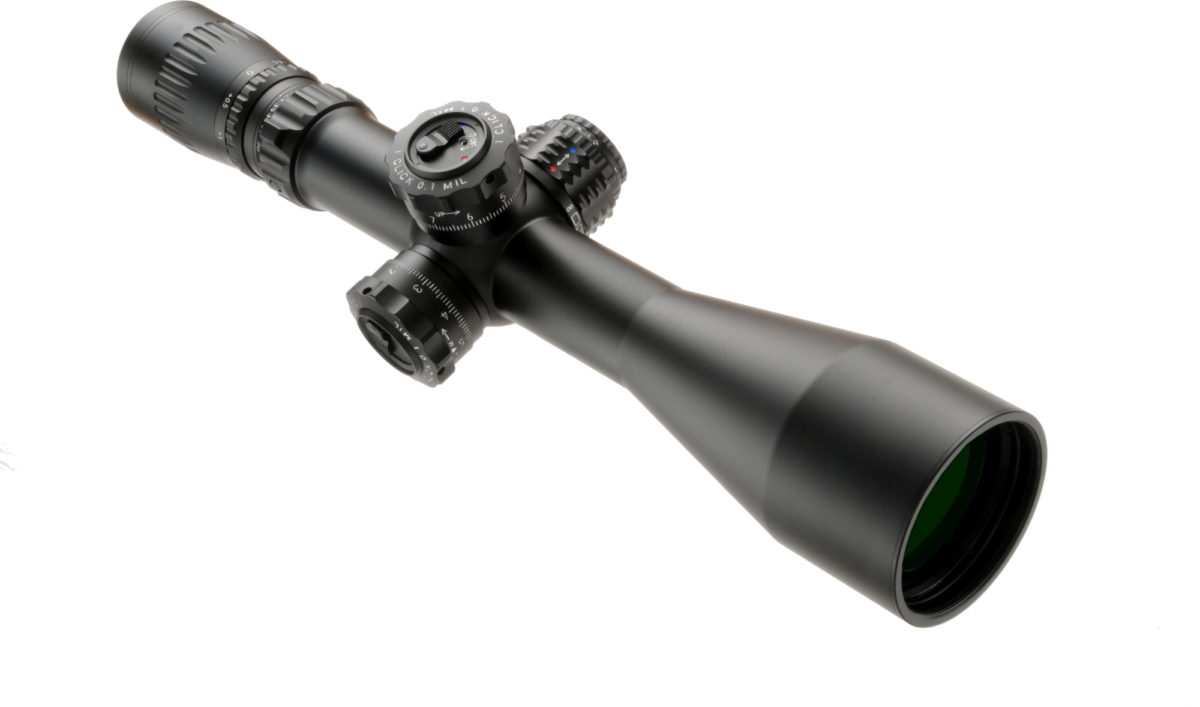 ◆Lockable turrets
0-set and all the lockable turrets (elevation / windage/ side focus) are designed based on human engineering.
Our expert engineers are particular about the details and we try to improve the usability.
When we exhibited at IWA in Germany last year, we received a request from a March Scope Owner who is a hunter
that he wanted a March Scope with lockable turrets so he does not need to worry if the turrets will move when he is hunting in the woods.
Bending an ear to Owner's voice, March Scope to have all lockable turrets
(elevation / windage/ side focus) was developed and 5-42 is the first to exhibit this feature.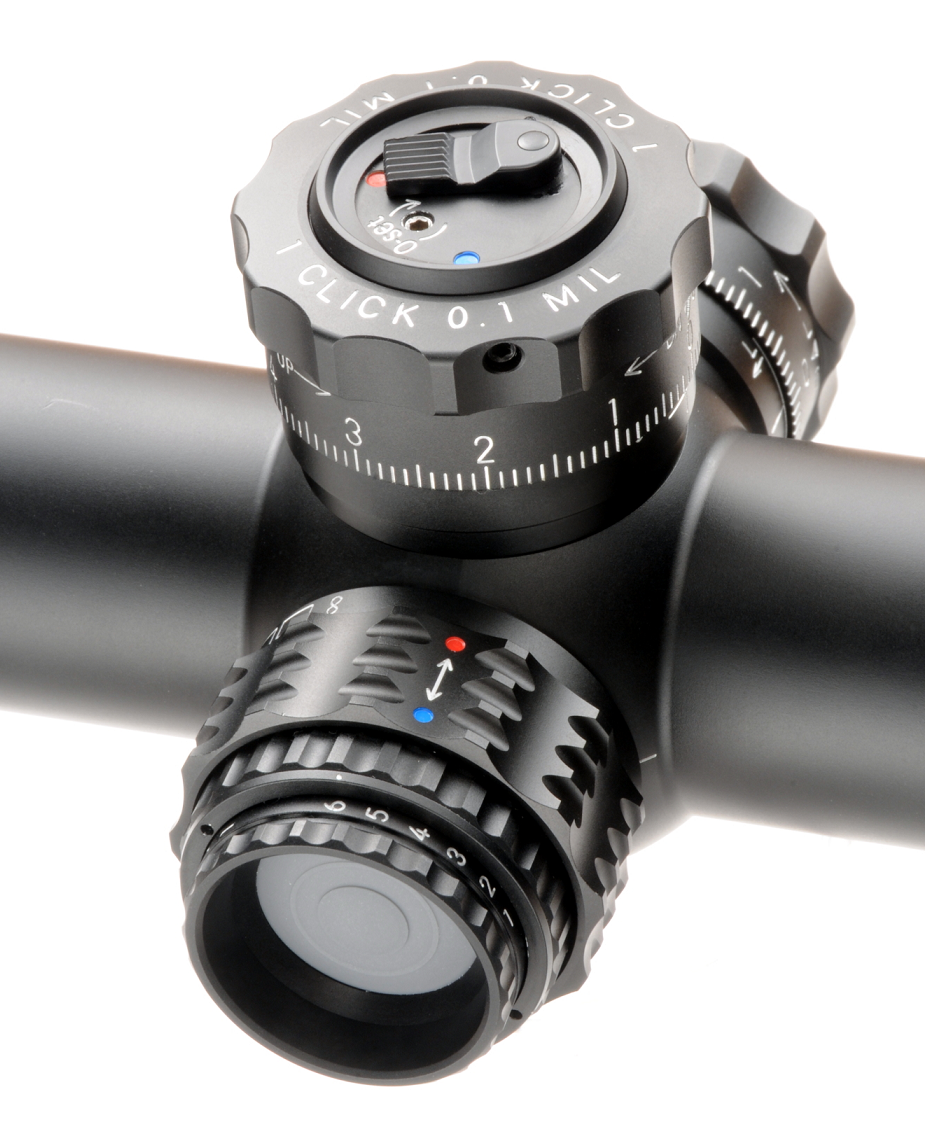 ◆Fast focus diopter system
This will enable you to adjust from -2D to +2D in 1 revolution.
Eyepiece diopter which can be rapidly adjusted is the first attempt among our March Scopes.
◆Widest apparent field of view
The apparent field of view of 5-42×56 is 26 degrees which is the widest among all the scopes in the world.
Compared with our own 5-40×56 scope, 5-42×56 has wider view by 30%.
Wider apparent field of view makes it easier to acquire the target.
(Please note that since this is the widest angle eyepiece, you may find an image blur
at the peripheral part especially at when elevation travel is toward the maximum.)
◆Elevation travel amount
By shortening the objective focal length of 5-42×56, we were able to realize a great amount of elevation travel
compared with other scopes which has the same 34mm body tube diameter.
cf. 5-40×56 : 22MIL/76MOA, 5-50×56 & 10-60×56 & 8-80×56 : 60MOA (equivalent to about 17.1MIL)
This 5-42×56 has 40MIL (equivalent to about 140MOA) which has the most travel amount
among all the 34mm body tube diameter March scopes.
However the focal depth will be shallower due to short objective focal length,
and this will require finer adjustments for the side focus.
In case you find the image to blur, please readjust by following.
1) Please set the magnification at 5x.
2) Rotate the eyepiece and find the spot where you can see the reticle the best.
      Please click the link for your reference.    https://marchscopes.com/news/4946/
3) When you find the position where you can see the best, rotate the stop ring and stabilize the eyepiece.
      You only need to set the eyepiece once to suit your diopter.  
4) Please set the magnification at 42x.
5) Adjust the side focus and bring the target into focus.
* When you rotate the elevation, focus may shift. In this case, please readjust the side focus turret.
In any riflescope the best image quality is at or near the center of the adjustments.
This riflescope has an internal adjustment range of 40MIL; 20 up, 20 down.
Because of the very wide adjustment range of this riflescope, you may experience
some image quality degradation as you near the limits of the adjustment range.
This can occur because of the extreme refraction of the incoming light at the edges of the objective lens.
This degradation will worsen as the magnification increases
but if you readjust the focus turret each time, you will be able to see the image clearly.
In case you do not wish to adjust each time, we recommend using an appropriate canted rail
if you plan to use this riflescope consistently near the limits of the adjustment range and at higher magnification.
It can be utilized to gain additional elevation and to keep the scope optically centered as much as possible.
A 20MOA rail will shift the adjustment range by about 5.7MIL to 25.7MIL up and 14.3MIL down.
A 30MOA rail will shift the adjustment range by about 8.6MIL to 28.6MIL up and 11.4MIL down.
You can also find in this article https://marchscopes.com/column/meet-the-march-scopes-top-hardware-designer-ceo-shimizu/
how innovative our CEO Shimizu-san has been for more than 40years leading the industry.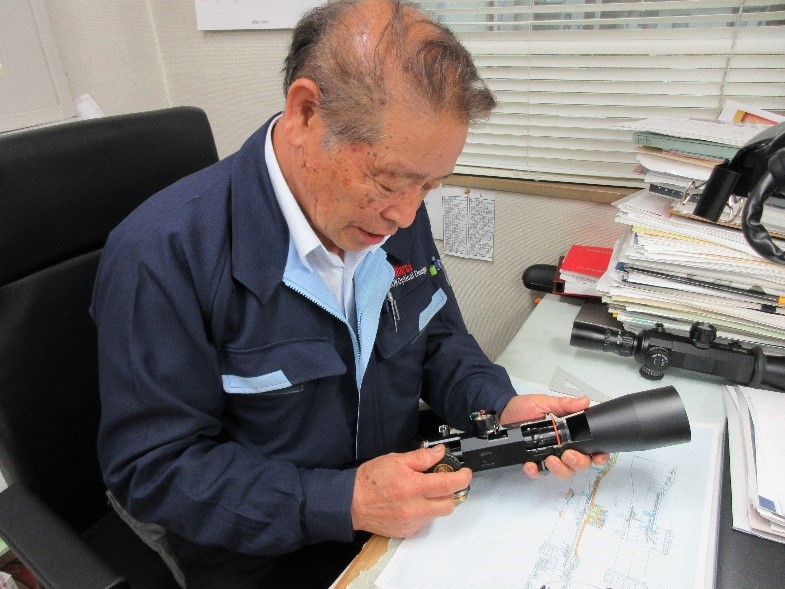 March Scopes will strive to keep being innovative!!
An innovative company at the leading edge – March Scopes
---
Written by : Mari Morita

Back to page