Recoil Web features March 5-42×56 FFP Wide Angle – written by Forrest Lund
Posted 12/03/2020
March FX 5-42×56 FFP Wide Angle Scope is now featured in Recoil Web!
March FX 5-42×56 Wide Angle was tested and the review is written by Forrest Lund.
Please click HERE to read the whole review.
Picture quoted from : https://www.recoilweb.com/march-fx-5-42×56-high-master-wide-angle-reviewing-the-ultra-high-end-163696.html
Below is the picture of a March-FX 5-42×56 FFP Wide Angle scope featured in the article.
5-42x56mm has 26° widest angle eyepiece among all March Scopes, 30% more than our standard models.
This offers enhanced FOV throughout the 8. 4x magnification range capable of providing more visual information.
5-42x56mm assembles Temperature Anti-Drift Lens System.
Temperature Anti-Drift Lens System creates a more stable lens system that naturally adapts
to changes in temperature to maintain focus and clarity over a wide range of conditions.  
With March's newest lockable turrets and the the elevation travel amount of 40MIL,
it is suitable for long range shooting and hunting.
Please click HERE to see the detailed specification.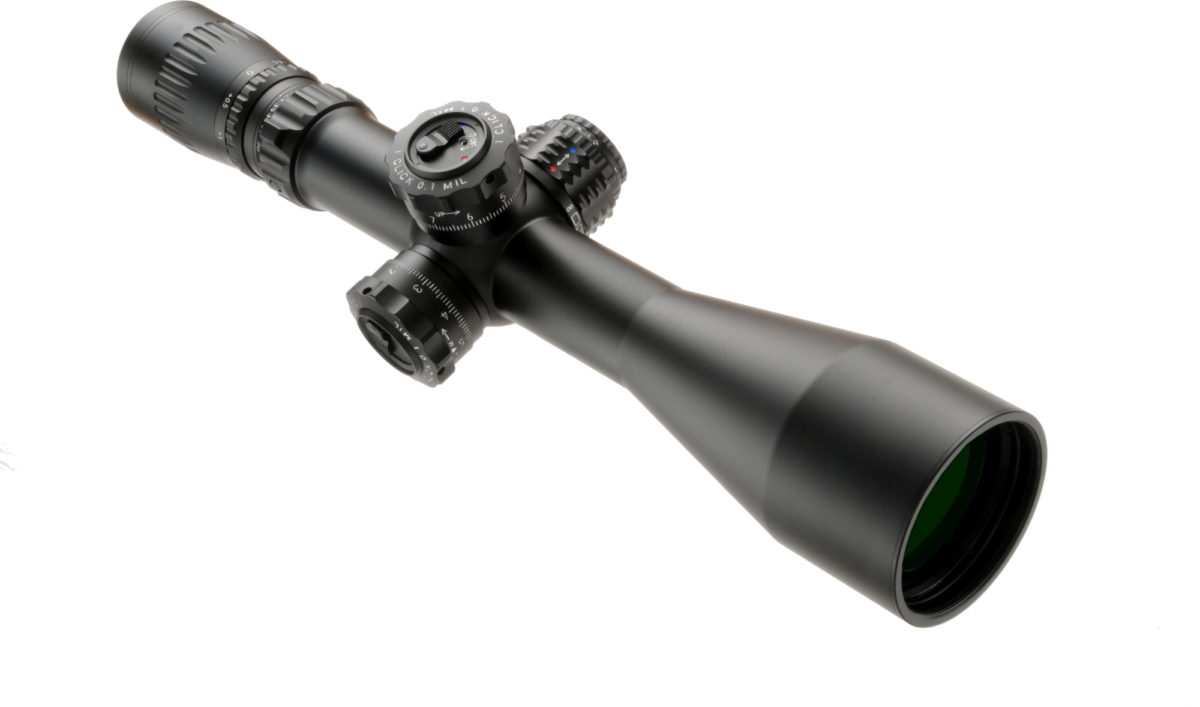 * Manufacturer's Note:
Because of the very wide adjustment range of this riflescope, you may experience some image quality degradation as you near the limits of the adjustment range. This can occur because of the extreme refraction of the incoming light at the edges of the objective lens. This degradation will worsen as the magnification increases but if you readjust the focus turret each time, you will be able to see the image clearly. In case you do not wish to adjust each time, we recommend using an appropriate canted rail if you plan to use this riflescope consistently near the limits of the adjustment range and at higher magnification. It can be utilized to gain additional elevation and to keep the scope optically centered as much as possible. Please check our Support page for further information. https://marchscopes.com/support/
If you are looking for a scope with large elevation travel amount and perfect IQ throughout the range, we recommend you 6-60×56 Genesis(114MIL,400MOA) and
4-40×52 Genesis (86MIL)scopes. When you turn the elevation or windage turret on the Genesis, the entire riflescope tube is canted. This unique design allows you to always look through the central part of the lens resulting in perfect image quality, regardless of the windage or elevation applied to the riflescope.
---
Posted by : Mari Morita

Back to page