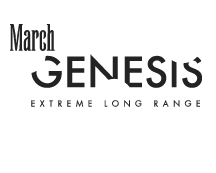 The March GENESIS scope is no ordinary rifle scope. Traditional rifle scopes are designed and constructed with an internal assembly which moves the image of the reticle and field of view as the turrets are adjusted. For long range shooting, the FOV is shifted far enough off the centerline of the lenses that optical resolution is reduced. Unfortunately, it is at long ranges where the shooter needs the best clarity. Long range shooters often use MOA inclined rail below their scopes, not just to provide more elevation adjustment but to keep the reticle closer to the optical centerline of the lenses when sighted in at long range. In the GENESIS scope, the reticle remains fixed, so it is always optically centered within the internal lens assembly of the scope, thus maximizing optical clarity in all conditions.
D60V56GFML
Tactical Model
2019 NEW ! March "GENESIS" 6x-60x56mm
GENESIS employs "New High Master Lens System" and "Temperature Anti-Drift Lens System"

*Pictures are all in illuminated models
Dials
MIL Type

114 Mil of total elevation travel with Zero-set feature (100 up, 14 down) and 40 Mil of total windage travel (20 Mil left and right)
10 Mil per turn on each turret. 0.05 Mil clicks
Technical Data
Low

High

Magnification
6x
60x
Effective Lens Diameter
56mm
Body Tube Diameter
--
Exit Pupil
3.3mm
(0.13inch)
0.93mm
(0.04inch)
Field of View (real)
degree
4.16°
0.416°
ft/100yd
21.8ft
2.18ft
m/100m
7.26m
0.726m
Eye Relief
67-82mm
(2.64-3.23inch)
63-82.5mm
(2.48-3.25inch)
1 Click Adjustment
0.05MIL
Elevation Travel
114MIL
Windage Travel
40MIL
Focus Distance
20m
Reticle
FML-MT
In the box
Flip Caps (Objective and Eyepiece)
MD disk
Sunshade
Lens Cloth
Scope Size
A
400mm (15.75inch)
B
68mm (2.68inch)
C
64mm (2.52inch)
D
41mm (1.61inch)
E
132mm (5.20inch)
F
95mm (3.54inch)
G
173mm (6.81inch)
H
2.50°
Weight
1,450g (51.15oz)