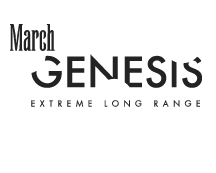 The March GENESIS scope is no ordinary rifle scope. Traditional rifle scopes are designed and constructed with an internal assembly which moves the image of the reticle and field of view as the turrets are adjusted. For long range shooting, the FOV is shifted far enough off the centerline of the lenses that optical resolution is reduced. Unfortunately, it is at long ranges where the shooter needs the best clarity. Long range shooters often use MOA inclined rail below their scopes, not just to provide more elevation adjustment but to keep the reticle closer to the optical centerline of the lenses when sighted in at long range. In the GENESIS scope, the reticle remains fixed, so it is always optically centered within the internal lens assembly of the scope, thus maximizing optical clarity in all conditions.
March GENESIS (FFP)
4x-40x52mm FFP (High Master Wide Angle)
6x-60x56mm FFP (High Master Wide Angle)
D40V52GFIMA (MOA, Tactical, Illumi)
Tactical Model (Illuminated)
March "GENESIS" 4x-40x52mm with 300 MOA of total elevation travel.
GENESIS scope will extend the accuracy capability of modern rifles without the need for modifications including inclined rails, adjustable mounts, or prism systems. It took us many years to develop this Genesis scope which is globally unique and the first in the history. 4-40x52mm with 300MOA of total elevation travel is capable of engaging targets from 20 meters up to 3 miles (4827m) subject to rifle system, ammunition, and environmental conditions without compromising image quality and without utilizing any external accessories. There is no requirement for additional, bulky and expensive additions. The unique design of Genesis scopes (the scope itself inclines) allow the shooter to always see through the central part of the lens producing clarity, definition, and minimal chromatic aberration even when at extreme elevation. You can achieve a perfect IQ throughout all the magnification range and elevation travel.

・10X Zoom in FFP, MOA
・52mm objective lens
・Wide Angle eyepiece : 24 degrees
・Temperature Anti-Drift Lens System
・High Master lens system (Super ED lenses)
・Side focus 20m - infinity
・Scope body fully machined from aluminum ingot
・All Japanese metal parts with no plastic part except for minimum essentials such as an insulator
・Argon gas filled for internal stability
・Fast focus eyepiece
・6 level illumination module
・Top quality multi lens coating where the transmittance is very near 100%
・Water repellent lens coating

4x-40x52mm GENESIS employs "New High Master Lens System" and "Temperature Anti-Drift Lens System"
"New High Master Lens System"
The High Master Lens System has 2 Super ED lens elements within its new lens system. By using Super ED lens elements, we can suppress chromatic aberration even more than with ED lenses and thus produce a sharper image with greater contrast, while still having a strong scope.

"Temperature Anti-Drift Lens System"
In the latest optical systems, a new lens material has been developed to accommodate changes in environmental temperature by altering the refractive index of the lenses. This new lens material has been adopted for the new High Master optics to create a more stable lens system that naturally adapts to changes in temperature to maintain focus and clarity over a wide range of conditions.
Dials
1/4 MOA Type

300 MOA of total elevation travel with Zero-set feature (UP:250MOA, DOWN:50MOA)
100 MOA of total windage travel (Left:50MOA, Right:50MOA)

50 MOA per turn on each turret. 1/4 MOA clicks
Technical Data
Low

High

Magnification
4x
40x
Effective Lens Diameter
52mm
Body Tube Diameter
--
Exit Pupil
3.1mm
(0.12inch)
1.3mm
(0.05inch)
Field of View (real)
degree
6°
0.6°
ft/100yd
31.5ft
3.2ft
m/100m
10.5m
1.05m
Eye Relief
68-86mm
(2.68-3.39inch)
71-85mm
(2.80-3.35inch)
1 Click Adjustment
1/4MOA
Elevation Travel
300MOA
Windage Travel
100MOA
Focus Distance
20m - infinity
Reticle
FMA-3
In the box
Flip Caps (Objective and Eyepiece)
MD disk
Sunshade
Lens Cloth
Fast lever
Eyepiece rubber
Mount
Mount spacer
Hex wrench
Scope Size
A
331mm(13.03inch)
B
50mm(1.97inch)
C
60mm(2.36inch)
D
41mm(1.61inch)
E
84mm(3.31inch)
F
86mm(3.39inch)
G
160mm(6.30inch)
H
1.67°
Weight
1280g(45.14oz)