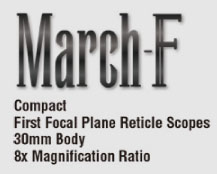 Has eight magnification ratios, in the first focal plane (FFP) configuration rifle scope. The mrad reticle scale value remains constant across the entire zoom range. It is easy to range the target without thinking where to set the zoom range. Additionally, with the capability to set any position as the zero point in elevation (0-set device), the shooter will never lose his starting calibration.
March-F
1x-10x24mm Shorty
1x-8x24mm Shorty
1x-8x24mm
3x-24x42mm
3x-24x52mm
D8SV24FIML
Tactical Model with Illumination Module

New March-F 1x-8x24mm Shorty is the world's lightest and shortest scope with 8 magnification ratio. The length is only 212mm(8.4 inch) and the weight is only 485g(17.1oz) but at the same time the performance still remains the same as D8V24FIML.
Easy to use for short and middle range shooters with an illuminated reticle, tactical turrets and 100yard fixed focus.
This model will eclipse all other 1x-8x power scopes.
Dials
0.1 MIL Type

1 click adjustment : 0.1MIL (1cm @100m)
10 MIL turret revolution (100cm @100m)
0-set on Elevation turret
Technical Data
Low

High

Magnification
1x
8x
Effective Lens Diameter
24mm
Body Tube Diameter
30mm
Exit Pupil
6.6mm
(0.26inch)
3.0mm
(0.12inch)
Field of View (real)
degree
19.67°
2.46°
ft/100yd
104ft
12.9ft
m/100m
34.67m
4.3m
Eye Relief
74-102mm
(2.91-4.02inch)
74-97mm
(2.91-3.82inch)
1 Click Adjustment
0.1MIL
Elevation Travel
56MIL
Windage Travel
56MIL
Focus Distance
100 yd
Reticle
FMC-1
FMC-2
FMC-3
In the box
Flip Caps (Objective and Eyepiece)
Lens Cloth
Scope Size
A
210mm (8.27inch)
B
80mm (3.15inch)
C
33mm (1.3inch)
D
41mm (1.61inch)
E
38mm (1.50inch)
F
92mm (3.7inch)
G
0mm (0inch)
H
42mm (1.65inch)
Weight
485g (17.11oz)