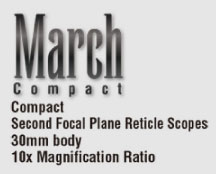 These compact scopes are able to encompass the performance of two or three zoom scopes in one. These scopes provide the highest magnification ratio in any rifle scope.
March Compact
1x-4x24mm
1x-4.5x24mm
1x-10x24mm
1.5x-15x42mm
2.5x-25x42mm
2.5x-25x52mm
D4V24IML
Normal Model (Illuminated)

March 1x-4x24mm are suitable for short and middle range hunting with simple features. The 17.8 mm exit pupil at 1x enable the user to concentrate faster on the target. This scope is an excellent choice for short and middle range quarry, including moving targets. It is suitable for the harshest of environments. Compact scope weighing only 490g (17.28oz).
The FD-1 reticle has a bright dot even in daytime on the center of 3-Post with four power setting illumination module.
Dials
0.1 MIL Type

1 Click Adjustment : 0.1MIL (1cm @100m)
10 MIL turret revolution (100cm @100m)
Technical Data
Low

High

Magnification
1x
4x
Effective Lens Diameter
24mm
Body Tube Diameter
30mm
Exit Pupil
17.8mm
(0.7inch)
6.0mm
(0.24inch)
Field of View (real)
degree
19.0°
4.7°
ft/100yd
100.4ft
24.9ft
m/100m
33.47m
8.20m
Eye Relief
64-94mm
(2.52-3.7inch)
61-94mm
(2.4-3.7inch)
1 Click Adjustment
0.1MIL
Elevation Travel
56MIL
Windage Travel
56MIL
Focus Distance
100yd
Reticle
FD-1
FD-2
In the box
Flip Caps (Objective and Eyepiece)
Fast Lever
Lens Cloth
Hex wrench
Scope Size
A
258mm (10.16inch)
B
129mm (5.08inch)
C
33mm (1.3inch)
D
41mm (1.61inch)
E
35mm (1.38inch)
F
94mm (3.7inch)
G
49mm (1.93inch)
H
42mm (1.65inch)
Weight
490g (17.28oz)