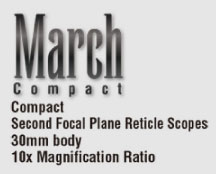 These compact scopes are able to encompass the performance of two or three zoom scopes in one. These scopes provide the highest magnification ratio in any rifle scope.
D25V52T
Tactical Model
Oversized dials for elevation, windage, and side focus for easy adjustment.
The elevation dial has a 0-set function.

This scope has the 52mm objective lens, but it is compact.
By utilizing the 52mm objective lens, it is quite useful in the dusk.
Covers extended wide range of tactical and hunting situation.
Dials
MOA Type

One turn of both adjustment dials is 25MOA and one click is 1/4MOA.
Elevation axis has a total adjustment range of 120MOA.
Windage axis has a total adjustment range of 60MOA.

1/4MOA Adj.dials with 0-Set
Technical Data
Low

High

Magnification
2.5x
25x
Effective Lens Diameter
52mm
Body Tube Diameter
30mm
Exit Pupil
--
2.08mm
(0.08inch)
Field of View (real)
degree
8.0°
0.8°
ft/100yd
42.0ft
4.2ft
m/100m
13.99m
1.40m
Eye Relief
85-100mm
(3.35-3.94inch)
89-96mm
(3.5-3.78inch)
1 Click Adjustment
1/4MOA
Elevation Travel
120MOA
Windage Travel
60MOA
Focus Distance
10yd - infinity
Reticle
CH
1/4dot
Di-plex
In the box
Flip Caps (Objective and Eyepiece)
Sunshade
Lens Cloth
Fast Lever
Hex wrench
MD disk (from orders received after Jan 2022)
Scope Size
A
336mm (13.23inch)
B
139mm (5.47inch)
C
60mm (2.36inch)
D
41mm (1.61inch)
E
105mm (4.13inch)
F
92mm (3.62inch)
G
53mm (2.09inch)
H
48mm (1.89inch)
Weight
665g (23.46oz)