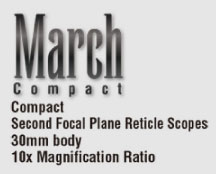 These compact scopes are able to encompass the performance of two or three zoom scopes in one. These scopes provide the highest magnification ratio in any rifle scope.
March Compact
1x-4x24mm
1x-4.5x24mm
1x-10x24mm
1.5x-15x42mm
2.5x-25x42mm
2.5x-25x52mm
D15V42TI
Tactical Model (Illuminated)
March-Compact 1.5-15x42 in MOA
15x top magnification makes it a perfect choice for NRA's Mid-Range Tactical Rifle competitions. Light weight and compact 1.5-15x42 riflescope is equally ideal for hunting and for precision semi-auto platforms. 42mm objective lens produces excellent low light performance in a compact form factor, while 1.5x low end magnification makes for fast target acquisition.

・10X Zoom in SFP
・ED Glass
・30mm diameter body
・42mm objective lens
・Side focus 10 yard - infinity
・Scope body fully machined from aluminum ingot
・All Japanese metal parts with no plastic part except for minimum essentials such as an insulator
・Argon gas filled for internal stability
・Fast focus eyepiece
・6 level illumination module

"Newly developed 42mm objective lenses system"
This 1.5x-15x 42mm scope has about the same length as the March 1x-10x24mm, but is capable of receiving more than 3 times the light. As a result, it produces a bright high resolution image.

"Durability"
This 1.5-15x42 riflescope, like all March scopes, is immensely strong to endure any severe condition. All March scopes are Argon-filled for internal stability and are fully weather-resistant and waterproof to at least 4 meters, and have passed impact tests of up to 1000G.

"Reticle"
We recommend MTR-3, MTR-4 and especially MTR-5 as these are competition oriented, clean and easy to use reticles. MTR-5 has the thickest line and the largest dot among all the MTR reticles and is suitable for making a fast target acquisition.

"Fast focus eyepiece"
The diopter adjustment mechanism has been improved so you can adjust the eyepiece to your eye faster than ever before.

Leaflet of this product : https://marchscopes.com/wp-content/uploads/2020/11/D15V42_Leaflet_20201015.pdf
Dials
1/4 MOA Type

1 Click Adjustment : 1/4MOA
20 MOA per 1turn
0-set on Elevation turret

*6-level illumination module is a standard specification for this model.
Technical Data
Low

High

Magnification
1.5x
15x
Effective Lens Diameter
42mm
Body Tube Diameter
30mm
Exit Pupil
8.7mm
2.8mm
Field of View (real)
degree
13.3°
1.33°
ft/100yd
70.2ft
7.0ft
m/100m
23.4m
2.3m
Eye Relief
69‐113mm (2.72-4.45inch)
74‐94mm (2.91-3.70inch)
1 Click Adjustment
1/4MOA
Elevation Travel
80MOA
Windage Travel
36MOA
Focus Distance
10yd - infinity
Reticle
MTR-3
MTR-4
MTR-5 (Manufacturer's recommendation)
In the box
Sunshade
Flip Caps(Obj. Lens・Eyepiece)
Fast lever
MD disk
Lens cloth
Hex wrench
Scope Size
A
268mm(10.6inch)
B
111mm(4.4inch)
C
51mm(2.0inch)
D
41mm(1.6inch)
E
68mm(2.7inch)
F
89mm(3.5inch)
G
36mm(1.4inch)
H
37mm(1.5inch)
Weight
620g(21.87oz)