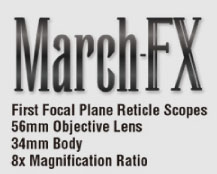 Has eight magnification ratios, including the highest magnification ratio in the first focal plane (FFP) configuration rifle scope made to date. The mrad reticle scale value remains constant across the entire zoom range. It is easy to range the target without thinking where to set the zoom range. Additionally, with the capability to set any position as the zero point in elevation (0-set device), the shooter will never lose his starting calibration. This scope was designed to eliminate optical aberration without compromise, utilizing high-end extra-low dispersion (ED) lenses.
March-FX
4.5x-28x52mm (High Master)
5x-42x56mm
5x-40x56mm
D42HV56WFIML
Tactical Model with Illumination module
2020 NEW! March -FX High Master Wide Angle 5-42x56mm
5-42x56mm employs "New High Master Lens System" and "Temperature Anti-Drift Lens System".

"New High Master Lens System"
The High Master Lens System has 2 Super ED lens elements within its new lens system.
By using Super ED lens elements, we can suppress chromatic aberration even more than with ED lenses
and thus produce a sharper image with greater contrast, while still having a strong scope.

"Temperature Anti-Drift Lens System"
In the latest optical systems, a new lens material has been developed to accommodate changes
in environmental temperature by altering the refractive index of the lenses.
This new lens material has been adopted for the new High Master optics to create a more stable lens system
that naturally adapts to changes in temperature to maintain focus and clarity over a wide range of conditions.  


This 5-42x56mm scope is developed for serious competition shooters, enthusiasts and hunters
who demand the utmost in optical/mechanical performance.
The High Master lens system allows for the highest optical quality incorporating Super ED lens
with high refractive glass which offers very high resolution and natural color right to the edge of the image.
5-42x56mm has the widest angle eyepiece among all March Scopes 26°(30% more than our standard models)
offering enhanced FOV throughout the 8. 4x magnification range.
Multi-turn 10 mrad elevation turret with 40 mrad total travel adjustment for ELR.
Locking elevation, windage and parallax with easy zero stop.
Fast focus diopter system will enable you to adjust from -2D to +2D in 1 revolution.
Eyepiece diopter can be rapidly adjusted.
Dials
0.1 MIL Type

1 Click Adjustment : 0.1MIL (1cm @100m)
10 MIL turret revolution (100cm @100m)

In case sand may get into the locking lever,
you can wash it away as the scope is waterproof.
Technical Data
Low

High

Magnification
5x
42x
Effective Lens Diameter
56mm
Body Tube Diameter
34mm
Exit Pupil
5.2mm
(0.20inch)
1.33mm
(0.05inch)
Field of View (real)
degree
5.2°
0.62°
ft/100yd
26.19ft
3.25ft
m/100m
8.73m
1.08m
Eye Relief
71-90.4mm
(2.80-3.56inch)
74.2-90mm
(2.92-3.54inch)
1 Click Adjustment
0.1MIL
Elevation Travel
40MIL
Windage Travel
14MIL
Focus Distance
10yd - infinity
Reticle
FML-MT
FML-TR1
FML-3
In the box
Flip Caps (Objective and Eyepiece)
Sunshade
Lens Cloth
Scope Size
A
358mm(14.1inch)
B
142mm(5.59inch)
C
64mm(2.52inch)
D
46mm(1.81mm)
E
117mm(4.60inch)
F
99mm(3.90inch)
G
52mm(2.05inch)
H
49mm(1.93inch)
Weight
950g(33.5oz)