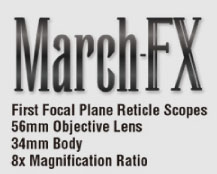 Has eight magnification ratios, including the highest magnification ratio in the first focal plane (FFP) configuration rifle scope made to date. The mrad reticle scale value remains constant across the entire zoom range. It is easy to range the target without thinking where to set the zoom range. Additionally, with the capability to set any position as the zero point in elevation (0-set device), the shooter will never lose his starting calibration. This scope was designed to eliminate optical aberration without compromise, utilizing high-end extra-low dispersion (ED) lenses.
March-FX (FFP, 34mm tube)
1x-10x24mm Shorty FFP (34mm tube)
1.5x-15x42mm FFP (34mm tube)
4.5x-28x52mm FFP (High Master Wide Angle)
5x-42x56mm FFP (High Master Wide Angle)
5x-40x56mm FFP
D42HV56WFIML (MIL, Tactical, Illumi, Lock)
Tactical Model (Illuminated)
March-FX Wide Angle 5-42x56mm in MIL
This 5-42x56mm scope is developed for serious competition shooters, enthusiasts and hunters who demand the utmost in optical/mechanical performance. 5-42x56mm has the widest angle eyepiece among all March Scopes 26° (30% more than our standard models) offering enhanced FOV throughout the 8. 4x magnification range.

・8.4X Zoom in FFP, MIL
・34mm diameter body
・56mm objective lens
・Wide Angle eyepiece : 26 degrees
・Temperature Anti-Drift Lens System
・High Master lens system (Super ED lenses)
・Side focus 10 yard - infinity
・Scope body fully machined from aluminum ingot
・All Japanese metal parts with no plastic part except for minimum essentials such as an insulator
・Argon gas filled for internal stability
・Lockable Elevation / Windage / Side focus turrets
・Fast focus eyepiece
・6 level illumination module
・Top quality multi lens coating where the transmittance is very near 100%
・Water repellent lens coating

Multi-turn 10 mrad elevation turret with 40 mrad total travel adjustment for ELR.
Locking elevation, windage and parallax with easy zero stop.
Fast focus diopter system will enable you to adjust from -2D to +2D in 1 revolution.
Eyepiece diopter can be rapidly adjusted.

5-42x56mm employs "Temperature Anti-Drift Lens System" and the "High Master lens system".
"Temperature Anti-Drift Lens System"
In the latest optical systems, a new lens material has been developed to accommodate changes in environmental temperature by altering the refractive index of the lenses. This new lens material has been adopted to create a more stable lens system that naturally adapts to changes in temperature to maintain focus and clarity over a wide range of conditions.  

"Super ED lenses"
Super ED lenses are an improved ED lens element with optical characteristics even closer to pure fluorite crystal lens elements. By incorporating Super ED lenses (High Master lens system), we are able to reduce the chromatic aberration.

* Manufacturer's Note:
Because of the very wide adjustment range of this riflescope, you may experience some image quality degradation as you near the limits of the adjustment range. This can occur because of the extreme refraction of the incoming light at the edges of the objective lens. This degradation will worsen as the magnification increases but if you readjust the focus turret each time, you will be able to see the image clearly. In case you do not wish to adjust each time, we recommend using an appropriate canted rail if you plan to use this riflescope consistently near the limits of the adjustment range and at higher magnification. It can be utilized to gain additional elevation and to keep the scope optically centered as much as possible. Please check our Support page for further information. https://marchscopes.com/support/

If you are looking for a scope with large elevation travel amount and perfect IQ throughout the range, we recommend you 6-60x56Genesis (114MIL, 400MOA) and 4-40x52 (86MIL, 300MOA) Genesis scopes. When you turn the elevation or windage turret on the Genesis, the entire riflescope tube is canted. This unique design allows you to always look through the central part of the lens resulting in perfect image quality, regardless of the windage or elevation applied to the riflescope. (Link to the product pages of 6-60x56 Genesis: https://marchscopes.com/scopes/d60v56gfiml-2/, 4-40x52: Genesis https://marchscopes.com/scopes/d40v52gfiml-3/)
Dials
0.1 MIL Type

1 Click Adjustment : 0.1MIL (1cm @100m)
10 MIL turret revolution (100cm @100m)
0-set on Elevation turret

In case sand may get into the locking lever, you can wash it away as the scope is waterproof.
Technical Data
Low

High

Magnification
5x
42x
Effective Lens Diameter
56mm
Body Tube Diameter
34mm
Exit Pupil
5.2mm
(0.20inch)
1.33mm
(0.05inch)
Field of View (real)
degree
5.2°
0.62°
ft/100yd
26.2ft
3.3ft
m/100m
8.73m
1.08m
Eye Relief
71-90.4mm
(2.80-3.56inch)
74.2-90mm
(2.92-3.54inch)
1 Click Adjustment
0.1MIL
Elevation Travel
40MIL
Windage Travel
14MIL
Focus Distance
10yd - infinity
Reticle
FML-MT
FML-TR1
FML-3
In the box
Flip Caps (Objective and Eyepiece)
Sunshade
Lens Cloth
Fast Lever
MD disk
Hex wrench
Scope Size
A
355mm(13.98inch)
B
142mm(5.59inch)
C
64mm(2.52inch)
D
46mm(1.81mm)
E
117mm(4.60inch)
F
96mm(3.78inch)
G
52mm(2.05inch)
H
49mm(1.93inch)
Weight
980g(34.57oz)