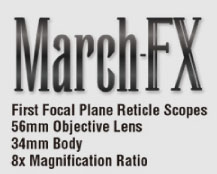 Has eight magnification ratios, including the highest magnification ratio in the first focal plane (FFP) configuration rifle scope made to date. The mrad reticle scale value remains constant across the entire zoom range. It is easy to range the target without thinking where to set the zoom range. Additionally, with the capability to set any position as the zero point in elevation (0-set device), the shooter will never lose his starting calibration. This scope was designed to eliminate optical aberration without compromise, utilizing high-end extra-low dispersion (ED) lenses.
March-FX
4.5x-28x52mm (Wide Angle)
5x-42x56mm (Wide Angle)
5x-40x56mm
D28HV52WFML
Tactical Model
2020-21 NEW! March-FX " Wide Angle" 4.5-28x52mm Riflescope

"Temperature Anti-Drift Lens System"
In the latest optical systems, a new lens material has been developed to accommodate changes
in environmental temperature by altering the refractive index of the lenses.
This new lens material has been adopted to create a more stable lens system
that naturally adapts to changes in temperature to maintain focus and clarity over a wide range of conditions.

"Wide Angle Eyepiece"
25 Degree Wide Angle Eyepiece will enhance FOV throughout the 6.2 magnification range.
Compared with our standard scopes with 20 degree, this is wider by 25%.

"Super ED lenses"
By incorporating Super ED lenses (High Master lens system), we are able to reduce the chromatic aberration.

Please check this article for more detailed information!
https://marchscopes.com/news/7170/

Leaflet of this product : https://marchscopes.com/wp-content/uploads/2021/05/D28HV52WF_leaflet_20210317.pdf

This scope was developed with practical precision shooting competitors in mind,
but ease of use and compact configuration make it equally at home on nearly any shooting platform.
The short length (318mm; 12.5") and light weight (815g; 28.7oz) of the March-FX 4.5x-28x52mm is exceptional.

"Non-illuminated reticles"
FML-PDK is a tree reticle, and FML-LDK reticle is a non-tree reticle for those who prefer a simpler design.
These 2 reticles were designed by PRS shooters who were in need of a PRS oriented reticle with finer lines.

"Fast focus eyepiece"
The diopter adjustment mechanism has been improved so you can adjust the eyepiece to your eye faster than ever before.
Dials
0.1 MIL Type

1 Click Adjustment : 0.1MIL (1cm @100m)
10 MIL turret revolution (100cm @100m)
0-set on Elevation turret

Elevation dial is a tactical type.
Windage dial is a normal(capped) type.

This model does not have an illumination module.
Technical Data
Low

High

Magnification
4.5x
28x
Effective Lens Diameter
52mm
Body Tube Diameter
34mm
Exit Pupil
1.86mm (0.73 inch)
Field of View (real)
degree
5.56°
0.892°
ft/100yd
29.1ft
4.68ft
m/100m
9.7m
1.56m
Eye Relief
70‐93.7mm
72‐90mm
1 Click Adjustment
0.1MIL
Elevation Travel
30MIL
Windage Travel
20MIL
Focus Distance
10yd - infinity
Reticle
FML‐PDK
FML‐LDK
In the box
Flip Caps (Objective and Eyepiece)
Sunshade
Lens Cloth
MD disk
Middle focus wheel
Engraved Large dial
Fast lever
Hex key
Scope Size
A
318mm (12.5inch)
B
129mm (5.0inch)
C
60mm (2.4inch)
D
46mm (1.8inch)
E
93mm (3.7inch)
F
96mm (3.8inch)
G
42mm (1.6inch)
H
49mm (1.9inch)
Weight
815g (28.7oz)