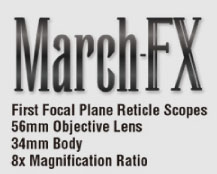 Has eight magnification ratios, including the highest magnification ratio in the first focal plane (FFP) configuration rifle scope made to date. The mrad reticle scale value remains constant across the entire zoom range. It is easy to range the target without thinking where to set the zoom range. Additionally, with the capability to set any position as the zero point in elevation (0-set device), the shooter will never lose his starting calibration. This scope was designed to eliminate optical aberration without compromise, utilizing high-end extra-low dispersion (ED) lenses.
March-FX (FFP, 34mm tube)
1x-10x24mm Shorty FFP (34mm tube)
1.5x-15x42mm FFP (34mm tube)
4.5x-28x52mm FFP (High Master Wide Angle)
5x-42x56mm FFP (High Master Wide Angle)
5x-40x56mm FFP
D40V56FIML10-G2 (MIL, Tactical, Illumi, 0.1MIL adj, Lock, Genll)
Tactical Model (Illuminated)
March-FX 5-40x56 Genll
Generation ll of a hot seller and all time favorite 5-40x56 Scope with 0.1MIL click adjustment. 5-40x56Genll is an ultimate scope for serious competition shooters, enthusiasts and hunters who demand the utmost in optical/mechanical performance.
・8X Zoom in FFP
・34mm diameter body
・56mm objective lens
・Side focus 10 yard - infinity
・Scope body fully machined from aluminum ingot
・All Japanese metal parts with no plastic part except for minimum essentials such as an insulator
・Argon gas filled for internal stability
・6 level illumination module

Added features in 5-40x56 Genll from the original 5-40x56 are;
・Lockable Elevation and Windage turrets
・Fast focus eyepiece
・6 level illumination module

First Focal Plane Reticle Scope (FFP)
A feature of First Focal Plane design, also known as FFP, is the reticle scale value does not change over the entire zoom range. Also the point of aim (POA) does not change over the entire zoom range. Using the reticle for ranging and also with trajectory drop charts is much simplified. However, the reticle scale will get thicker when magnification is increased. The special reticle design in the March scope allows target acquisition quickly at both low and high magnification.
Dials
0.1 MIL Type

0.1MIL Adj.dials with 0-Set
One turn of both adjustment dials is 10MIL and one click value is 0.1MIL.



Technical Data
Low

High

Magnification
5x
40x
Effective Lens Diameter
56mm
Body Tube Diameter
34mm
Exit Pupil
--
1.4mm
(0.06inch)
Field of View (real)
degree
4.0°
0.5°
ft/100yd
21.0ft
2.6ft
m/100m
6.98m
0.87m
Eye Relief
96-100mm
(3.78-3.94inch)
92-98mm
(3.62-3.86inch)
1 Click Adjustment
0.1MIL
Elevation Travel
24MIL
Windage Travel
12MIL
Focus Distance
10yd - infinity
Reticle
FML-1
FML-PDKI
In the box
Flip Caps (Objective and Eyepiece)
Sunshade
Lens Cloth
Fast lever
MD disk
Hex wrench
Scope Size
A
389mm (15.32inch)
B
155mm (6.1inch)
C
64mm (2.52inch)
D
41mm (1.61inch)
E
146mm (5.75inch)
F
88mm (3.46inch)
G
66mm (2.6inch)
H
52mm (2.05inch)
Weight
925g (32.63oz)