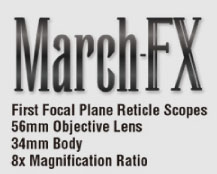 Has eight magnification ratios, including the highest magnification ratio in the first focal plane (FFP) configuration rifle scope made to date. The mrad reticle scale value remains constant across the entire zoom range. It is easy to range the target without thinking where to set the zoom range. Additionally, with the capability to set any position as the zero point in elevation (0-set device), the shooter will never lose his starting calibration. This scope was designed to eliminate optical aberration without compromise, utilizing high-end extra-low dispersion (ED) lenses.
March-FX (FFP, 34mm tube)
1x-10x24mm Shorty FFP (34mm tube)
1.5x-15x42mm FFP (34mm tube)
4.5x-28x52mm FFP (High Master Wide Angle)
5x-42x56mm FFP (High Master Wide Angle)
5x-40x56mm FFP
D10SV24FDIMLN34 (Dual, MIL, Normal, Illumi)
Normal Model (Illuminated)
March-FX 1-10x42mm Shorty Riflescope
・10X Zoom in FFP, MIL
・Uniform thickness : 34mm diameter body tube
・24mm objective lens
・Focus from 10 yard to infinity
・Dual reticle (best of both FFP and SFP reticles)
・Daylight bright fiber dot illumination
・Scope body fully machined from aluminum ingot
・All Japanese metal parts with no plastic part except for minimum essentials such as an insulator
・Argon gas filled for internal stability
・Fast focus eyepiece
・6 level illumination module
・Top quality multi lens coating where the transmittance is very near 100%
・Water repellent lens coating

At Deon, we are very proud of our technical expertise that allowed us to design and create a scope with a 10X zoom range and a dual reticle. The technical and assembly challenges with respect to dual reticles are extreme and we are pushing the limits of the state of the art in reticle design. The tolerances required in assembly of the "Dual reticle" are such that very few are able to do it, especially with a 10X zoom ratio. Any deviation from these extremely tight tolerances will be visible in the 10X zoom range. The assembly of this scope, like all our other offerings, is meticulous. This is want we are known for: superb assembly of extremely strong fine works of art.

"The Newest March Dual Reticle- Best of both reticles"
The newest March Dual Reticle has advantages of both SFP and FFP reticle.
It has the convenience of the FFP reticle scale which magnifies and reduces according to the magnification
and the usability of the SFP reticle with the constant thickness (to the eye not the scale value) of the line as the magnification changes. Placing the daylight bright fiber dot illumination to the Second Focal plane reticle ensures that the illuminated dot is usable across the entire magnification range; from a dot sight at low magnifications to a precise illuminated dot for long range precision shooting at higher magnifications with the use of the scale.

Please check these videos to see how bright the fiber dot is:
https://www.youtube.com/watch?v=bvfclccnXUM&t=19s
https://www.youtube.com/watch?v=nHXIuRjmTEk

"True 1x and 10-fold zoom ratio scope"
This 1-10x24 Shorty scope can be used just like a dot-sight with both eyes open for point blank range
since it's a true 1x scope. With its 10-fold zoom ratio, it can also be used for long range precision shooting.

"Ultra compact & light - about the same as a water bottle"
The size and the weight are about the same as a 500ml plastic bottle. The length is 215mm(≒8.46inch), the weight is 550g(≒19oz). This ultra compact scope is suitable for tactical shooting and hunting.

"Durability"
This updated 1-10x24 riflescope, like all March scopes, is immensely strong to endure any severe condition. All March scopes are Argon-filled for internal stability and are fully weather-resistant and waterproof to at least 4 meters, and have passed impact tests of up to 1000G. The walls of the 34mm tubes are 4mm thick. Our 34mm body tube is simply just to make the scope extra strong. With its 4mm thick walls and the overall design, March-X and March-FX models are among the toughest riflescopes in the world. Updated 1-10×24 shorty FFP scope is categorized under the March-FX models. "X" in the classification name stands for 34mm body tube and "F" in the classification name stands for FFP (first focal plane).

"Fast focus eyepiece"
The diopter adjustment mechanism has been improved so you can adjust the eyepiece to your eye faster than ever before.

"Dual reticle"
Reticle scale is placed on the First focal plane and a bright fiber dot illumination and the cross line is placed on the Second focal plane.
Dials
0.1 MIL Type

1 click adjustment : 0.1MIL (1cm @100m)
10 MIL turret revolution (100cm @100m)


Hight from the tube top to the top of the cap is 21mm (0.827inch).
Technical Data
Low

High

Magnification
1x
10x
Effective Lens Diameter
24mm
Body Tube Diameter
34mm
Exit Pupil
8.6mm(0.34inch)
2.4mm(0.094inch)
Field of View (real)
degree
19.2°
1.92°
ft/100yd
101.5ft
10.1ft
m/100m
33.83m
3.35m
Eye Relief
72‐102mm
72‐100mm
1 Click Adjustment
0.1MIL
Elevation Travel
50 Mil
Windage Travel
25 Mil
Focus Distance
10yd - infinity
Reticle
DR-1F
DR-TR1F
In the box
Flip caps (Objective lens, Eyepiece)
Fast lever
Lens cloth
Hex key
Scope Size
A
215mm (8.46inch)
B
130mm (5.12inch)
C
34mm (1.34inch)
D
41mm (1.61inch)
E
0 (null)
F
85mm (3.35inch)
G
40mm (1.57inch)
H
51mm (2.01inch)
Weight
550g (19.40oz)