News Category
Archive
Newly Posted
1-10×24 FFP Dual reticle March Scope is introduced at AccurateShooter.com
Posted 02/16/2021
1-10×24 Shorty with Dual reticle – FFP March Scope was also introduced in the article posted on Jan 19th, 2021 at AccurateShooter.com.
This year 2021 Shot Show was cancelled, but the team at AccurateShooter checked
more than 500 new products on the Shot Show online site "Shot Show on Demand".
Not only our 4.5-28×52 Wide Angle scope, but our 1-10×24 Shorty with Dual reticle March Scope attracted notice as well.
You can check their article HERE where they feature 14 new and notable products from their perspectives.
(It is nearly a month now since Accurate Shooter introduced our 1-10×24 Shorty Dual reticle FFP scope in their article.
I apologize for the belated post as I am the only staff who is not an engineer and I was receiving many inquiries lately.) 
The average R&D rate of OECD countries is 2.379%. (Source of reference : https://data.oecd.org/rd/gross-domestic-spending-on-r-d.htm)
It slightly varies every year, but the ratio of R&D expenses to sales at March Scopes is 25% which is incredibly high!!
It is our CEO Shimizu-san's policy that 1/4 goes to R&D. We develop new models every year.
We announced 3 new models at the virtual 2021 Shot Show this year
including the 1.5-15×42 SFP scope for hunters and NRA's new Mid-Range Tactical Rifle competitions.
We are overwhelmed with joy that 2 out of our 3 new models were introduced by Accurate Shooter to be an innovative products.
1-10×24 Shorty is a very compact LPVO with our newest Dual Reticle having advantages of both SFP and FFP reticles.
At DEON (the manufacturer of March Scopes), we are very proud of our technical expertise
that allowed us to design and create a scope with a 10X zoom range and a dual reticle.
It is very difficult to place FFP reticle and SFP reticle in alignment which requires skillful technique.
The technical and assembly challenges with respect to dual reticles are extreme
and we are pushing the limits of the state of the art in reticle design.
ISO sets a detailed global standard for scopes that can be sold.
After continuous process of trial and error, our expert craftsmen were able to align
the 2 reticles meeting high standards exceeding ISO standards.
The tolerances required in assembly of the DR-1 are such that very few are able to do it, especially with a 10X zoom ratio.
Any deviation from these extremely tight tolerances will be visible in the 10X zoom range.
The assembly of this scope, like all our other offerings, is meticulous.
This is want we are known for: superb assembly of extremely strong fine works of art.

1-10×24 Shorty is an ultra compact scope with length of 214mm, 8.4inch and weight of 505g, 17.8oz.
You can check the leaflet of the 1-10×24 Shorty Dual reticle HERE.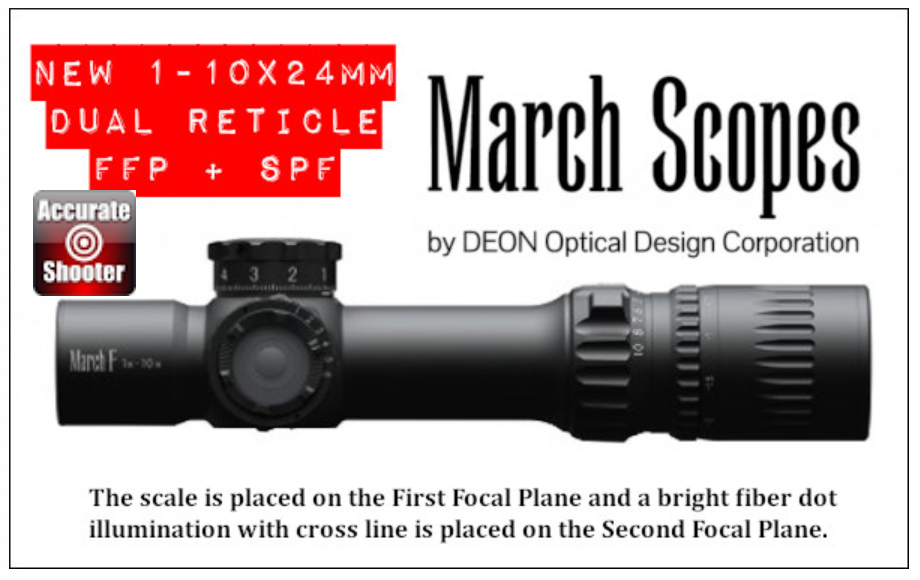 Source of reference : http://bulletin.accurateshooter.com/2021/01/virtual-shot-show-new-products-for-2021/
March's newest Dual reticle
The newest March Dual Reticle has advantages of both SFP and FFP reticle.
Please see the images below. It shows the same reticle when increasing the magnification.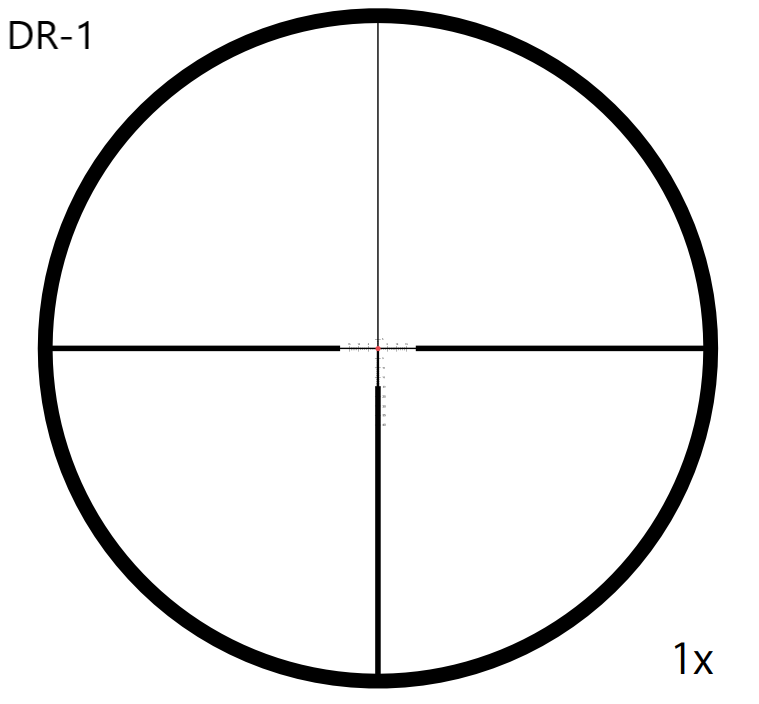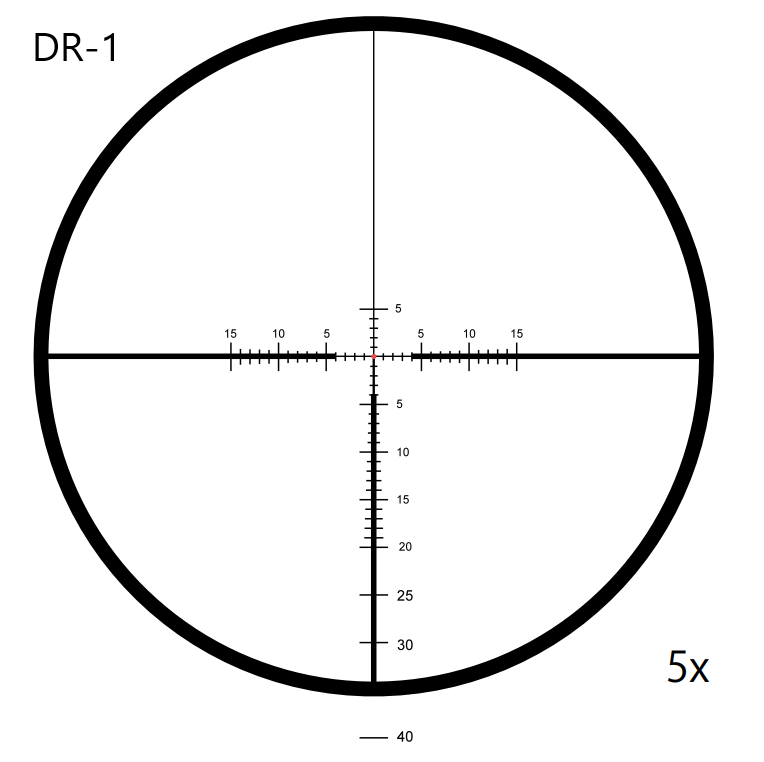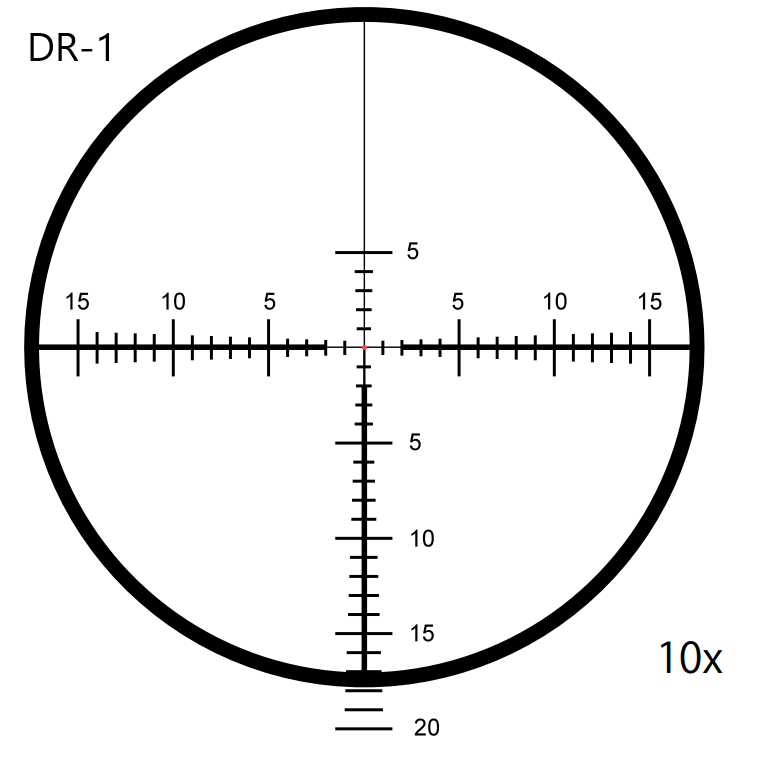 Dual reticle has the convenience of the FFP reticle where the scale value will always be consistent regardless of the magnification.
It also contains the usability of the SFP reticle with the constant thickness of the line as the magnification changes.
Placing the bright fiber dot illumination to the Second Focal plane reticle ensures
that the illuminated dot is usable across the entire magnification range; from a dot sight at low magnifications
to a precise illuminated dot for long range precision shooting at higher magnifications with the use of the scale.
This scope can be used just like a dot-sight with both eyes open for point blank range since it's a true 1x scope
With its 10-fold zoom ratio, it can also be used for long range precision shooting.
As 1-10×24 Shorty Dual reticle (and also the 1-8x24shorty) has different diameters in the front and at the rear,
we recommend a
Custom Shorty unimount
to complement the Shorty scope but 2 piece mount rings can also be used.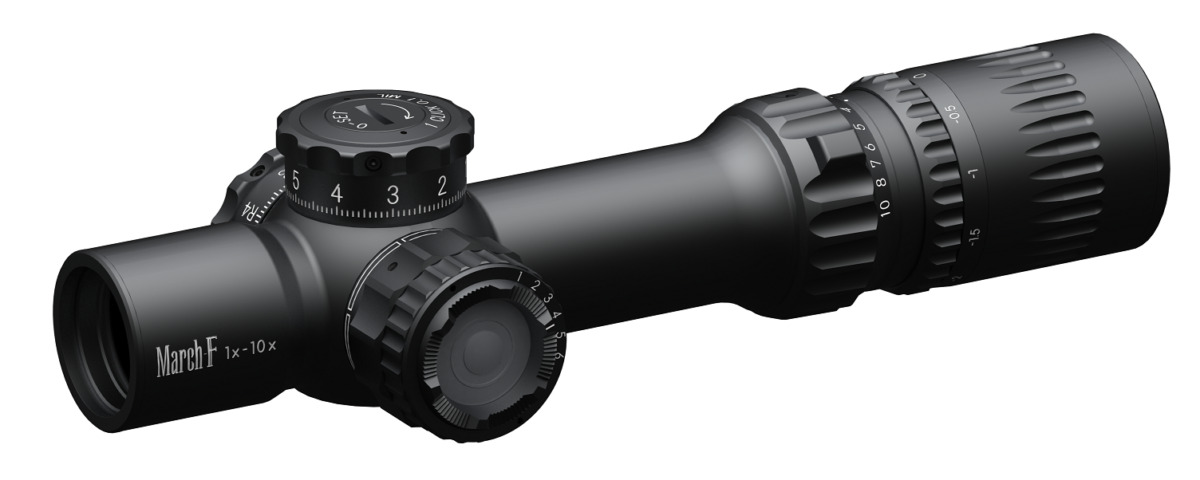 ---
You can also check the detailed characteristics of our each scope in this article to assist you in choosing a perfect scope for YOU!
If you have any questions regarding this scope or others, please feel free to contact us at
info@deon.co.jp
.
We are more than happy to assist you.
---
Please enjoy shooting!
Written by : Mari Morita

Back to page