March Scope Owner Kris Wilson (Australia) is interviewed by Accurate Shooter
Posted 12/08/2020
March Scope Owner Kris Wilson (Australia) is a F-Open class shooter who won at a competition held in December 5th.
He shot with March-X 10-60×56 High Master Scope which is a popular scope among F-class shooters and
Field Target air rifle competition shooters who requires a high degree of ranging accuracy over a wide range of conditions. 
He was interviewed by Accurate Shooter for his accomplishments.
Please click HERE to read the whole interview on AccurateShooter.com.
You can check out his gears and read his comment on March Scope!
Picture is quoted from : http://bulletin.accurateshooter.com/2020/12/sunday-gunday-300-wsm-f-open-rig-from-australia/
Picture below is the March-X 10-60×56 High Master Kris uses.
This is the king of all our SFP scopes when it comes to Image quality.
The High Master model scopes have 2 Super ED lens elements within its lens system.
The Super ED lens element is an improved ED lens element with optical characteristics even closer to
pure fluorite crystal lens elements which has virtually no dispersion that result in chromatic aberration in the image.
By using Super ED lens elements, we can suppress chromatic aberration even more than with ED lenses
and thus produce a sharper image with greater contrast, while still having a strong scope.
In the recent development, we incorporated Temperature Anti-Drift Lens System to the 10-60x56SFP High Master model
along with 5-42x56FFP Wide Angle, 4-40x52FFP Genesis  and 6-60x56FFP Genesis.
In the latest optical systems, a new lens material has been developed
to accommodate changes in environmental temperature by altering the refractive index of the lenses.
This new lens material has been adopted to create a more stable lens system that
naturally adapts to changes in temperature to maintain focus and clarity over a wide range of conditions.
That is why this 10-60×56 High Master scope is favored by Field Target air rifle competition shooters as well
who shoot from morning till late in the afternoon where there is a large temperature difference.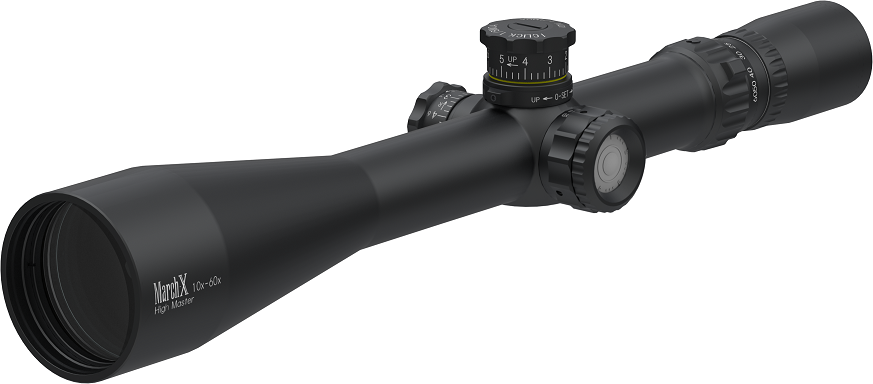 Enjoy shooting!
Posted by : Mari Morita

Back to page