4 Reasons for not having a marketing division at March Scopes – Outstanding R&D Expenditure ratio : 25%
Posted 10/26/2020
At March Scopes, we do not have a marketing division let alone an advertising division.
March Scopes Facebook is operated collaboratively by our distributors and us the manufacturer :
Stuart Elliott & Tristan Wright (Australia), Gary Costello & Jordan Rubio (United Kingdom) and myself Mari Morita (Japan).
None of us exclusively belongs to a marketing division at the respective organizations.
This March Scopes Global website is managed by me between my regular non-marketing related duties.
Furthermore, all our staffs at DEON (manufacturer of March Scopes) are engineers and I am the only one who is not an engineer.
Thanks to word of mouth advertisements by March Scope Owners, we do not place regular splendid advertisements. 
Each one of the March Scope Owners are our spokesmen & women and we can't thank you enough.
I have heard that advertising expenses to net sales in cosmetics industry is about 15%,
food-service industry : 5%, automotive industry : 2% (data based in Japan).
Our advertising fee is extremely near 0.0×%.
Not having a marketing division and not placing frequent advertisements
are not the best solutions when you want to increase brand awareness.
Yes, we are aware of that but why do we not have a marketing division??
The answer is simple. We chose to spend to manufacture top quality products rather than on advertising.
(1) Extremely high ratio of development cost (25%) and high percentage of engineers
It may be hard to believe but all our staffs other than myself are engineers at March Scopes in Japan.
This is heavily due to our Founder / CEO Shimizu-san's corporate vision.
Shimizu-san developed and designed high-end OEM optical products for more than 35 years.
He along with his two comrades (Nishikubo-san and Yoshie-san) started DEON 17 years ago. Hence Shimizu-san has been in the optical industry for more than 52 years and he is well versed in this industry.
Scopes he has developed at his prior company are still on the market and many of you are familiar with them.
But he decided to start his own business wanting to to aim for the world's top quality and pursue the possibility
of developing scopes that have never existed in the world with excellent performance, quality and feature.
That is why our company is centered on engineers.
It slightly varies every year, but the ratio of R&D expenses to sales at March Scopes is 25%!!
It is Shimizu-san's policy that 1/4 goes to R&D. We develop new models every year.
At the beginning of this year, we launched production models of 5-42×56 FFP (MIL) and 4-40×52 FFP Genesis (MIL).
Now we are getting ready to launch 1-10×24 FFP (MIL), 4.5-28×52 FFP (MIL) and 1.5-15×42 SFP (MIL/MOA) scopes.
Average ratio of R&D expenses to sales is about 3% in the manufacturing industry in Japan. 
Ratio of development cost at March Scopes is more than 8 times higher than the other Japanese manufacturers.
Below shows gross domestic spending on R&D among G20 countries (baseline in OECD) from 2000-2018.
The highest is Korea(4.5%), second is Japan(3.3%), third is Germany (3.1%).
You can see how remarkably high our R&D ratio is at March Scopes.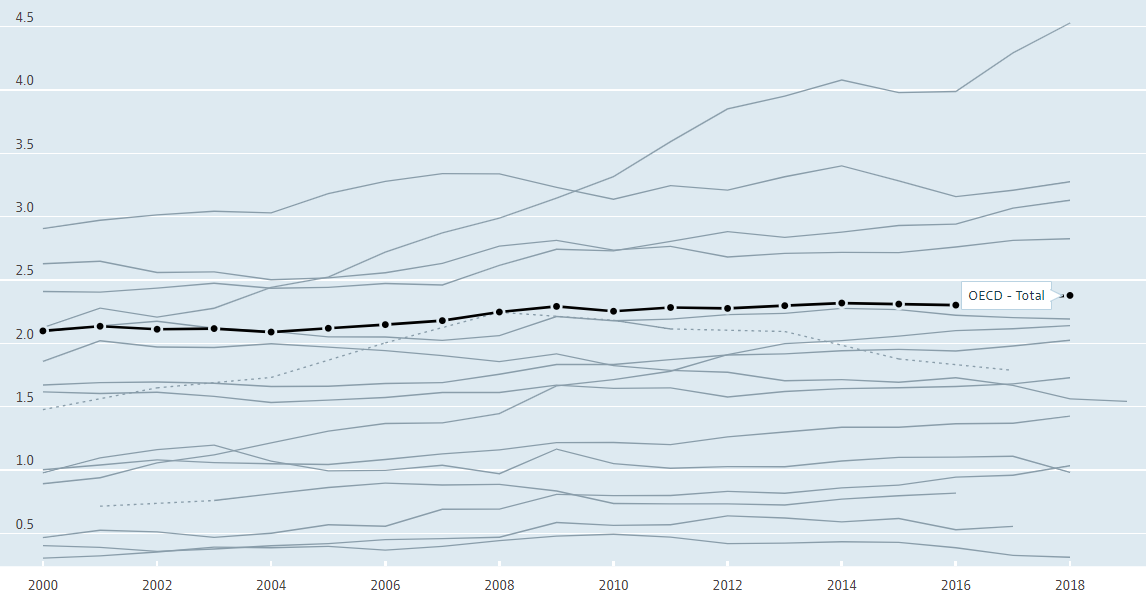 Source of reference : https://data.oecd.org/rd/gross-domestic-spending-on-r-d.htm
(2) Inventory cost for various models 
At March Scopes, we have more than 250 models (magnification x reticle x illumination x turret).
This is more than 3, 4 times than that of other major scope manufacturers.
If a MBA holder sees this, we would probably be recommended to slim down our lineup.
From the business point of view, this is far from worthy of praise.
But we respect each shooter's needs and try to accommodate their request as much as possible.
We may reduce some of our models in the future, but this is why we have an unbelievable amount of models.
However various models mean we need to keep various parts.
We hand assemble each and every scope using more than 150 parts.
For some parts we can utilize for other models, but please imagine how many parts it would be for more than 250 models.
To be honest, to keep all the parts for so many models is not easy
but we want to be a manufacture who stands close to all the shooters' needs.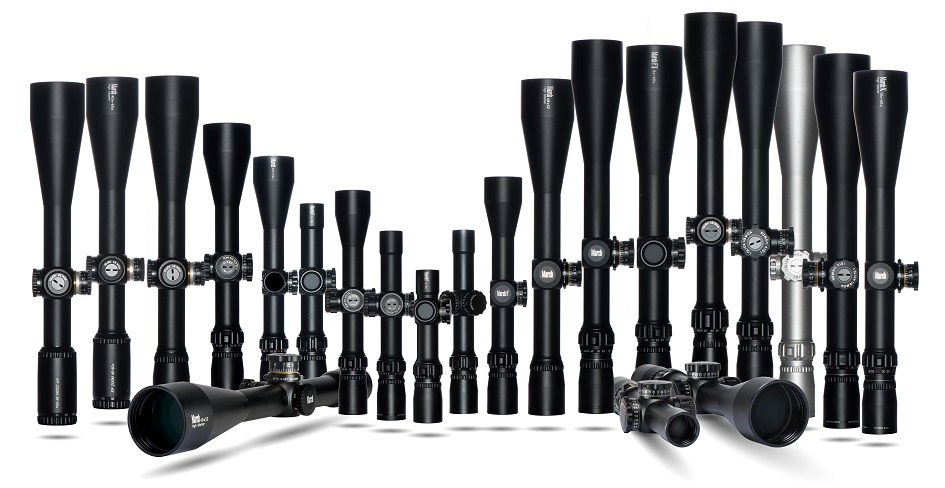 Our expert craftsmen hand assemble each and every scope using only Japanese made top quality parts. 
There are more than 150 parts used to manufacture a scope, but without exception they are all made in Japan. 
We are particular about all our parts, but today I would like to show you 2 examples as described below.
(3) Robust body tubes – 34mm tubes with thick balky 4mm wall
In order to increase the elevation travel amount, there are a few choices.
A: To widen the internal space.
    In order to realize this, the body tube diameter should be large and the wall should be thin.
    This way the wide internal space can be secured. 
B: To shorten the overall length of the scope.
We chose B. With a short scope body, the refractive index of the optical path is larger than that of a longer scope.
In order to overcome this, extremely high optical technique is required.
At March Scopes by combining the best quality lenses, we are able to realize the best image quality ever even with a short scope body.
Optically speaking option A would be an easier choice to gain elevation travel amount.
We make efforts to manufacture March Scopes to be compact and easy to handle.
Our pursuit to manufacture short scopes results in increasing elevation travel amount.
Therefore our 34mm body tubes are not to gain elevation travel amount but in order to have a thicker wall. 
The internal diameter of the 30mm tube and 34mm tube are the same at March Scopes. 
They are both 26mm. The walls of the 34mm tubes are 4mm thick.
As we prioritize the durability of the scope, our 34mm body tube is simply just to make the scope extra strong.
You can't see the inside of the scope, but we think that where you can't see counts the most.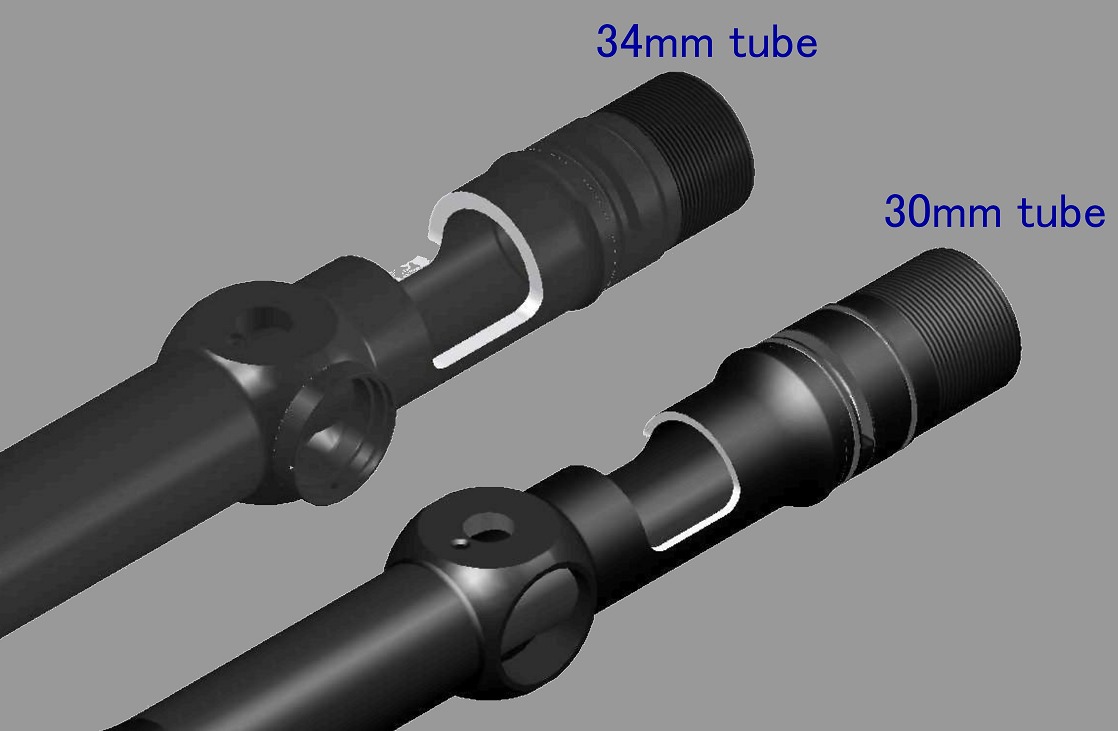 (4) Machined Aluminum Scope body
All our scope bodies are manufactured by machining from solid aluminum bar stock. 
This process actually discards up to 80% of the material during the machining process.
By machining the scope body from solid aluminum bar stock, we do not stress the material
and we are able to manufacture a very stable body with uniform density throughout. 
Machined aluminum scope body costs more than 5 times than a press molded scope body but we firmly stick to this.
We want the bodies of our scopes to be strong and sturdy so that shooters can have complete confidence in their March scopes. 
You can find out more in our previous article. https://marchscopes.com/news/3538/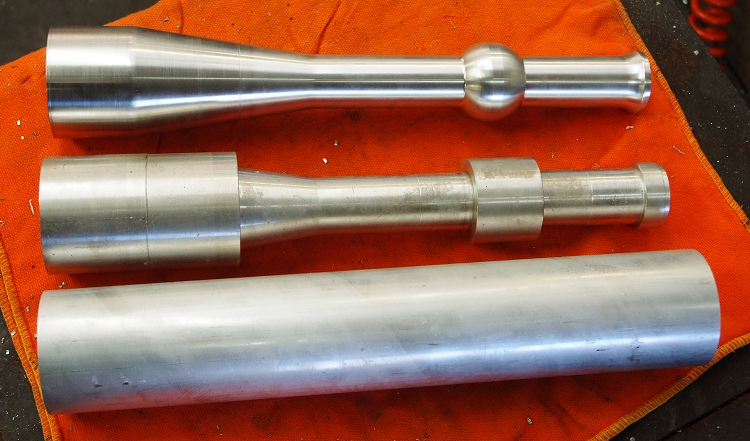 I adduced 4 reasons but actually there are many more.
March Scopes will strive to keep being innovative!!
An innovative company at the leading edge – March Scopes
---
Written by : Mari Morita

Back to page