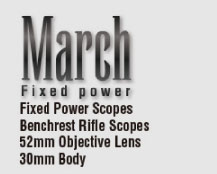 The March BR Scopes have an innovative internal design to prevent unintentional shift of the POA. This design philosophy has been incorporated in the development of all March scopes. In addition to a superior mechanical design, March BR Scopes are fitted with high quality extra-low dispersion (ED) lenses. These lenses provide greatly improved image resolution, even under high magnification.
D60EV52
Normal Model (Non illuminated)
March "High Master" 40x-60x52mm EP zoom
40x-60x52mm EP zoom employs "New High Master Lens System".

"New High Master Lens System"
The High Master Lens System has 2 Super ED lens elements within its new lens system. By using Super ED lens elements, we can suppress chromatic aberration even more than with ED lenses and thus produce a sharper image with greater contrast, while still having a strong scope.

This 40-60x52 EP Zoom scope has a 1.5 magnification ratio zoom ocular lens. You are looking at the same image as through a fixed scope. Basically this is a fixed scope and we guarantee zero POA shift. Please note that the ocular lens extends when changing the magnification. The weight is 680g(23.9oz).

New optical design with Super ED lens & High-refractive lenses !
The new March EP zoom (40x-60x52mm) is based on the well regarded and match winning 36x-55x52mm EPZ scope. It has increased magnification and the same Super ED lens and high refractive glass as the 48x52mm fixed scope, with the added advantage of external zoom adjustment to absolutely guarantee zero POA shift, essential for BR and competition shooting.
Dials
1/8 MOA Type

1 Click Adjustment : 1/8 MOA (0.13inch @100yds)
10 MOA turret revolution (10.47inch @100yds)

1/4 MOA adjustment turret is also available.
Technical Data
Low

High

Magnification
40x
60x
Effective Lens Diameter
52mm
Body Tube Diameter
30mm
Exit Pupil
1.24mm
(0.05inch)
0.89mm
(0.04inch)
Field of View (real)
degree
0.49°
0.44°
ft/100yd
2.6ft
2.5ft
m/100m
0.85m
0.77m
Eye Relief
71-89mm
(2.8-3.5inch)
59-72mm
(2.32-2.83inch)
1 Click Adjustment
1/8MOA
Elevation Travel
60MOA
Windage Travel
40MOA
Focus Distance
10yd - infinity
Reticle
CH
1/8dot
3/32dot
1/16dot
LR
In the box
Leather Caps (Objctive and Eyepice)
MD disk
Lens Cloth
Scope Size
A
374-397mm (14.72-15.63inch)
B
162mm (6.38inch)
C
60mm (2.36inch)
D
41mm (1.61inch)
E
126mm (4.96inch)
F
86-109mm (3.39-4.29inch)
G
70mm (2.76inch)
H
55mm (2.17inch)
Weight
680g (23.9oz)