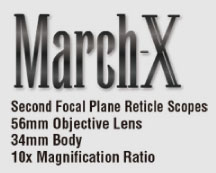 The most powerful zoom riflescope series in the world, the March-X Series, has a 10x magnification ratio zoom range capable of focusing from 10 yards to infinity. With the capability to set any position as the zero point in elevation, the shooter will never lose the starting calibration. Based on the 34mm diameter body and has the 56mm objective lens. As with all high power March scopes, the March-X 5x-50x56mm and 8x-80x56mm incorporate high quality ED lenses to provide superior image resolution. In recent years, these scopes have become very popular among the Field Target air rifle competition shooters. The Field Target competition requires a high degree of ranging accuracy. High power magnification and clear imaging are necessary for the Field Target competitors to measuring distance accurately. Expand your world more than ever before.
March-X (SFP, 34mm tube)
5x-50x56mm SFP
10x-60x56mm SFP (High Master)
8x-80x56mm SFP
D60HV56TM (MOA, Tactical)
Tactical Model (Non illuminated)
March-X "High Master" 10x-60x56mm
The High Master has Super ED lens which offers utmost clarity and natural color right to the edge of the image. The 56mm objective and the 34 mm tube offer high resolution with excellent reliability and ruggedness. The March-X High Master 10x-60x56mm is suitable for short-range competitions such as Field target and also long-range competitions such as F-class. The focus range adjustment is from 10 yards to infinity, offering reliable adjustment for any situation.

・6X Zoom in SFP, MOA
・34mm diameter body
・56mm objective lens
・Temperature Anti-Drift Lens System
・High Master lens system (Super ED lenses)
・Side focus 10 yard - infinity
・Scope body fully machined from aluminum ingot
・All Japanese metal parts with no plastic part except for minimum essentials such as an insulator
・Argon gas filled for internal stability
・Fast focus eyepiece
・Top quality multi lens coating where the transmittance is very near 100%
・Water repellent lens coating

10x-60x56mm employs "High Master Lens System" and "Temperature Anti-Drift Lens System"
"High Master Lens System"
The High Master Lens System has 2 Super ED lens elements within its lens system. By using Super ED lens elements, we can suppress chromatic aberration even more than with ED lenses and thus produce a sharper image with greater contrast, while still having a strong scope.

"Temperature Anti-Drift Lens System"
In the latest optical systems, a new lens material has been developed to accommodate changes in environmental temperature by altering the refractive index of the lenses. This new lens material has been adopted for the new High Master optics to create a more stable lens system that naturally adapts to changes in temperature to maintain focus and clarity over a wide range of conditions.

We offer special FT (Field target) package for this model. This package is available to order with March Scopes Europe (info@marchscopes.co.uk). * All accessories that comes with the FT package can be purchased separately at your local dealer but 10-60×56 High Master scope with engraving is only available through March Scopes Europe or other European dealers.

– Special engraving "FT edition" on the 10-60×56 High Master Scope
– Large dial especially made for this FT package. You can cover the large dial on the existing elevation turret and
 write your own elevation adjustments.
– Middle wheel : This will assist making quick and fine adjustments easier with the focus knob.
– Large wheel : Shooting at very close ranges often requires very fine adjustment of the focus dial. March has  
 produced a Large Wheel to fit over the Middle Focus wheel to enhance the dial's ability to focus clearly. This is  
 a great addition to Air Rifle Field Target and other shooting disciplines requiring accuracy.
– Reticle for Field Target : You can also choose a reticle specially designed for Field Target "MTR-FT".
Dials
1/8 MOA Type

1 Click Adjustment : 1/8 MOA (0.13inch @100yds)
10 MOA turret revolution (10.47inch @100yds)
0-Set on Elevation turret


Technical Data
Low

High

Magnification
10x
60x
Effective Lens Diameter
56mm
Body Tube Diameter
34mm
Exit Pupil
--
0.94mm
(0.04inch)
Field of View (real)
degree
1.9°
0.32°
ft/100yd
10.2ft
1.7ft
m/100m
3.40m
0.57m
Eye Relief
80-107mm
(3.15-4.21inch)
92-102mm
(3.62-4.02inch)
1 Click Adjustment
1/8 MOA
Elevation Travel
60MOA
Windage Travel
40MOA
Focus Distance
10yd - infinity
Reticle
MTR-1
MTR-2
MTR-3
MTR-4
MTR-5
MTR-FT
MTR-RTM
In the box
Flip Caps (Objective and Eyepiece)
Sunshade
Lens Cloth
MD disk
Fast Lever
Hex wrench
Scope Size
A
413mm (16.26inch)
B
180mm (7.09inch)
C
64mm (2.52inch)
D
41mm (1.61inch)
E
134mm (5.28inch)
F
99mm (3.9inch)
G
81mm (3.19inch)
H
63mm (2.48inch)
Weight
915g (32.28oz)