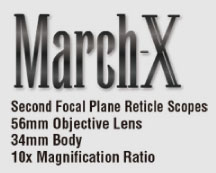 The most powerful zoom riflescope series in the world, the March-X Series, has a 10x magnification ratio zoom range capable of focusing from 10 yards to infinity. With the capability to set any position as the zero point in elevation, the shooter will never lose the starting calibration. Based on the 34mm diameter body and has the 56mm objective lens. As with all high power March scopes, the March-X 5x-50x56mm and 8x-80x56mm incorporate high quality ED lenses to provide superior image resolution. In recent years, these scopes have become very popular among the Field Target air rifle competition shooters. The Field Target competition requires a high degree of ranging accuracy. High power magnification and clear imaging are necessary for the Field Target competitors to measuring distance accurately. Expand your world more than ever before.
March-X (SFP, 34mm tube)
5x-50x56mm SFP
10x-60x56mm SFP (High Master)
8x-80x56mm SFP
D80HV56WTIMLX-GR (High Master, MIL, Tactical, Illumi, Shuriken lock, Grey)
Tactical Model (Illuminated)
March-X 8-80x56mm High Master Wide Angle "Majesta" Riflescope in MIL
This March-X 8-80x56 SFP High Master Wide Angle Scope has an outstanding image quality and the highest magnification, 80x, in the world as of today. This scope is engraved with "Majesta" befitting its name.

・10X Zoom in SFP, MIL
・New bicolor scope: Dark grey body with black turrets
・Robust 34mm body tube with a 4mm thick wall simply to make the scope extra strong
・56mm objective lens
・Highest magnification in the world as of today
・Wide Angle eyepiece : 25 degrees
・Temperature Anti-Drift Lens System
・High Master lens system (Super ED lenses)
・Shimmer protection
・Focus from 10 yard to infinity
・Scope body fully machined from aluminum ingot
・All Japanese metal parts with no plastic part except for minimum essentials such as an insulator
・Argon gas filled for internal stability
・6 level illumination module
・Top quality multi lens coating where the transmittance is very near 100%
・Water repellent lens coating
・Shuriken lock elevation and windage turrets
Shuriken shaped lockable elevation and windage turrets. "Shuriken" is a star shaped throwing knife used by Ninja. Red is for locked state and white is for unlocked state. "X" in the model name stands for the Shuriken lock.

We currently have a 8-80x56 among our lineup, but this March-X 8-80x56 SFP High Master Wide Angle Scope is an entirely new scope which took us several years to develop. This new scope has 25 degrees wide angle eyepiece which is 25% wider than the standard 20 degrees. (125% field of view (FOV) expansion. To the eye of the shooter, this increase is equivalent to 156% in terms of FOV area at all magnifications.) The shooter is presented with a much larger magnified picture of the target and its surroundings, eliminating the tunneling effect inherent in high-magnification long range optics. This majestic vista helps the competitor identify the conditions at the target thus allowing for last second adjustments. It also helps to identify the target and reduce the chances of crossfire. The hunter and the target shooter will also benefit from this huge increase in the magnified field of view by increasing their awareness of the surrounding area at the target.

The current 8-80x56 assembles ED lens, but March 8-80x56 SFP High Master Wide Angle Scope newly assembles the High Master lens system with 2 Super ED lenses. By using Super ED lens elements, we can suppress chromatic aberration even more than with ED lenses and thus produce a sharper image with greater contrast. This riflescope with Super ED lenses can handle "mirage" better than ED lenses, and dramatically better than regular optical glass as well. ED lens preserves the focus position of this light and Super ED glass does an even better job of doing that. Because of this "shimmer protection", the riflescope's magnification can remain high and thus provide the shooter with a better aiming point.

"Durability"
This 8-80x56 High Master Wide Angle Riflescope, like all March scopes, is immensely strong to endure any severe condition. All March scopes are Argon-filled for internal stability and are fully weather-resistant and waterproof to at least 4 meters, and have passed impact tests of up to 1000G. The walls of the 34mm tubes are 4mm thick. Our 34mm body tube is simply just to make the scope extra strong. With its 4mm thick walls and the overall design, March-X and March-FX models are among the toughest riflescopes in the world. "X" in the classification name stands for 34mm body tube and "F" in the classification name stands for FFP (first focal plane).

"Fast focus eyepiece"
The diopter adjustment mechanism has been improved so you can adjust the eyepiece to your eye faster than ever before.
Dials
0.05MIL Type

0.05MIL Adj.dials with 0-Set
One turn of both adjustment dials is 5MIL and one click is 0.05MIL.
Elevation has a total adjustment range of 19MIL.
Windage has a total adjustment range of 10MIL.

Oversized dials for elevation, windage, and side focus for easy adjustment.
The elevation dial has a 0-set function.

Red is for locked state and white is for unlocked state.
Technical Data
Low

High

Magnification
8x
80x
Effective Lens Diameter
56mm
Body Tube Diameter
34mm
Exit Pupil
4.1mm
(0.16inch)
0.7mm
(0.03inch)
Field of View (real)
degree
3.12°
0.31°
ft/100yd
16.4ft
1.64ft
m/100m
5.45m
0.54m
Eye Relief
76-92mm
(2.99-3.62inch)
79-92mm
(3.11-3.62inch)
1 Click Adjustment
0.05MIL
Elevation Travel
19MIL
Windage Travel
10MIL
Focus Distance
10yd - infinity
Reticle
W-Dot
MML-W1
In the box
Flip Caps (Objective and Eyepiece)
Sunshade
Lens Cloth
MD disk
Fast Lever
Hex wrench
Middle focus wheel
Scope Size
A
420mm (16.54inch)
B
165mm (6.50inch)
C
64mm (2.52inch)
D
46mm (1.81inch)
E
159mm (6.26inch)
F
96mm (3.78inch)
G
67mm (2.64inch)
H
59mm (2.32inch)
Weight
1175g (41.45oz)