What to consider when choosing a Hunting Scope
Posted 09/11/2019
How shall I choose a hunting scope which meets my needs?
What is the suitable reticle ?
ls this scope bright enough to shoot at dark condition?
I'm sure this has all crossed your mind.
Today I (Mari) will ask Yoshie what to consider when choosing the right hunting scope that will satisfy you.
The Answerer
The Reticle Designer – Director  Morimasa Yoshie
Yoshie is a Director and also one of the founders of DEON- manufacturer of March Scopes.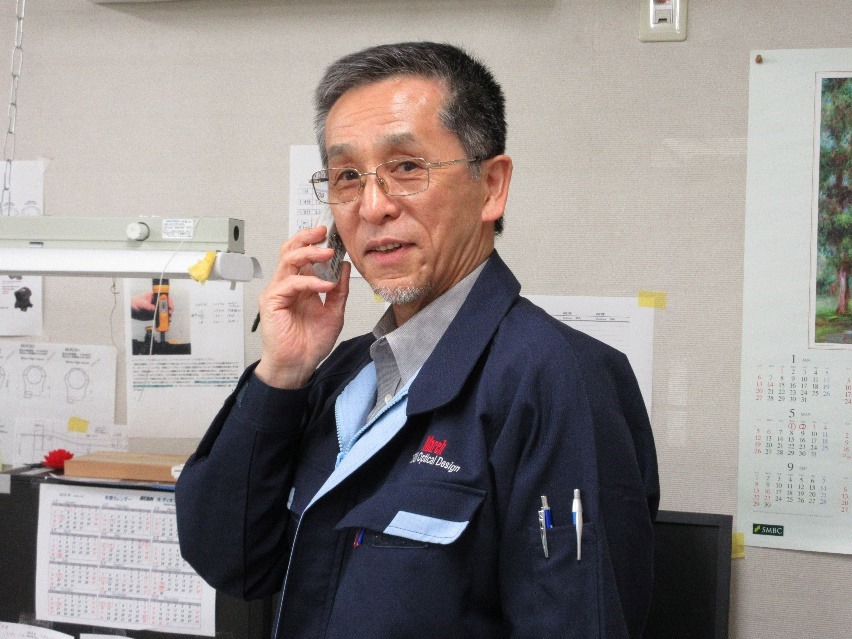 He is DEON's top reticle designer. But he also looks after production management, material procurement, export & import operation, sales, advertising, accounting etc.
He was in charge of production management for an optical company which supplies OEM products to world's top class rifle scope companies for more than 30 years. But he wanted to create rifle scopes with ultimate premium quality using the best material hand built by expert craftsmen. This is why he founded DEON.
One day he wants his Japanese dream to come true so he can drive VOLVO XC40 in the Japan Alps, the scenic mountain side.
He has a sweet tooth fond of Japanese sweet "dorayaki".
It is two small pancakes with sweet bean paste in between.
The Questioner
Mari Morita (this article is written by Mari)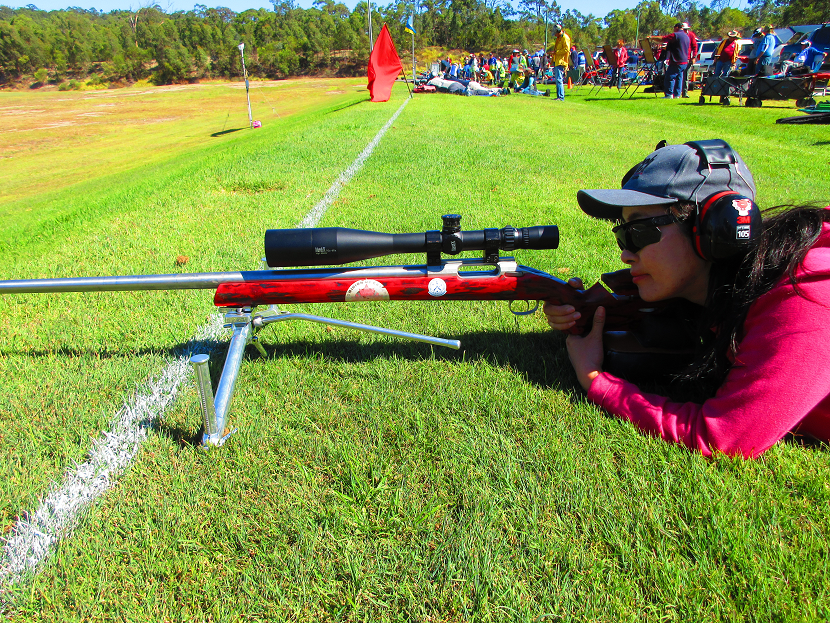 She previously worked for an advertisement company and joined DEON 8 months ago.
She shoots Air rifle & Rimfire rifle (.22 Long Rifle cartridge) under ISSF rule.
She also shoots 308 Winchester with her Remington M700.
She recently participated in the F class competition held in Australia (August 5th – 10th, 2019) and had so much fun.
Thank you Australia for welcoming the Japanese team.
She likes to travel and is a foodie. She also enjoys watching US TV dramas. Her current favorite dramas are "NCIS" and "the Scorpions".
Question 1.  Can you tell me the basics for magnification?
First of all, you need to think about the distance to the game and the size of the game.
If the game is small such as a bird at long range, you will need high magnification.
If the game is large such as a deer or a wild boar at close range to intermediate range, you will need low magnification.
Also you will always need low magnification in order to hold the rifle at the ready in order to promptly find the game.
I'm sure you are all aware but let me explain what the numbers on the scope stand for to begin with.
If you take 1x-10×24 for example, "1x" is the lowest magnification (power) of that scope 
"10x" will be the highest magnification of that scope. "x" denotes magnification.
The last number "24" is the size of the objective lens (diameter / mm) facing the object you are looking at.
The lens you are looking through will be the eyepiece lens or ocular lens.
Also for scope magnification, there are fixed magnification (power) and variable magnification.
Almost all the scopes have variable magnification, but fixed magnification scopes can be used on specific purposes
such as precise target shooting at fixed distance using fixed high magnification, or hunting a large game at fixed low magnification.
If you hunt from close range to long range, or if the target or game you are aiming differs in sizes,
then fixed magnification may be a little inconvenient to satisfy your needs.
If you plan to use the scope for multiple purposes, then you may want to check the magnification ratio of the scope.
It is calculated by dividing the highest magnification by the lowest magnification.
The greater the magnification ratio is, the more applications you will have.
That is why all the scope manufacturers are trying so hard to increase the magnification ratio.
March Scopes is the first manufacturer to develop 10-fold magnification ratio scope.
1x-10×24 has 10-fold ratio calculated as 10 power÷1power=10fold-ratio
2.5x-25×5 has 10-fold ratio calculated as 25power÷2.5power=10 fold-ratio
3x-24×42 has 8-fold ratio calculated as 24power÷3power=8fold-ratio
Scopes which has low power from high power come in handy.
Question 2. What scope do you suggest for hunting?
If you hunt deer or boars, I recommend March 1x-4×24 / March 1x-10×24 / March-F 1x-8×24 Shorty / March F 1x-8×24.
March Scope's "1" power has the least aberration, so some of our customers say that they can see better through scopes
than through their naked eyes.
If you shoot at places with a wide view, or at different distances from close range to long range, or aim small games such as birds
we recommend March-F 3x-24×42 / March-F 3x-24×52 / March 2.5x-25×42 / March 2.5x-25×52. 
This is the manufacturer's subjective view, so please ask your fellow hunters what range of magnification they use to hunt.
Question 3. Can I use 1x-4.5×24 for hunting?
This 1x-4.5×24 scope was originally developed for the Service Rifle Competition in the USA.
This competition is a fast pace match, when you are called to the line you have 3 minutes to set your gear;
the mat, scope, shooting stool, and put on your sling, and acquire your natural point of aim.
10 shots at 200 yards standing in 10 minutes, 10 shots at 200 rapid fire in 60 seconds,
10 shots at 300 rapid fire in 70 seconds, and 20 shots at 600 in 20 minutes, slow fire, single loading.
In order to meet the nature of the service rifle competition, 1-4.5×24 has a focus adjustment feature (focusing at certain distance),
and this feature may be excessive for general hunting.
Question 4. What is the difference between March-F models and March models?
①FFP(First Focal Plane) or SFP(Second Focal Plane) reticle
The largest difference is where the reticle is assembled inside the scope.
March-F models are First Focal Plane reticle scopes, whereas March models are Second Focal Plane reticle scopes. 
According to where we place the reticle there is a functional difference between first focal plane reticle and second focal plane reticle.
Source of reference: https://www.tacticalclassroom.com/first-focal-plane-vs-second-focal-plane/

For FFP-First Focal Plane reticle, when you change the magnification, the target and the reticle will zoom in and out collectively.
The reticle line will be fine at lower magnification and thicker at higher magnification.
The target/game image will first focus into an image at the first focal plane reticle.
When zooming (adjusting the size of the subject), the target image and the reticle will magnify and reduce together.
The scale value will always be consistent regardless of the magnification.
We recommend FFP reticle scopes such as March-F 1x-8×24 Shorty / March-F 1x-8×24 / March-F 3x-24×42 / March-F 3x-24×52.
Since the first focal plane reticle is assembled in front of the zooming feature,
the point of aim (POA) does not change throughout the entire zoom range.

The thickness of the SFP-Second Focal Plane reticle is always constant and only the target image will be larger at higher magnification.
Therefore this reticle is suited for long range precision shooting.
Scale value of the reticle is designed at the specific magnification.
This means that you will need to convert the scale value at other magnification.
The advantage of the Second focal plane reticle is that you have a thick easy to see reticle even at the lowest magnification.
If you prefer to use Second focal plane reticle we recommend March 1x-4×24 / March 1x-10×24 / March 2.5x-25×42 / March 2.5x-25×52. 
Roundup of the FFP / SFP reticle
・Target image and the reticle will magnify and reduce together
・Scale value is consistent and easy to calculate
・Only the target image will magnify and reduce
・The size and the thickness of the reticle line is consistent
Please choose the reticle according to your preference.
②Size of the objective lens
There are 3 different objective lens size for March models and March-F models: 24mm /42mm / 52mm.
Objective lens faces the object you are looking at.
The larger the objective lens is, the brighter it becomes by taking in more light.
In the twilight, 56mm objective lens in March FX models(5x-40×56  / 6x-60×56)
and March X models (5x-50×56 / 8x-80×56 / 10x-60×56) are the brightest.
However since scopes with larger objective lens are heavier, if you are apt to walk around the woods
you may prefer scopes with lighter weight which has smaller objective lens.
When you use the scope at low magnification or under bright day light, there is little difference by the size of the objective lens.  
---
③Thickness of the Body tube
Thickness of the Body tube is 30 mm for both March models and March-F models.
1 inch and 30mm are typical body tube's thickness.
30mm body tube is a typical size but please be careful when choosing the mount ring.
You will need to choose a mount ring that will fit the body tube.
March models and March-F models have top quality in the sense that it has superb resolution,
strong scope body and yet compact at the same time.
We believe that we offer the ideal scopes for hunting and also for shooting competitions.
We have 34mm body tube scopes if you are looking for something larger.
Question 5. I'm looking for a wide view scope. How shall I choose one?
Make sure you check the apparent field of view (FOV) if you are looking for a scope with wide view.
Apparent field of view can be easily calculated by real field of view x magnification.
Take March 2.5x-25×42 for example. Real field of view at 2.5 power is 8.0 degrees.
Therefore the apparent field of view for March 2.5x-25×42 will be
Real field of view 8.0 degrees x 2.5 power = 20.0 degree
Next let's take a look at March-X 8x-80×56.
The real field of view at 8 power is 2.5 degree and at 80 power it is 0.25 degree.
This scopes apparent field of view will be 2.5 degree (real field of view at 8 power) x 8 power = 20degree
Or either you can calculate as 0.25 degree (real field of view at 80 power) x 80 power = 20 degree.
This is a mathematical formula so why not calculate the apparent field of view of the scope you are interested in.
The degree of the real field of view is listed on our website.
Question 6. How do I choose a bright scope even at dusk?
There is an indicator called "exit pupil" to show the brightness of the image.
The definition of the "exit pupil" is the diameter of the bright circle which you can see through
the eyepiece lens (lens close to your eye) being distant for more than 30cm.
The larger the exit pupil is, the brighter your view will be.
A Scope with large exit pupil will be effective when hunting at dawn or at dusk.
This is the mathematical formula: Exit pupil = the objective lens effective diameter / magnification
Exit pupil for 3x-24×52 will be, 52 mm / 24 power = 2.17mm
Even at 24 power, exit pupil is larger than 2mm equivalent to the size of the pupil at bright light.
The brightness you detect through 3x-24×52 at 24 power, will be the same as your naked eye under bright environment.
At 3 power, exit pupil will be 52 mm / 3 power = 17.3mm
17.3mm exit pupil exceeds well over 7mm meaning that not only at bright condition but also at dark condition,
you can see the same brightness as your naked eye.
---
Pupil size differs according to the surrounding brightness.
At a bright condition, pupil size is about 2-3mm.

At a dark condition, pupil size is 7mm.

Source of reference : http://nvj.nikon.com/guide/binoculars/basic/basics_05.htm
If the exit pupil will exceed 7mm at the employed power, then you can see the same brightness as the naked eye even under dark condition.
At a same power, the larger the objective effective diameter is, the more you can collect light and the brightness will increase.
On the other hand, the larger the objective effective diameter is, the heavier the scope will be.
Question 7. Do you recommend different scopes according to rifles?
The difference in rifles such as shotguns, air rifle or rifle do not affect which scope to choose.
We suggest that you rather choose a scope by your preference such as weight or visuality.
We use same components for all the scopes and the manufacturing process are all the same hand built by Japanese expert craftsmen.
Also they have been inspected 20 times including the durability test up to 1000 joule before leaving the factory.
Question 8. How should I choose a reticle?
Cross line reticle is popular among hunters.
Cross line reticles for First Focal plane are: FMC-1, FMC-2, FMC-3, FML, FML-1, FMA-1.
For first focal plane, reticles which you can choose are limited according to the models,
so please check the model and the corresponding reticle.
At lower magnification reticles may look similar, but at higher magnification they look different so please confirm in advance.
Reticles with numbers come in handy when you want to use the reticle to adjust the elevation and windage
instead of dialing the elevation and windage turret itself.
Cross line reticles for Second Focal plane are: Di-plex, MTR-3, MTR-4, MTR-5, MML, FD-1, FD-2
FD-1, FD-2 have thick lines and red dot bright even at day time. These Flash-Dot reticles are optimal for hunting especially for beginners.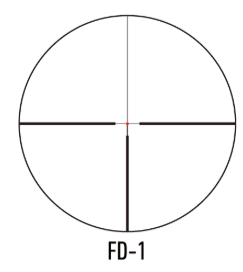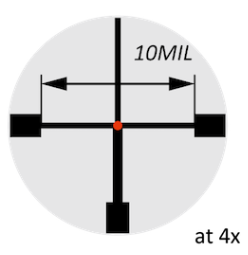 FD-1
If you want to use FD-1, FD-2 reticles, they can be assembled in
March 1x-4×24 /  March 1x-10×24 /  March 2.5x-25×42 /  March 2.5x-25×52 models.
You may have noticed when looking at our catalogs or website.
There are red reticles and those that are not red.
Red reticles have battery operated illumination. They are convenient when you are hunting on cloudy or rainy days.
You can adjust the brightness in 4 level.
4 level illumination is a Standard switch which is already assembled in the scope if you choose an illuminated reticle.
If you want a dimmer illumination you can purchase low Illumination Switch Module
which is 1/5 bright of the standard model as an optional part. 
We also have Six Level Illumination Switch which has 6 level brightness. 
6 is the brightest, same as the standard illumination's brightest level. 
1 is the dimmest, same as the standard illumination's dimmest level.
You can replace the illumination without using any tools.  
Please click here to see optional illumination switch module
For Second focal plane reticles, we also have Crosshair, CH-Dot, MTR-1, MTR-2 reticles.
These are developed for precision target shooting so the reticle lines are very fine.
They suit precision target shooting where you can take time to focus on your target,
but they are not suitable when you have to quickly aim a moving target/game.
Question 9. Is there a light weight scope with wide range of magnification?
How about March-F 1-8×24 shorty model?
This is the world's lightest and shortest among all the 8-fold magnification ratio scopes.
It only weighs 485g(17.1oz) and the overall length is 21.2㎝(8.4inch)、
(Magnification ratio can be calculated by the highest magnification ÷ the lowest magnification,
In this case 8÷1=8-fold magnification ratio.)
Side Focus features on focusing at a certain distance.
March-F 1-8x24shorty scope's focus is fixed at 100 yard so you can aim the target/game at minimum operation.
Its actual field of view is 19.67 degrees. It has a wide field of view so you can easily find the target/game.
This is a suitable scope for beginners.
Thank you, Yoshie-san.
I understand so much better now. 

Back to page