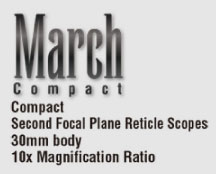 These compact scopes are able to encompass the performance of two or three zoom scopes in one. These scopes provide the highest magnification ratio in any rifle scope.
March Compact
1x-4x24mm
1x-4.5x24mm
1x-10x24mm
1.5x-15x42mm
2.5x-25x42mm
2.5x-25x52mm
D4.5V24TM (Non illuminated)
Tactical Model
March Compact 1-4.5x24
・4.5X Zoom in SFP
・30mm diameter body
・24mm objective lens
・Side focus 10 yard - infinity
・Scope body fully machined from aluminum ingot
・All Japanese metal parts with no plastic part except for minimum essentials such as an insulator
・Argon gas filled for internal stability

Exit pupil 16mm at 1x. 1x-4.5x24mm scope designed for Service Rifle competition and tactical applications. This scope should set the standard for AR-friendly 4.5x optics. This compact (500g (17.64oz)) variable-power scope offers ideal eye relief for AR-type rifles, along with plenty of windage and elevation travel. Side focus dial lets you see the target clearly from 10 yards to Infinity at all power settings.

Dials
1/4 MOA Type

1 Click Adjustment: 1/4 MOA (0.26in at 100yds)
25 MOA turret revolution (10.47in at 100yds)
Elevation Travel: 200 MOA
Windage Travel: 200 MOA


Technical Data
Low

High

Magnification
1x
4.5x
Effective Lens Diameter
24mm
Body Tube Diameter
30mm
Exit Pupil
16.0mm
(0.63inch)
5.33mm
(0.21inch)
Field of View (real)
degree
19.0°
4.22°
ft/100yd
100.4ft
22.1ft
m/100m
33.47m
7.37m
Eye Relief
73-103mm
(2.87-4.06inch)
73-100mm
(2.87-3.94inch)
1 Click Adjustment
1/4MOA
Elevation Travel
200MOA
Windage Travel
200MOA
Focus Distance
10yd - infinity
Reticle
MTR-D2 (non-illuminated only)
MTR-5 (non-illuminated only)
MTR-D3 (non-illuminated only)
In the box
Flip Caps (Objective and Eyepiece)
Lens Cloth
Fast Lever
Hex wrench
Scope Size
A
260mm (10.24inch)
B
131mm (5.16inch)
C
33mm (1.3inch)
D
41mm (1.61inch)
E
35mm (1.38inch)
F
94mm (3.7inch)
G
49mm (1.93inch)
H
46mm (1.81inch)
Weight
500g (17.64oz)